Simple Fudge Recipe...

United States
November 21, 2006 9:07pm CST
This is the easiest candy recipe I have ever used. It is on the back of the marshmallow cream jar. You don't have to use any thermometers or worry about the candy not setting up. It works for me everytime. Get your ingredients together first. 1.5 sticks of butter 3 cups of sugar 3/4 cup evaporated milk (1 small can) small jar of marshmallow cream 1 bag of chocolate chips (or 1 cup of peanut butter) 1 tsp. vanilla The most important thing about this recipe is that you must stir it the entire time that it's cooking. Put the butter, sugar and milk in a saucepan that's at least four quart size. If I'm making peanut butter fudge I will go ahead and measure out my peanut butter so that it's ready. I will also have a good stiff paddle to dig the marshmallow cream out of the jar. Let the first three ingredients come to a full rolling boil. Start the timer for five minutes and stir it constantly. It will scorch in a heartbeat if you don't stir it. Once your five minutes is up remove the pan from the heat. Quickly stir in either the chocolate chips or the peanut butter (for whichever one you're making). Dip your paddle down in the hot mixture that's in the pan and you will be able to slide it around the sides of the marshmallow jar and get all of it out without wasting any of it. You have to stir this up pretty fast because it starts setting up in the pan. Stir the vanilla in last. Once everything is melted and stirred together pour this in a greased pan. I like to use the flimsy disposable aluminum pans. Let it cool for four hours. I then place wax paper on the counter and carefully just turn my candy out onto the paper. It can easily be cut and stored in containers. Make sure you keep your candy covered. I like to put this in a pretty Christmas tin that has been lined with plastic wrap. I'll pull the wrap up and cover the candy with it before placing the lid on the tin. This makes a gorgeous presentation. This recipe makes 3 pounds of candy. I just made one chocolate and one peanut butter in less than 30 minutes. Move over Martha Stewart. Here I come.
5 responses

• United States
1 Dec 06
My mom used to make this, it's very yummy! My only problem is that it's very rich, and I can't eat more than about 2 small squares of it before my tummy hurts. But yes, it's wonderful fudge! I think they used to call it Fantasy Fudge, do they still call it that?

• United States
1 Dec 06
Yes, I remember now! That's what the name of it was on the back of the marshmallow jar!


• United States
1 Dec 06
You're right! It is so easy to make. People don't believe it when they taste it just how easy it is to make.

• United States
3 Dec 06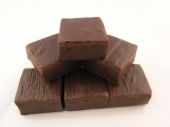 Fudge is the best!! And finding the right simple fudge recipe is hard. Thanks for the simple fudge recipe...maybe I will try it someday.

• United States
22 Nov 06
Oh thank you. I have been looking for an easy fudge recipe.

• United States
22 Nov 06
I like to make homemade fudge. I don't care for those made with marshmallow.