Yogurt strawberry flavor...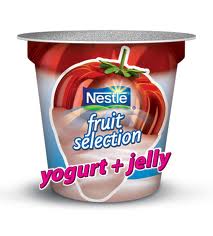 Philippines
August 24, 2012 6:01am CST
Hi my fellow friends, while watching Korean TV series I am eating yogurt strawberry flavor, instead of junk foods I preferred to eat this because it's very healthy and help me to regulate my bowel movement. I am happy that my husband bought some yogurt this afternoon and all of them are strawberry flavor and i love it. How about you my fellow friends? Do you love yogurt? What flavor do you want? Please share with us. Have a good evening!
6 responses

• Indonesia
5 Mar 13
Yes, yoghurt has enjoyed since 4500 years ago and is now famous all over the world. This is because yogurt has yogurt benefits for the body and health. Yogurt contains several nutrients such as protein, riboflavin, calcium, vitamin B6 and vitamin B12. Since yogurt or sour milk derived from fermented milk apparently contains 2 types of probiotics good for the body. Probotik are lactobacillus and bifidobachterium which has benefits for the body. Yogurt is a dairy product produced from bacterial fermentation of milk and yogurt are usually used for healthy foods when dieting. So it's better alternative than junk foods of course.

• Philippines
8 Mar 13
Wow, this is the first time i read that yogurt was enjoyed by many people 4500 years ago and up to now most of us enjoying this,maybe because it's delicious and good for our health. Thanks for the new information.


• Philippines
27 Aug 12
I never try strawberry banana but i am looking forward to taste it, hope it is available to some international groceries. Thank you for sharing my friend.


• Philippines
27 Aug 12

Youre right better to eat yogurt that junk foods. Thank you for sharing my friend.

• Philippines
25 Aug 12
hi Bhebelen, I can only eat yogurt if I cook Indian dishes I am not fond of eating yogurt. happy mylotting



• Philippines
27 Aug 12
Hi riyauro, i love mango and melon flavor too but I am more on strawberry. Thank you for sharing my friend.

• Philippines
24 Aug 12
I love strawberry that is why I love everything tat has a strawberry flavors. I love yogurts too, I also love the blueberry flavor of it. A while ago, I am also eating a strawberry sundae while watching korean drama too.