Friend takes a bad fall.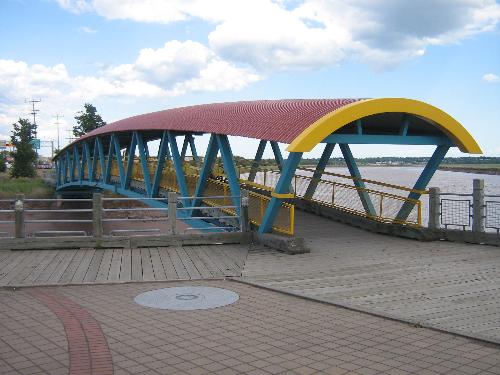 Canada
August 26, 2012 4:14am CST
One of my friends crashed his bike when he hit the gravel on the one end of bridge pictured below. He isn't exactly sure how it happened. I'm guessing he was dodging pedestrians at the time. I find that a lot of people on recreation trails are not paying attention and will change direction randomly or will cross without looking. You have to be alert at all times. Back in college their were spots on the Pacific Bikeway in the LA area where I thought I was safer on the road. My friend won't be riding for quite awhile. Broke his collarbone in two places. He has to wear a support to hold everything in place for another month yet. On the bright side he knows to wear his helmet whenever he rides now.
5 responses

• United States
27 Aug 12
I wiped out riding a bike a few times as a kid. I would panic then wipe out! One time I wiped out my sister at the same time! I would end up with some scrapes and a lower self-esteem! I had a friend who broke his collarbone when he crashed his motorcycle! He totaled the bike,too! My best friends step daughter wiped out on her brother's mophed like a month ago! She hit a bump on a walking trail! She ended up with an concussion and alot of scrapes and bruises! So you can wipe out on other two wheelers! Not just bicycles!

• Canada
27 Aug 12
Accidents can happen at any time. It is important to be careful. I had a friend in high school break his collarbone as well. He and another friend were doing something stupid though. Friend number one was sitting on the hood of the other friends car while it was driving. Friend number two wondered what would happen if he slammed the brakes. Not very bright. My friend ended up missing an important basketball tournament while he healed.


• Canada
26 Aug 12
He'll heal but he looked darned uncomfortable while I was talking with him. If all goes well he'll be back on his bike before winter.

• Philippines
26 Aug 12
Ouch! Really big ouch! I'm into sports. I like swimming, riding my bicycle and riding my longboard (sometimes downhill at 30kph). I had small accidents on my longboard, it's inevitable to fall off especially when you're just starting. I never had any serious accidents though because I try to be careful at all times. Focus and precaution are very important.

• Canada
26 Aug 12
Big ouch! I've had my tumbles and thankfully haven't had anything really serious. I am really big on safety and I do tend to be careful.

• Romania
26 Aug 12
Thank God he escaped with only that.Though,a collar bone fracture,in two places,is quite a bummer. In my opinion,the helmet is a must.It may prove sometimes a lifesaver. As for pedestrians...Thy are literally risking their and others life when they aren't alert.Even if there is nothing near you,look both ways before crossing.Look behind,if a road is behind you. I once nearly got hid by a motorbike which was running on electricity.In made no sounds,it was extremely stealthy.I did not look,the guy almost hit me when I changed direction. People must be very careful no matter what they do. I am sorry for your friend,but thank God he escaped only with that.

• Canada
26 Aug 12
It could definitely been a whole lot worse. I cannot believe how inattentive people are. Especially while texting or talking on a cellphone. A young man this summer walked in front of a train near where I live while texting I think it was. Killed instantly. How on earth can you not notice a train?

• United States
26 Aug 12
Oh no, that's terrible. Good thing he didn't suffer any more injuries. It's a bad thing that nobody initially took the trouble to see how he is when it happened, but at least now he can just concentrate on his recovery. Good thing as well that he learns his lesson this time.

• Canada
26 Aug 12
He is lucky he didn't land on his coconut. He'd left his helmet at home. He now says he won't even get the bike out unless he already has his helmet on his head.