Is it good habit? Teacher or professor sleeping in class room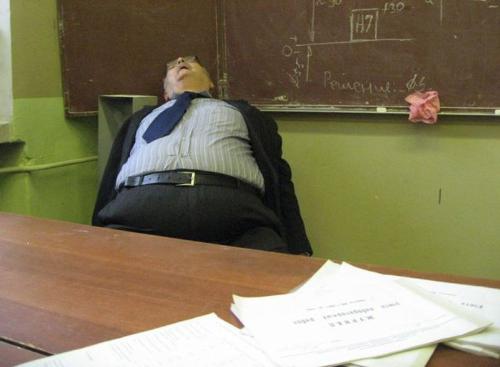 India
August 26, 2012 7:28am CST
I have seen when I was going my younger daughter's school for meet the teacher to ask about dance. I asked a person there where is joytsna madam he told check the staff room or class room. I go in class room and shocked when saw teacher are sleeping there. I confused to call her or not but I feel ohhh no I have no time to came again so wake up the teacher and asked her some questions about dance. Do you have such experience in you daughter's school or do you have such habit in your field. What effects on child if teacher is sleeping.
3 responses


• India
28 Aug 12
If teacher is not feeling well then no problem but I watch the feeling well teacher also sleeping. Danger habit.

• Philippines
26 Aug 12
It is improper, seeing a teacher sleeping inside the classroom whilst the class is ongoing (even it is not, since it is a classroom). It's acceptable if it is in staff room and is break time. The students might misundertood such behavior and might do it in the classroom as well. I just hope the teacher doesn't make it a habit.

• India
28 Aug 12
Yes this is not good habit sleeping before students during class time.

• Philippines
21 Sep 12
I was a classroom teacher. Yes,it is a bad habit to sleep inside the classroom during "class hours". However, if it is break time,I guess there's nothing wrong with it even if she leans on her desk to sleep.