Remind Me NEVER To Invite My MIL To Paint Ever Again

Carlisle, England
August 29, 2012 4:18pm CST
I never realised how bad the vestibule door was until I saw it up close today. Mum already has had a screwdriver out on it, scraping paint off the metal bits (door handle) and I've had a go scraping paint off the many panes of glass that are in this door. I am so annoyed that both myself AND John let my MIL loose on the door a few months ago. She undercoated it whilst I went to the Opticians and I was out about an hour. I came back and she just told me not to go near it for a bit. She just hasn't bothered putting any masking tape on the glass. It's not as though none was used elsewhere so there was a supply of it. Her husband used it so why she didn't is still a mystery to me.

It will take me an age to scrape that paint off the glass, even before sanding it down slightly so I can gloss paint it. In fact, the undercoat on there isn't the be painting job I've ever seen and I'm a novice! Thank God she's banned herself from the house is all I can say!

6 responses

• United States
29 Aug 12
Um....yeah, that's kinda bad.

Well i guess it's a good thing she's banned from the house.

At least she won't be back to mess anything else up. It's sort of hard to believe that somebody could do a really bad job like that and think nothing of it. What's wrong with people? I have a friend who does interior painting in his spare time. He ran into a woman he knows and she told him she hired a guy to paint her new condo. A "professional". She asked my painter friend could he look at it and let her know what he would charge to
fix
it. The pro charged her a lot more than my friend would have and what a mess it was. It could have been done by your MIL! Good luck scraping.


• Carlisle, England
29 Aug 12
Well, with us it was the other way round. A painter and decorator friend of ours actually finished off the wallpapering (and in actual fact my FIL is quite good at it) but I reckon his heart wasn't in it because of his Mrs not wanting to come round anymore (and probably giving him grief all the time) but the painting had already been done. The decorator reckoned it didn't look too bad (but he was being kind) and I told HIM that this will be the last time the MIL ever has a paintbrush in her hand in this house..and she's banned herself from coming round anyway so I don't have to lol.


• Carlisle, England
30 Aug 12
No, the only feelings she thinks about are her own.



• United States
29 Aug 12
As others have said, it sounds like it was her plan to do such a horrible job that she would be excluded from helping. It certainly isn't uncommon for people to take that tack when they just don't really want to be bothered with doing something, but they don't want to be the "bad guy" and give an outright "no." Personally, I would rather just tell someone that I don't want to help with something than to go and do a poor job on it just to get banned from "helping." I would rather people think me unwilling or even a tad lazy than incompetent.

• United States
30 Aug 12
The frightening alternative is that she thought she did a good enough job and that it does not matter. Obviously how your home looks matters to you. How is the Usertesting doing? Do you still like it?

• Carlisle, England
29 Sep 12
I do like Usertesting. I got paid twice last week. Some weeks are more productive than others as I don't always qualify for the tests. A 'Scenario' is always shown in my email so I don't waste my time trying to qualify (like on some surveys), then get disappointed at the end. It's definitely a legitimate site anyway and I found out the other day they have 'no plans' to include webcams in their tests. On some other sites they like the user to show their facial expressions whilst they talk. To me, this is silly and distracting, so I'm quite relieved Usertesting aren't going down that route.


• Canada
30 Aug 12
my mother in law likes to paint her house about once every year and she doesn't edge the paint on the walls (to the ceiling) very well at all. she doesn't use tape and it looks like a mess to be honest. one year (several years ago), we asked her to paint our kitchen. while it was ok, she made a bunch of mistakes that had to be fixed. so i know what you mean.

• Carlisle, England
29 Sep 12
My MIL doesn't use masking tape either and she has the same condition as John that causes her to have SHAKING HANDS. Can you imagine a combination of the two? Shaky hands and no masking tape? But that's exactly what she did. Silly woman!


• United States
31 Aug 12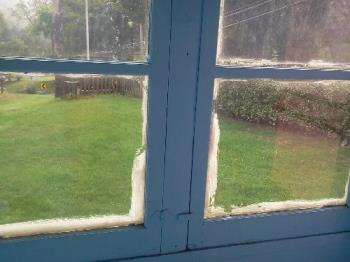 Oh gosh lol I looked at your windows and they are nothing compared to the terrible job someone did on the windows in our back room before we moved in. My mother about a year ago said that my husband did that and I was like no I have no idea who painted them that bad but it sure wasent him. I had to attach a photo to show you how bad this paint job is. I really should go out and just scrape the paint off. I've lived here like 9 years and never done anything about it. It looks terrible.

• Carlisle, England
29 Sep 12
So sorry I haven't commented until now but yes, it does look awful. Is your new man sorting it out for you? He's a carpenter isn't he? I do hope so.


• India
30 Aug 12
Hi friend, sad to hear about this, you never forget about this incident in your life, your MIL did a crazy thing with or without her knowledge which gave a great trouble to you

• Carlisle, England
29 Sep 12
Well, I've not seen her since so I'm happy. Haha!


• China
30 Aug 12
It seems that She has been more of a hindrance than a help to you.She could never be relied on to do anything right.

• Carlisle, England
29 Sep 12
You've summed her up perfectly there my friend!