I got a free taco kit, and free cereal!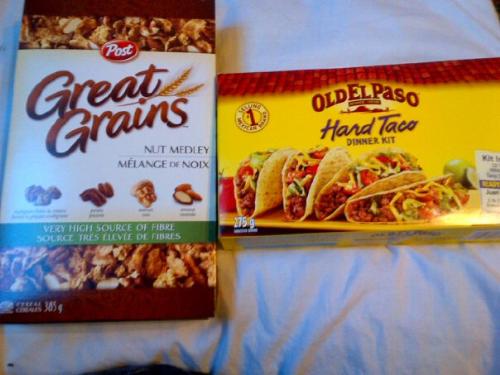 Canada
August 29, 2012 4:27pm CST
I had these two fpc (full price coupons) to use up by the end of the month. I used them up while I was out shopping, and finally found a store that offers it. The cereal sounds good, but something I wouldnt normally buy as its so expensive. I have been wanting tacos but again rather expensive. Great Grain (reg $6.99 ea) = FREE Old El Paso Hard Taco (reg $6.99) = FREE Total After: FREE Total Before: $15.79 Savings: $15.79 I am trying to get back into using coupons to save more money. I havent had much time as Ive been working so much, but now that my seasonal job is over I have more free time.
6 responses

• United States
29 Aug 12
Wow that is expensive cereal - but sounds like you got it for a steal with that free coupon! I don't know how much taco kits cost . . . we sometimes have tacos but most of the time we do taco salads (basically an open taco) - but hey, you got it for free - so taco away!


• United States
30 Aug 12
I know - cereals can be expensive (and many are just too sugary anyway!). I don't know if you guys have a Trader Joes up there, but that's where I get our cereals. It's more like $3 - $5 a box. I don't eat cereals all that much, but the kids do. Maybe you can see if there's a recipe to use up the cereal . . . I once made muffins using Cheerios (online recipe!!). I just found taco salads easier to prepare . . . chop everything up and let everyone put it together themselves!

• Legaspi, Philippines
30 Aug 12
You are so lucky to have a coupon which give you a chance of getting some items for free. Congratulations ricki!

• United States
29 Aug 12
Free is the best price ever. I hope you enjoy both items.

• United States
29 Aug 12
Good job! I Never that lucky to get full price coupons.

• United States
29 Aug 12
I don't ever do the taco kits anymore. I bought a thing of the seasoning and I always have taco shells in the house, cheese is something I also always keep and so the only thing I'd need to buy would be tomatoes and ground beef. I tend to save more that way by doing it like that. The kits are fine but I just rather make it my own way as I add more seasonings to things generally. Saving $16.00 is pretty good though!

• Canada
30 Aug 12
I dont eat much tacos maybe once every few months. I wouldnt even buy the raco seasoning as its $2.99 a pack anyways (its almost cheapier to buy the kit LOL). But I only use a few drops, and the rest sits iin the fridge). I love adding the extras on it like onion, lettuce, toomatoes, and so on.

• United States
29 Aug 12
I like using coupons with sales, that way you can save the most money. I hope to find more free food coupons, but haven't in a long time. Good going on getting the free cereal and taco kit. It's been years since I had a taco! They are so good with the right ingredients.