daughter

India
August 29, 2012 9:27pm CST
Hello friends i have a very lovely daughter and i am very much thankful that God almighty has given me one as i had always prayed that i should have daughter.Friends i know that there are many parents who would prefer to have a son rather than a daughter. Do you also feel the same? please give your invaluable response. thanx in advance have a nice day
6 responses

• India
31 Aug 12
Tripta I was married in 1966, my first kid is daughter, next are 2 sons, my son's as well as daughter's first kids are daughters; in my family we don't differentiate between girls and boys; they are god given.. Many complain the sons don't take care of aged parents, it is the daughter only.. blessings

• India
1 Sep 12
hello Baba... thanx for your response.Yes i think you are absolutely right in saying so because i personally think that girls are more affectionate and soft hearted than boys and so the girls are more attached with their parents. have a nice day.

• United States
30 Aug 12
I would love to have had more than one cild so I could havea son and a daughter. I thik they are both gifts from god.

• India
1 Sep 12
hello friend first of all thanx a lot for your kind reply.I wish God Almighty fulfills all the dreams which you wish for because i personally feel that a house without children is a desert. have a nice day

• Philippines
30 Aug 12
It is said that every person has a gift, and the most valuable gift of all is acceptance. A daughter has a specific and unique functions and roles in life that no one else can do the same, the same also as the son who has the roles differently played. Each person either it's a male or female is an important part of the society and we look up each other for that certain roles, no matter what gender a parents should wish to have for their children, there;s only one thing that we can be sure off, that they'll be treasured and loved for a lifetime and they will be the one who will take care for their parents when they get old so raise your daughter well and Im happy for you because you received what you have wished for... (I am also wishing for a daughter of my own)

• India
1 Sep 12
dear friend...thanx a lot for your reply.Yes you are absolutely right in saying that both boys and girls have a specific role in life and every one plays their role to perfection as guided by the almighty. have a nice day

• United States
15 Sep 12
Hello I agree with when I was little I always wanted a daughter and now I have two daughters. I always have said to people I rather have all girls then all boys any day. I wouldn't even know what to do with a boy at all. I am blessed with my two daughters they act and look just like me. Having my daughters in my life is the best thing that has ever happend to me.

• Philippines
2 Sep 12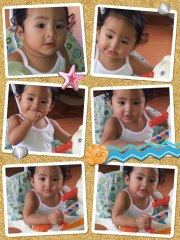 Hi! Whenever I was pregnant, I never asked for a specific child to come out. I just pray that the child goes out healthy and with no physical deformities. Now, i have 4 sons, and I have stopped at that. Some thinks that i should have another kids coz it might be a girl this time. But I told them that i am happy with my 4 boys. It is hard to raise a lot of kids nowadays. Anyway, i have nieces that I can doll up whenever I feel like it.

• India
31 Aug 12
every one is unique, God made that way, i feel both daughter and son are important in life, a daughter has some qualities of her own and a son have theirs, the world cant go further without a female and a male , provided , the couple who don't have a daughter love to have one and the couple who don't have a son love to have a son, but we cant deny there are people who want only son's or only daughter's , so it depends on the people .