New semester to school today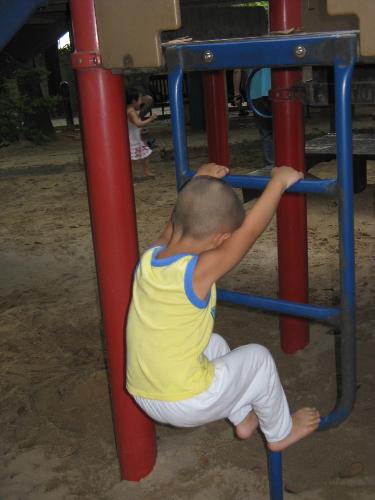 China
September 3, 2012 3:34am CST
Today is September 3rd. It is the first day for the kids to go back to school. I sent my three-year-old son,who had been spent his holiday for two months at home, to the Kindergarten this morning. When he saw the new teacher but not the familiar one before, he cried out loudly and said," I don't want this teacher!" And just tried to escape from the classroom and even the school! After comforting him one moment later, he was calm down. And the new teacher, the lady, came to us and spoke to him again. He then cried and refused to stay at school once more.It is not so easy to manage and control him. The teacher then had to hold him in her arms and forced him to the class and comfort him with food. I turned back and hid myself for a few minutes before I could not hear his crying sound. Later, I left school till I had successfully stolen a glance at him and saw him sitting calmly in the seat and eat the breaskfast. Dear friend, do you have kid? How about you kid in the first day to school, especially in a new term?
4 responses

• Philippines
4 Sep 12
I don't have a kid as of this time yet I've scene this scenario in our school before. When I was in university our school offered a pres school and kindergarten classes. I can see different kinds of students some are smiling, others are so energetic and active roaming around and the others are "sad kids" I call them sad kids on the first day. Because they keep on crying and wanted their mom to be always at their side, at first I don't understand because I'm not like that when I was young but when I started about kids development I became to understand why kids cried during the first day of the school, they cried because they are afraid, they think I don't belong. But, when they can feel that they belong, I assure you they are the most energetic kids you can have :)

• China
5 Sep 12
Dear Friend , thank you so much for your experience shared. My son just feels it is hard for him at the very moment to seperate with us. During the time of staying at school or sitting in the school bus, he stopped crying and play with other kids very happily. And sometimes, he even can help his teacher sorting the toys, chairs and tables in the classroom. And he can get on well with other kids and very active. Hai! The most difficult moment is the very moment of seperating with us.

• Philippines
5 Sep 12
yah, right it's indeed difficult for a child to be apart from his parents specially that they think their parents are their protector and also in their parents arms they find comfort. Anyway I'm so happy to know that your son is adjusting the environment well and easily. I think you are a proud mom of your son.

• Philippines
4 Sep 12
Hello I don't have a kid but I remember when I was also in Kindergarten and Elementary I cried every start of the semester. I don't know why. It seems that I will miss home,my mom, and father.lol. My father is very patience with me..That was a funny memory from my childhood.lol..

• China
4 Sep 12
Dear friend thank you for your reply to my post! Yes, I think your memory in Kindergarten is very interesting and you will have much more understanding to your kids if you have in future.Have a nice day!

• Philippines
4 Sep 12
yeah, you're right. I just smile whenever I remember those things..:) Have a great day too.

• Philippines
4 Sep 12
I have an 8 year old kid who started going to school at the age of 2. My husband and I at first thought that my son needed to be with other kids since he is an only child. When he was two I went to this day care center with my son and asked him if he's interested in going there. The first time he sat foot into that classroom he liked it already and told me he wanted to go there. On his first day, we just put milk and snacks in his bag and he went inside the class room alone. Two times a week he goes to Kumon for private class too. When he was 3, he went to a pre-school and we never had a single problem leaving him there. We couldn't even tell him he had to miss class whenever he was sick. He loves going to school until now he doesn't want to miss a single class.

• China
5 Sep 12
Dear Friend, Thank you for your response to my post ! You son is really very lovely that he like the school very much. Congratulations! I hope my son will get used to the school life as soon as possible. Have a nice day!

• Egypt
16 Sep 12
school days are very bad to any child and they hate it when it seems to be long for them