I'm getting a puppy!!!

Philippines
September 4, 2012 10:48pm CST
I am so excited that I am getting a puppy today!!! It's a japanese poodle. Can't wait to pick it up later this afternoon! At least I won't get bored in the house alone anymore about what happened in my life lately. Do you know how to take care of poodle? Just wanna know. Thanks in advance! :-)
6 responses

• Vietnam
5 Sep 12
wow, it is nice for you, for sure you won't be bored when you care a puppy. I haven't cared a puppy yet but my mom did. In fact she didn't do much for a puppy, just feed them food only because my mom has a small garden so that a puppy can play in there with cats.

• Philippines
7 Sep 12
That is so cool! I love dogs but my dad loves them more. We do have some dogs at home and my dad takes care of them most of the time. Unfortunately, I don't know anything about taking care of a poodle. What are you going to name it? Is it a boy or a girl? Give us an update and a picture with it too, would be great!


•
5 Sep 12
When people who are not used to having dogs are getting a puppy it can be worrying. 1 Make sure the puppy is at least 8 weeks old and has not been separated from its mother or litter mates earlier. This is because during these first weeks it learns about socialising and its mother will start to discipline it, without this the dog will be hard to train and may have behavioural problems 2 Make sure you see the pup with the mother. This is because if the mother has any problems the breeder may hid her 3 Handle the pups before you buy, hold the puppies ears, feet, tail. Hold the puppy on the ground upside down and rub its stomach. If it reacts badly, biting when you do these tests it indicates an undesirable dominance for a first time owner. When you get the puppy home begin training straight away, puppies learn easiest when they are youngest. Take it to a trainer where it can socialise and learn with other puppies. Never hit your puppy, not only is it not a good method of discipline, the puppy can even interpret hitting as reward; any attention from the owner is reward Make sure you feed the puppy AFTER you, that it walks through doors after you. Never let your puppy on the bed or sofa. This is because these tell the puppy that you are dominant all the best, urban

• Philippines
5 Sep 12
You did a right choice to get rid of your boredom. Having a dog or a puppy is a stress reliever. Just make it sure he/she always have complete vaccines shots so they can be protected from bacteria and diseases.



• Philippines
13 Sep 12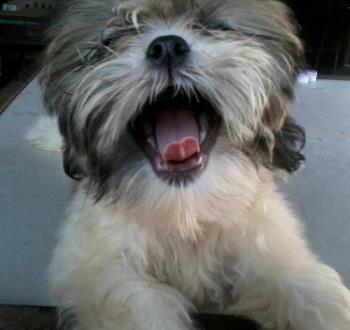 Poodle? Oh that is cute. I'm sure you really would enjoy that new pet of yours. But sorry I can't give you any tip because I have never had a poodle. But of course I think it is just the same as caring other breeds, it just that some breeds do have peculiar behaviors. I hope others here can give you good advice on how to take care of that kind of dog.