Why girls always attracted to bad boys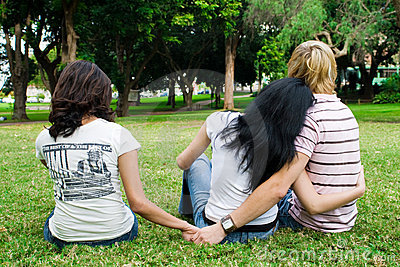 India
8 responses

• United States
9 Sep 12
My fiance was my bad boy

, it just the trill you get when your doing something you know you shouldn't . Its like being free and seeing for the first time . The chills you get when they touch you lol... I think you also change them and they change you in some ways . Its like water and fire creating steam and the challenge is also nice . I also rather guys with swag

You cant help to surrender


• United States
9 Sep 12
My boyfriend was my best friend so I know everything about him , and I think I was also a devil . We are not like those kinda bad psycho but rather popular spoil type, that was our challenge but we were best friends so dating wasn't very hard. Now we are in college we are both angels

• United States
12 Sep 12
Bad boys are only bad on the outside inside they r mush especially when they r in luv. Mine is a true gangstas the crazy beat the crap out of u and don't look at my girl type but if I'm upset or hurt or sick hrs right there to baby me.

• United States
13 Sep 12
Your guy sound real bad lol my bf and I are both coward but act bad

. I also feel most bad boys pretend to be bad but when you get to know them you see they are a sweetheart

• Philippines
8 Sep 12
I personally get attracted to bad boys and I really do not know why.But I think it is because bad boys seems to have a strong personality and I think bad boys could always fight for the girls they like.In my own,experience I met this guy who is really a bad and when he met me,he started courted me and until now he still like me.Some bad boys respects someone they like a lot but even though I am attracted to him. I can't because I am committed but really I also like him but I have to set boundaries.

• India
8 Sep 12
see another girl.This magic is happening everywhere. How can you decide a boy is a bad boy or good boy.

• Indonesia
8 Sep 12
Maybe it was a personality and no one knows how a person's personality will rub off on him each.

• United States
9 Sep 12
My traits rub off on my fiance

,,, we are now in college like different people .

• Netherlands
8 Sep 12
I'm not sure why girls get attracted to bad boys. I have never felt attracted to bad boys myself, but back in high school my friend had a boyfriend who wasn't exactly good for her. They were a challenging couple, to say the least. He didn't treat her very nice, but she wasn't the kind of person to just take it. Then again, she did put up with him for a long time. I don't know when they broke up, though.

• India
8 Sep 12
ha ha You are some other kind of girl and can you say what type of boy do you like to have?

• Japan
9 Sep 12
I don't think girls do only the ones with low selfesteem. Things happened to me and until certain age I had no admiration or love for my self, my first boyfriend only was this bad boy you are talking about and then I found my self and the next guys were completely different from him. I fall out of love as soon I'm not well treated, I just can't, but I had girlfriends that are not well treated and I could see how they didn't love themselves for real.

• Philippines
8 Sep 12
Hi, I think the reason is because these girls are gullible to the bad boys antics. Especially if the girl hears negative words about this bad boy, the girl all the more defends the guy to prove them that they are wrong into disliking the boy. This also has something to do with the personality of the girl and the boy. Most the time, they get to like each other because of a common denominator. It could be their hobbies, or past experiences etc.

• Philippines
30 Dec 12
girls always dream to have a boyfriend who is bad boy type because for them, it feels so good to be the one who will be the reason for the bad boys to change. girls dream to have a bad boy who is only good and respectful to them. i think that's the reason. i myself is also attracted to bad boys because they have a strong personality and when they change just to get you, you gotta believe them because it is true.