Medimix going to sue apple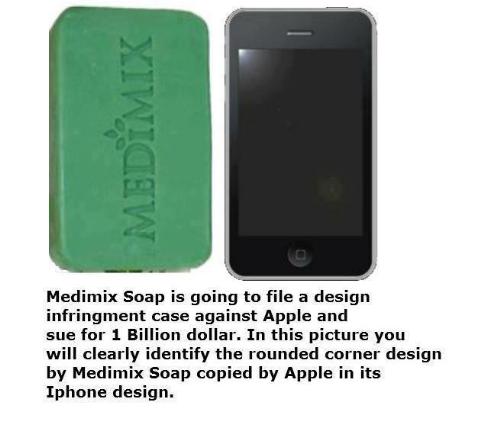 India
September 9, 2012 12:10pm CST
Medimix soap an Indian company is soon going to sue apple for design infringement for their design match with apple Iphone model that has similar edge curve cut for smooth handling of its users. They are going to sue them for 1 billion dollars.
3 responses

• India
9 Sep 12
What!?

I'm sure its a rumour. Not even a rumour, a joke. After so many years Medimix realized the fact about iPhone's design? Also the law suit is exactly of the same value as Apple vs. Samsung? All these makes no sense. Most importantly what does a soap has to do with anything electronic? If they have a copyright of their soap's design, I'm sure its applicable only to the soap industry. And c'mon lets be practical, have you ever heard of soap designs copyrighted? Almost every soap has the same design. So Medimix should sue every soap company first before thinking about suing Apple. Its nothing but gimmick news. From where did you come across this piece of information?
Good day!


• India
10 Sep 12
It may be because they are awaken by the Samsung and Apple copy infringement case, where they are also fighting for design copyright.

• India
10 Sep 12
Bloodmask, come on brother, lets be realistic. A soap company suing an electronic company for design theft, whereas all the soaps look similar? Shouldn't they first sue fellow soap companies, win the cases and then look for higher cases? If they manage to win against other soap companies, it will make their suit stronger against Apple. Its all but a gimmick joke, nothing else.
Good day!




• India
10 Sep 12
And I found this funny thing at facebook. I was just sharing this information I don't know if its true or what.

• Wausau, Wisconsin
7 Apr 16
I have Apple iPhone and haven't seen much on them getting sued.