Wrath of the Titans is a good movie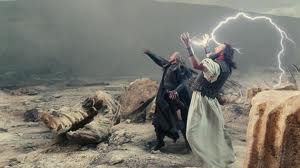 Philippines
September 10, 2012 5:56am CST
Hello lotters, Though we have

different interest in terms of looking for movies, there had been some bored scenes but the action was amazing too. I didn't the part where the mom isn't available anymore, but i think the father and son bond was good too. It's like the end of the

Era where people use to worship the GODS. thus, they are turned into human. But the past part for me was ZEUS started fighting back after his youth was restored,but too bad it didn't last long. http://www.youtube.com/watch?v=Ufef5ipYpLY But I love the movie,

probably a lot better than the last one. Have a nice day
3 responses


• Philippines
11 Sep 12
Hello Visavis, the effects were good and action was great. I like them both but part ii was more favorable to the gods in action and i wanted that.both of them were good because they have most of the different action except the fact of persi there using the flying horse again to do his good deeds




• Malaysia
10 Sep 12
yeah..Wrath of the titans is more better than the first one.Clash of the titans.. and more watchable..

• Philippines
10 Sep 12
Hello

Rafiholmes, They were scenes from the first one which was a bit more suspensful as he discover himself. but part ii is kinda confusing and exciting too, because i never thought I'd see two Gods fighting against a stronger god. It was really fun and am glad I was able to watch it


• Malaysia
11 Sep 12
yes..im guessing part 1..was completed before Sam worthington become a superstar after AVATAR..)although it was release after avatar' it was shot way earlier) so part 2 was made after he is famous..so they pulled up a better script for Wrath of the titans..

• Philippines
11 Nov 12
hi, actually i have been watched this movie thrice because i really loved the scene,the story and of course to the cast of that movie,and aside from that i love to watch epic or myth movie too and it because the story is all about goddess and gods with there powers too.such a good movie for me.