He's back!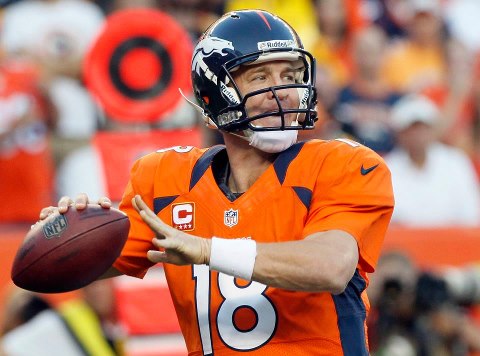 United States
September 12, 2012 8:45pm CST
Peyton Manning that is! I saw him play on sunday night against the Steelers. Manning looked like he never had missed a year of footabll due to a neck injury! He is the same old Peyton Manning! He'll take the Denver Broncos to the playoofs!
3 responses

• United States
15 Sep 12
He looks good. And it is nice to have him back. But, oh boy, I worry. If he gets dumped on throwing arm too much, he might be done for good this time.

• United States
15 Sep 12
Yes Peyton Manning looked really good! I am not worried about him throwing to much. My biggest concern is him being sacked. Peyton is not a scrambler. I hope his offense line doesn't let him down during the season! I see too many players heads hit the ground Causing concussions and neck injuries! Don't want to see Peyton with another neck injury much less a concussion!

• Canada
14 Sep 12
He has been looking good. In preseason he even looked good against the niners even though the niners won that one. Hope he plays well. I think it is good for the sport. I'm rooting for the Niners though, in case you couldn't guess. They looked tough against the Packers. Although that record tying field goal was a stroke of luck.

• United States
15 Sep 12
Peyton Manning is just what the Denver Borncos needed! They are a team that will make a run for the playoffs! He is back to his old self! With the Packers they looked bad against the 49ers at times! The Ackers 63 yard field goaled was pure luck! Last night the Packers beat the Bears and that was a great game to watch!

• Canada
13 Sep 12
Yes he is! And it was amazing watching him go to work. And against the Pittsburg Steelers. Granted that he's got great athletes around him, but you can't deny feeling that the Broncos will have a strong showing this year. Big contrast to the Indy game that morning.

• United States
15 Sep 12
Even since Peyton Manning set out the 2011 season at Indianapolis,the Colts suck and still do! Yikes! With Manning in Denver you are right,he is surronded with alot of talent! The Broncos will be a team to reckon with this season!