Something's wrong with Ichigo's teeth or gums.. help!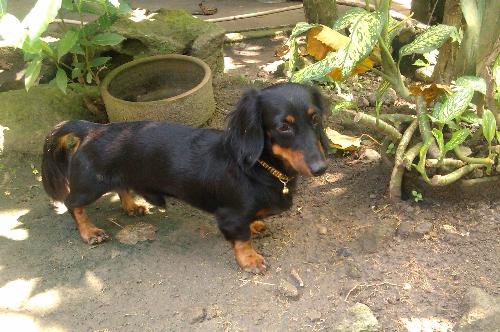 Philippines
September 13, 2012 11:27am CST
Last week when we we're having dinner, he gave those pitiful eyes so I gave him a big beef bone! After a while, he was scratching or touching his right cheek. Then I noticed an irregular shape protruding in his cheek. I can't check it because he doesn't allow me to. I'm guessing it's a bone that stuck in his teeth or his teeth itself. HELP!
3 responses

• United States
14 Sep 12
Your mistake is giving him a cooked bone. Never give a dog a cooked bone. Bones that are cooked can break easily, which are very harmful to dogs. I recommend taking him to the vet. I also don't recommend buying sedatives yourself and taking the bone out yourself. You aren't a certified vet and you can kill your pet if you do an overdose with the sedatives or damage your dogs gums and teeth by trying to take the bone out yourself. So please take your dog to a vet.

• Philippines
14 Sep 12
Somebody said it's not advisable to give raw bones either. How about boiling the bones for a few minutes? It wouldn't easily break and it's not raw anymore.

• United States
14 Sep 12
Raw bones aren't advisable cause dogs can't digest it. If you want to give your dog a bone, it's best to give him a rawhide bone you can buy from stores since they can digest it, but just don't give him too much cause too much rawhide bones are also bad. You just have to keep watch he doesn't eat it and don't give him a bone everyday. I give my yorkie a rawhide bone once a month and I make sure she doesn't eat it. Whatever parts she broken from the bone that I think she can choke on, I quickly take it away from her and throw it away, so she won't choke on it. Stay away from cooked bones and raw bones from foods that we eat. It's not healthy for dogs.

• Philippines
14 Sep 12
I have decided to never give him another bone, ever. I've read online 10 reasons why bones are unsafe for our dogs. 1. Broken Teeth. 2. Mouth or tongue injuries 3.Bone gets looped around your dog's lower jaw. 4. Bone gets stuck in the esophagus. 5. Bone gets stuck in windpipe. 6. Bone gets stuck in stomach. 7. Gets stuck in intestines. 8. Constipation due to bone fragments. 9. Severe bleeding from the rectum 10. Peritonitis - bacterial infection in the intestines. I think either no. 1 or 3 is what happened to Ichigo.


• United States
13 Sep 12
First of all allow me to tell you that you never, EVER give your dog table food no matter what kind of sad puppy eyes they give you, simply because every vet I've ever spoken to said that table food is very bad for dogs & can cause all types of health problems for your pet. That being said, yes there seems to be something wrong w/ your dog's mouth or tooth. If he wont allow you to even look at it then you have no choice but to take your dog to the vet. If you don't then something that could be minor could very well turn out worse. My best advice to you, is to take your dog to the vet as soon as possible.

• Philippines
13 Sep 12
I just couldn't sometimes say No to those eyes. Yes, I will bring him to the vet tomorrow. Thank you.

• Garden Grove, California
13 Sep 12
hi Marygoround I believe you are right and you are going to have to take him to a veteraniarian to sedate him so the vet can pull out the bone sliver ,. poor ichigo he must really hurt. We humans can tell someone when we have a mishap like that but dogs do have no way to tell us. d o get him to a vet.

• Philippines
13 Sep 12
That's what I'm thinking about, sedating him. Is it possible to buy sedatives over the counter? I want to take a look at it myself.. If its just a bone, I can pull it myself. You know, going to vet is pricey.