who will win 2012 t20 world cup??be fair on openion

September 19, 2012 9:29pm CST
for 2012 t20 world cup going to be very unpredictable for sure becouse t20 is a game where a single good over can change the whole scenerio of the game .so give me ur honest opnion which team u think is going to be world t20 champion,or england can retain there t20 world title
8 responses

•
21 Sep 12
In my opinion its South Africa...definitely t20 is a game of luck so anything is possible.. but the fact remains the same they have good players with them and inform... England's chances of winning are a bit low because they left out Kevin Peterson one of their best attacking players in t20 game. well discussions apart..wat

•
21 Sep 12
i think this time south africa is the main contendor as per the performance of the team is being surprisingly good

• India
21 Sep 12
Hey fellas welcome to mylot..!!

Now I've already made you guys aware of the guidelines so enjoy your time here. And about the t20 cup.. who soever may appear strongest on stats, I don't care. I'm still gonna cheer for my desi boys..

afterall "Dil sada Hindustani" (my heart is Indian).



•
21 Sep 12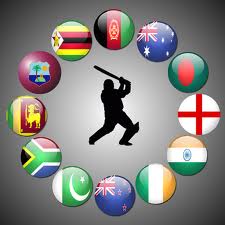 my request Super 8 Group A – England, India Group B – Australia, West Indies Group C – Sri Lanka, South Africa Group D – Pakistan, New Zealand -------------------------------- Group 1 – A1, B2, C1, D2 Group 2 – A2, B1, C2, D1 Group 1 – A1(India), B2(West Indies), C1(Sri Lanka), D2(New Zealand) Group 2 – A2(England), B1(Australia), C2(South Africa), D1(Pakistan) -------------------------------- Semi Final1 -Group 1 1st Vs Group 2 2nd Semi Final2 -Group 2 1st Vs Group 1 2nd G1 1st (India) G2 2nd (Pakistan) G2 1st (Australia) G1 2nd (Sri Lanka) ------------------------------- Final India Vs Sri Lanka Winner ?????

• India
22 Sep 12
Hello slmanju, good to see your predictions. I also think that England, India Australia, West Indies Sri Lanka, South Africa Pakistan and New Zealand will qualify for the next round. Anyway let us wait and see how accurate your prediction is

.



•
21 Sep 12
In my opinion its South Africa.. they have inform players,their luck is in their favor and we all know that t20 is more or less a game of luck.. about England chances go a bit low with Kevin Peterson out of the side.. well whatever happens we have to enjoy the game.. cheers!!!!!

•
15 Oct 12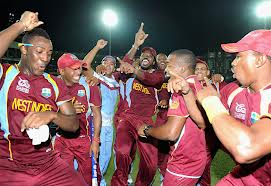 win west indies... The West Indies team dances to celebrate victory ' Fun & Win ' West Indies battle to glorious win over hosts Sri Lanka to win World Twenty20 title West Indies win by 36 runs ' 2012 t20 top 5 Batting Most Runs Shane Watson(AUS)....... 249 Mahela Jayawardene(SL)...243 Marlon Samuels(WI).......230 Chris Gayle(WI)..........222 Brendon McCullum(NZ).....212 2012 t20 top 5 Bowling Most wickets Ajantha Mendis(SL).......15 Shane Watson(AUS)........11 Mitchell Starc(AUS)......10 Lakshmipathy Balaji(IND).09 Saeed Ajmal(PAK).........09

• Sri Lanka
27 Sep 12
What about China ? he he i was just kidding... no offense :) OK according to my opinion..I think South African team seems to be the strongest.. But according to the statistics, they never had such a luck.. so, im gonna leave SA.. then West Indies,.. they have a really strong T20 players.. both the batsmen and bowlers.. if they can put everything together, they can win.. but unfortunately, they underperform in crucial games.. Aussies have a great team too but.. they are not the favorites as I think because only few players are performing well and I'm not really impressed with their bowling.. India could be one of the favorites.. but their bowling is not the best. Bowlers are not consistent these days. If it's a bowlers' day, they will destroy any batting line up like they did to Englishmen. Pakistan is really playing well recently.. They have very good all-round performers... but they sometimes lack concentration and commitment... Their fielding was poor in the Bangladesh game... Defending champions will not surely defend their title this time.. though they are a good team... Kiwis have no luck.. they won't make it to the Super 8's... Because I am a Sri Lankan and due to the home benefit, Sri Lankans will win this time. We play very good cricket and have all-round talented players. Only area we lack is power hitting... If it's our power hitting day, no bowling line up can stand against us... Jaya Wewa Sri Lanka !

• United Arab Emirates
20 Sep 12
well good topic but it is difficult to say that who will win because as u know "Cricket is by Chance" But if we see the recent performances of rivals then we can expect the winner maybe from these teams. 1: India 2: Australia 3: Pakistan 4: Srilanka

• India
20 Sep 12
I think west indies and pakistan have chances to win world cup. They have large pool of good t20 batsmen. Apart from this they also have good bowlers who can restrict opposition to low scores. Talking about other teams then india have chances but their bowling is very poor. If you will play bowlers like harbhajan singh and L.Balaji then you can't win any tournament. Australia are in their building phase so can't expect much from them. England(defending camps) won their world cup because of good strategic captain, this time i won't bet on them. If you think why i am not counting srilanka and new zealand, well they have good teams but as always they doesn't have much talent to win semis and finals.