I have a question about the movie Prometheus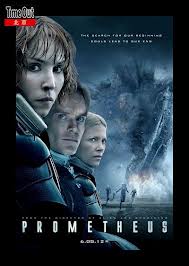 Guangzhou, China
9 responses

• Philippines
21 Sep 12
I have watched also the movie, and here's my realization: The movie emphasis that another race from outer space created us long time ago using only their dna. This was the scene in the first part where someone drink something then his whole body suddenly turns into liquid and combine in the water creating the first organism in our planet and evolve into different species including human beings. I think "the creators" have some conflicts about the purpose of eliminating the human race, because if all of them agree on it then i guess the whole human race will be gone a long time ago..Probably something happen that prevents them from going back to earth or something has change their mind. I think the "creator" that was awaken in the last part of the movie was someone who wants the human race to be eliminated and be extinct. Their is still so many questions, that need answers on that movie. We can really know what the outcome is, but want thing is for sure, human beings continues to live because of each other trust and love..


• Philippines
22 Sep 12
@youless
: -yes he drank something, but i don't know where he got it.

@rafiholmes
: Hmmm...Reading your replying, it's now coming back to me. Yes, you are right..its that micro organism that enters the human body, creates a new life form.. but still too many questions in my mind??? This movie should have a part 2, for the viewers to understand it more..


• Malaysia
24 Sep 12
hehe..Pals.. im sure they wil make part 2..because the ending of part 1..were .when they decided to board the UFO and go to the planet were it originated..so probably the story will goes on from there.. currently the sequence stands as PROMETHEUS ALIEN ALIENS ALIENS3 ALIEN RESURRECTION -_ PREDATOR PREDATOR 2 ALIEN VS PREDATOR ALIEN VS PREDATOR REQUEIM _PREDATORS


• United States
21 Sep 12
Prometheus the alien movie that is suppose to be the start to the aline movies. Now my husband had to break this down to me after we saw the movie because I didn't get it all either. The creators made a weapon which was this liqued and what ever hosts it fines it'll change it's DNA and make a new creature. For the creators we where there accident the one thing they didn't want to create because of our flaws of wanting to kill each other and fight. They wanted the prefect creature in which they couldn't make because humans had flaws and what does someone do when they make something that has flaws or errors we kill it off.


• Malaysia
21 Sep 12
yeah i will watch part 2 ..if its comes out..

• Malaysia
21 Sep 12
if u watch it again(since it didnt made sense to u the first time)... u can see the creator did not create the human..just that stupid rich guy thought thta they weere the creator..but NOT. --or it seems that some form of similar DNA of the creator managed to re-Breed on Earth and evolved as current human shape.. ..but anyway..the main point is..the evolution of the ALIEN character is what important in this film..hehe..


• Malaysia
24 Sep 12
YES..HEHE IT CAN BE COMPLICATED....hehe..

• India
21 Feb 13
Yes it's a big question they left unanswered in Prometheus, it's probably left to be answered in the 2nd part which is going to be released though it's release date has not been yet announced. http://www.imdb.com/title/tt2316204/?ref_=sr_4

• India
21 Sep 12
hello, That's a good question and the answer to this question is unknown as they have not given the answer to this question in this movie. Hopefully they will make another part of the series and they will answer that question there. I liked this movie Prometheus very much. The direction of Ridley Scott is awesome. The visuals specially are very good and the actors have played their part brilliantly. They should definitely make another part in this series. I will be looking forward to that.

•
21 Sep 12
i think if the concept of the movie is possible then the tree of evolution developed by years of research by scientist is being conflicted so its just an work of science fiction