Me and my Starbucks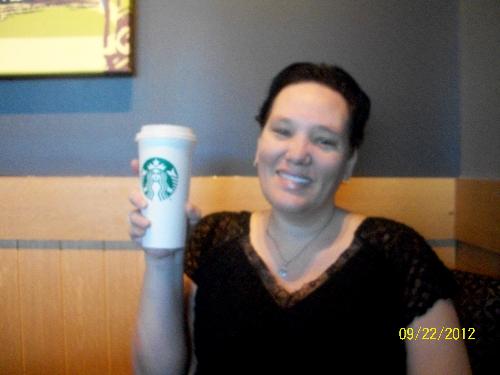 Onaway, Michigan
September 22, 2012 9:28pm CST
This morning my son came up to me and said mom I have a deal for you if you take me to game stop so I can get me a couple of games I will buy you a drink at Starbucks. So after game stop he took me to Starbucks and got me my drink. I got a salted caramel mocha latte.
6 responses

• United States
25 Sep 12
Well, that's awesome! I would have taken him up on his offer too! What a great son you have that would return a favor with another favor! I love Starbucks so I never turn down an invite there. I love Gamestop too, for that matter.

So, how was the salted caramel mocha latte? I've never tried that before but it sounds yummy!

Have a great day and happy myLotting!!!


• Onaway, Michigan
25 Sep 12
I would have been crazy to have turned that down when I really needed it. The salted caramel mocha is really good so is the pumpkin spice latte and peppermint mocha.These are all favorites of mine of the latte's.I like game stop as well I like seeing the new games that are out.

• Indonesia
25 Sep 12
Wow.. good deal indeed :) you look happy on the picture. That's so kind of your son and it's good to have such close relationship between mom and son :)

• Onaway, Michigan
25 Sep 12
It sure was a good deal.I was very happy because I have not had a Starbucks in a while and it made me very happy.


• Onaway, Michigan
23 Sep 12
It sure was a good thing he surprised me with it.He loves helping out now around the house now that he is working he even surprised me yesterday he gave his sister a dollar.

• Philippines
23 Sep 12
What great deal your son had.Your son has a great dealing ability. Sweet gesture somehow. Nice bonding time at the same time. Mocha frappucino is my favorite in starbucks.

• Onaway, Michigan
23 Sep 12
Yes I agree it was a great deal.He knows how much mom likes Starbucks and that I have not had one in a while.I have a lot of favorites from Starbucks.


• Onaway, Michigan
23 Sep 12
It sure was I was very surprised when he told me. I don't go as often as I use to but sometimes now I just go and sit and enjoy a drink while I am reading on my kindle. I love the pumpkin spice latte and salted caramel mocha and also the peppermint mocha latte as well.

• United States
28 Sep 12
How does those salted caramel mocha latte's taste? I've always thought about trying those but was wondering if I'd like it. But that is so sweet of your son, that he got you some starbucks. Starbucks is one of my favorite places, but I always like to get the frappacinos.