You are beautiful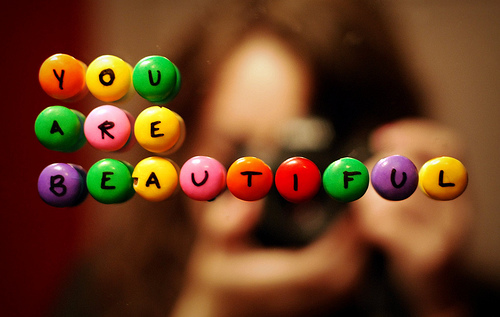 Philippines
September 24, 2012 8:27pm CST
Is it possible to have a pleasant appearance even if a person is not naturally endowed with good looks? Big Yes. According to the book I read that with effort and imagination one can have a pleasant appearance. It says that: " Sharp, angular face can like wise be softened by wearing a wavy curly hairstyle. The choice of apparel is also important. Pink colors that enhance your complexion and styles that flatter. The garments line should be considered. Vertical lines have a slimming effect, horizontal lines, the opposite". So my sister tried this tip, she choose vertical lines on her garments. According to her it's effective because she looks slim. :) Just a few effort and imagination and you can see that you also have your own beauty that other's don't have..:)
6 responses

• Philippines
25 Sep 12
This is actually true. Loose clothes is good for thin people to look a little bigger and fit clothes is good for a little chubby people to look a little slimmer too :D Everyone can be beautiful, depends on how they feel about themselves and just be confident that you are beautiful (but not to the extent which makes you look more arrogant) and just be in style too and be sure to keep your health in good condition as well. It will help your beauty glow :)

• Philippines
25 Sep 12
Hi I agree. Health is more important.:) Thanks for sharing an additional information about loose clothes and fit clothes.

• Philippines
25 Sep 12
You are very welcome :) and yes, just do't forget about your health. :)

• Philippines
25 Sep 12
Everyone can be beautiful in their own way. As what the bible verse says people will look at the outside appearance but the Lord looks at the heart. But it also helps a lot when you know how to carry yourself properly. Plenty of good looking people who doesn't know how to enhance their beauty and look unattractive instead. But their are some which really not that good looking but knows how to choose the right clothes, colors, and and hair styles that fits them and look more appealing than those good looking people who doesn't know how to carry themselves properly.

• Philippines
25 Sep 12
Hello chen Yeah. I agree.God value what's inside our heart. Our attitude, characters are the most important thing in God's eyes. Beauty will fade but attitude remain. Thanks for your time..:)

• Philippines
26 Sep 12
I noticed from past experiences/from the people I get along with. That no matter how good looking the person was but if he/she has done unpleasant things the people who are affected would see him/her as an ugly individual.

• United States
25 Sep 12
Also I read that tanning also help you to look slimmer , I ma naturally tan so I dont know

. I used to wear my hair straight but last year I decide to go back to curly even though its not that easy to manage . I found out that when I wear my hair big people like it more than when I try to control it and its beautiful this way . some time we hide our own natural beauty .

• Philippines
25 Sep 12
Hi Wow! Really, thanks for an additional information. It's an advantage for naturally tan people like you because you look already slim.:) Thanks for sharing..:)

• United States
25 Sep 12
I am glad I don't have to worry about stuff like this. I am blessed with a beautiful face. a nice complexion and a sexy boy to go with it all. I will keep the tips in mind though.

• Philippines
25 Sep 12
Wow! You are gifted with beauty friend..:)..That's great! Thanks for your response..:)

• Southend-On-Sea, England
25 Sep 12
Definitely. If someone has a beautiful personality, it radiats from them and is far more (to me) attractive than all the good looks in the world.

• Philippines
25 Sep 12
It can actually be attributed to confidence. Even though you are not physically gifted, the moment you choose clothes or accessories you think might improve your appearance, you gain a certain kind of confidence that changes your whole image. So i always tell my friends, if you don't have confidence, no matter how pretty you look, you won't be able to give that kind of impression.