My Husband suprised me with flowers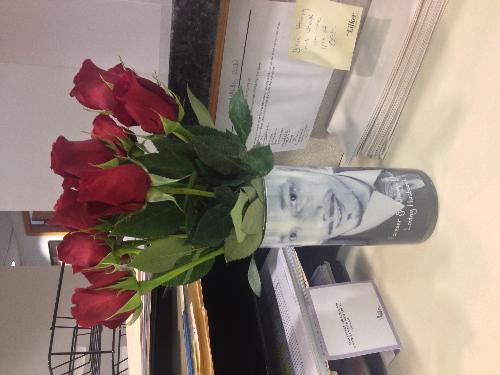 United States
September 26, 2012 2:27pm CST
I came back from my lunch break today to find that my wonderful Husband suprised me with flowers. He is so sweet and creative. When was the last time your partner suprised you with something special, or when was the last time you did something special for your partner?
3 responses


• United States
26 Sep 12
I think that is so sweet that your husband was so thoughtful to bring you flowers for no other reason then he loves you. My husband has bought me flowers before, but usually it's after we have a fight. That's his way of saying sorry....LOL The last nice thing I did for him was buy him a Steelers T-shirt. He is a huge Steelers fan & I knew that he has been wanting one for a while now, so I surprised him w/ it one day after he came home from work.

• United States
27 Sep 12
yeah my husband is sweet like that. he is always trying to find a way to make me smile. we do little things like this for each other all the time! it's nice when you can do something for your spouse to make them happy. Rather it's flowers or a tee shirt... it's the thought that means everything

• United States
26 Sep 12
Well that was sweet! The last time I surprised my girl with something it was a Diet Coke (large of course) after she had worked a 12 hour shift at the hospital. I surprised my family with donuts the other day because I was up and out after attending Men Fraternity at our church and I know they like them. I should probably do more because its important to feel loved beyond the words.