I got their Halloween costumes!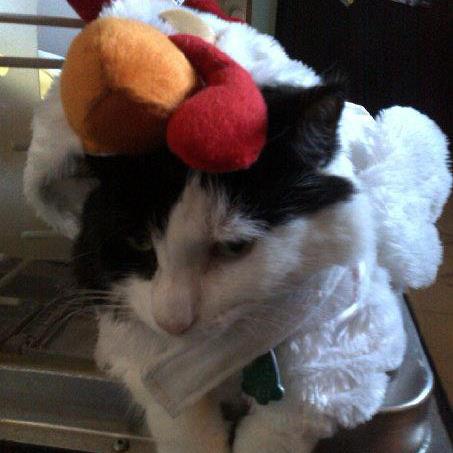 Canada
September 26, 2012 5:30pm CST
I met the lady tonight, and in total it was $24 for 3 costumes. They are originally from PetSmart and go $20 - $30 each. I got Toppie a bunny costume, Patches a chicken costume, and Stripes a monkey costume. Patches is a little small, and Stripes is a little big. But they are inbetween sizes and the lady had limited of each size. The two couldnt keep it on more than 2 seconds, but Patches is still walking around with hers on. They will be wearing them to get their pictures taken from the local Humane Society, and on Halloween night.
3 responses

• United States
26 Sep 12
I think Patches looks cute in her costume. I bet she is thinking she hates it but what a sport to know she kept it on longer than the other ones. Good luck with the pictures, keep them on a leash when you go so they won't fight you off and get lost somewhere.

• United States
26 Sep 12
Awww! Maybe the other two will get used to wearing them before Halloween. I think that is so cute. Tomorrow is Rosie's birthday. She and Ranger are gonna get dog treats but that's all.

• Canada
26 Sep 12
I was going to try and get Marco in his costume now as well. I hope they are homemade dog treats

. I really dont know if they know any difference. Mine just know they get toys and treats, or costumes haha. I was thinking for Halloween to make cat treats liver treats for my cats for wearing their costumes.

• United States
26 Sep 12
Awww so cute! I cant even get a collar on my cat with him fighting me to get it on and when i do he tears it of after 5 minutes. You got a good price for the 3 costumes though.

• Canada
26 Sep 12
Mine are rpetty good, they know they are suppose to have their collar on. If I say where is your collar, then lecture them if they get outside without it they will never make their way back home. They get this scared look on their face, and sit staring at me. Once they get use to it, I havent been dressing them up, but I use to do it a lot when they were kittens.