Snake as dowry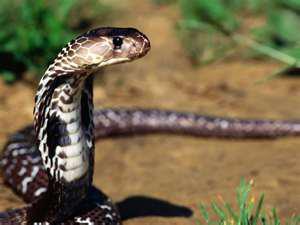 India
September 27, 2012 4:07am CST
Just now I read in our newspaper 'KHABAR ' about this strange costume;

in our Hindu marriages dowry is a must;

this is gold/silver jewelry, furniture, clothes even home, car and cash; [b]but snake as dowry-ohh my god? [/b] As per this report, the snake charmers residing in Korba of Chhattisgarh state have to give [b]NINE snakes of different species as dowry in the marriage of the daughter. [/b] Earlier it was easy for them, but now due to mass destruction of jungles the number of snakes is decreasing at very fast rate; there is also restriction imposed by the government; as a result many girls remain unmarried till late age. [b]Do you have dowry tradition in your place? Have you heard about giving snakes as dowry? Please also share your valued opinion on this story.[/b]
Kalyani

September 27 2012. [i][/i]
6 responses

• Nairobi, Kenya
27 Sep 12
:-D I am wondering what crazy world is this. People have funny characters, Are snakes food, that they may be eaten? or are they sold?. I guess you people have a snake market. Here in my place we kill them frequently. Men never fellowship with such animals. Our dowry payment includes, three goats and maybe money

• India
27 Sep 12
Thanks for sharing about your dowry, no the snakes are not sold, the snake charmers are professional, they make the snakes dance in tune with 'been' an instrument; let me add, snakes can't hear, but they follow the movements of this musical instrument and hands of the person..

• Nairobi, Kenya
2 Oct 12
OOOOOOOOPs you make me laugh. I guess life there is interesting, which country is this? maybe I can come and see this great wonders of the world. just give me more. upload photos of the same. truly the world is funny

• Philippines
28 Sep 12
hello kal, firstly i would like to say that i am afraid of snakes. i never go near one when i see one even if it is in a cage. i dont know, i guess it is due to my upbringing that snakes are dangerous. but i find it amazing for snake charmers when i see them in tv that they could make a snake follow them and make them dance. well, i am just confused now with the tradition of snakes as dowry. in my mind, dowry is given to the parents of the girl or is it the girl's parents giving to the boy's parents. but whoever the snakes go to, i wonder if it is practical and what good it makes to the couple. have a nice day. ann


• India
1 Oct 12
Dear Anny

Dowry is given by brides father to the guys father, i mean family, there are demands, some parents make promise that they will give later, but can't due to some reason' the girls are killed, tortured, burnt alive...



• Philippines
28 Sep 12
wow snakes as dowry? what would the bride do with out? but then since they are snake charmers they could use it for a living. but i read i think that was in Natgeo magazine that snake charmers should really stop doing what they are doing to the snakes as snakes are getting small in numbers instead since they are good with handling snakes, they could use their "charm" and expertise in handling the snakes to prevent them from going endangered. Since i am catholic, we do not have dowry in our tradition but i do have friends in Islam here that still follow the dowry tradition.

• India
1 Oct 12
Thanks for sharing. Here in my state, i have many christian friends, dowry system is there, they call the things given in marriage as GIFT Have a nice day.
Kalyani


• India
27 Sep 12
Kalyani mam, good to hear about this new dowry system. I know about dowry system, for the first time i am hearing that some people receives snake as their dowry and lot of girls remain unmarried due to this kind of dowry system. Hope they will change their tradition soon

• India
1 Oct 12
India has so many problems, diversities, you can see my discussion; guys remain unmarried because of water scarcity in their villages


• India
27 Sep 12
never heard about this one, snakes as dowry? what will they do with those snakes? will they leave them or take them for some play . Now as the forests are disappearing, it would be dam hard for them to get some, i think snakes are also going to extinct soon.

• India
30 Sep 12
They are snake charmers

, they will make them dance, earn, part of business


• India
27 Sep 12
yeah it is a crazy world we live in. I think all the snakes they have caught already for the past marriages and that is why there is a shortage of snakes there now. These people are not scared of snakes. Oh was everything finished in this world that they have to give snakes as dowry?? Thanks for sharing and have a wonderful day ahead.


• India
30 Sep 12
It is their tradition , they have to abide, thanks for response