It is quite frustrating to make a call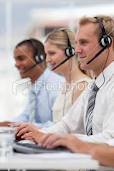 Guangzhou, China
September 27, 2012 9:20pm CST
Since today I met a problem about online banking and then I called the bank service. However, I have called it for an hour but is told that the service support staff are all busy. That's so frustrating and I have never met it before. Usually the phone will be connected in a minute. Perhaps today they really met a big problem.
4 responses

• United Kingdom
28 Sep 12
That is one of the reasons why I don't like online banking or banking by phone, I prefer to do all my banking in person, everything is so computerized now, that it takes away the face to face communication. I like to have someone deal my enquiry on a face to face method, rather than over the phone or on the computer which can be hacked and if you are on the phone you waste time and money calling them! I know for some dealing face to face is not an option in their busy lifestyles and the convenience of doing it at home, but for me, I prefer to do banking not on the computer or by phone.

• India
23 Jan 13
Friend wolfie I also not like online banking my danger and sweet hubby was saying me ohhh online banking is good we can deposit the money directly check the balance easily. But I not trust on it because now hacker is also more. Some time if I forget the password then so I not take the risk of online banking.


• Philippines
28 Sep 12
Well that is always the problem when calling a customer service.It is always hard to connect and contact, lines are always busy and keep transferring and pressing numbers that lead to instruction and instruction and instruction.

•
28 Sep 12
hi. i'm working in a call center and work for consumer care service. usually, there are really times that we're having issues with the line and receiving high volume of calls that's why we advised our consumers/clients to call us back providing the resolution details. i sincerely apologize this had happened to you. i know how frustrating and disappointing it is. i hope you will be able to get in touch with them the soonest time possible. have a great day!