Do you have a bag for your knitting needles?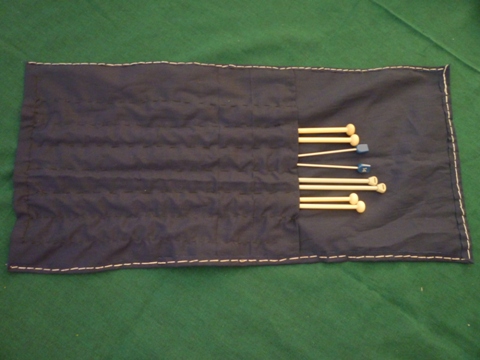 Malaysia
September 28, 2012 10:13am CST
I have finally made a very simple bag to keep my knitting needles. I just use a unwanted cloth that is big enough to keep the long knitting needles, and hand sew it. If I know how to use sewing machine, it'll be much faster and easier. Though it is not a fancy bag, at least it helps me to keep my knitting needles, and make it easier for me to carry the needles out. Do you have a bag for your knitting needles? How do you keep them?
8 responses

• Indonesia
30 Sep 12
Hello, I like knitting and crocheting and I kept my crochet hooks in a handmade bag. I have different type of crochet hooks, and I like to put it in a transparent plastic according to the size and the type then I put the plastic in the handmade bag. I have bamboo knitting needles and I put it in plastic, I havent made the bag for the needles. Wow I cant believe that your handmade is handsewing made, it is a nice bag it looks as sewing machine made. I made my crochet hooks bag by sewing machine but I tell you it doesnt look as good as yours, I will try to upload the picture hopefully it will work out.

• Malaysia
2 Oct 12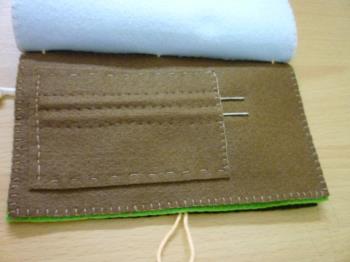 Hi fashionfever, thanks for the compliment. Actually I am always not patient enough to hand sew something, I always "tried" to sew nicely and evenly, but I am just too lazy and impatient to make it nice, so I usually just sew it quickly and get my job done.

I don't know how to use a sewing machine, and I wish to learn it some time later. I have made a simple pouch to keep my crochet needles too. I like to put them in the compartment one by one, well, I only have 3 crochet needles, so I can easily sew the compartments.

• Indonesia
5 Oct 12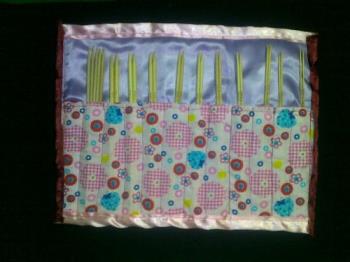 That is a nice crochet hooks pouch I never made anything with felt but I would like to try later. I get inspiration from your knitting needles case so I make another needles case. My hand sewing is really ugly, I cant sew straight and neat like yours. Even my machine sewing isnt neat but Im happy at least I dont have to spend money to buy needles case. I learn how to use sewing machine from my sister and then I keep practicing and sometime use youtube or browse on internet when I find trouble. I learn how to use elastic thread to make ruffle dress from a Malaysian blogger, maybe you can find tutorial how to sew using sewing machine on internet or youtube.


• Malaysia
2 Oct 12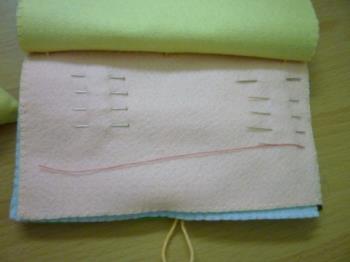 Hi ifa, I meant knitting needles, those are quite big and long. As for those sewing needles, I have also made a simple "needle pouch". I used a few pieces of felt to make a little pouch, one of them are for needles, and others are for crochet needles, scissors, etc.

• Malaysia
12 Oct 12
thanks. Those are sewing needles, I just simply poke them in.


• Portugal
2 Oct 12
I do which I would be more handy with crafts. I know how to knit, embroider and crochet and none of them too well, I always have projects in various phases of progress so I have a hamper with all the various things together. I have a tube just basically a long tube which I made using thick cardboard tube and covered in wrapping paper with two lids on either end from flasks tied on with ribbon made the lids, that keep all the needles together as they kept on getting lost, I did that years ago so it is a little worse off from wear and tear. Talking about that I really need to finish embroidering a table cloth that has been there at least 2 years which I never seem to be able to finish.

• Malaysia
2 Oct 12
hi leeloo, I don't know about embroider. Well, I didn't have the motivation to learn crafts making. I started to do all these crafts because of my son, I want to make some simple toys for him, and this keeps me working and working.


• Canada
30 Sep 12
I usually just put my knitting needles in a drawer. If I'm knitting something, I take the project with me in whatever bag I'm carrying that day. I guess I could sew a project bag that would keep everything together more neatly but I haven't gotten around to it. I think a simple bag would work fine - no point in having anything more.

• Malaysia
2 Oct 12
hi cutepenguin, Yeah, I used to carry my knitting needles just like that. But I always use a cloth to cover the sharp ends, so that it won't accidentally poke on my fingers, and especially my 3 year old boy's fingers.



• Malaysia
2 Oct 12
hi jillhill, I wish to see your bag, wondering how you keep the yarn in.


• United States
29 Sep 12
Some are in a bag and my dpns are not.And I keep saying I am gonna make one.Just keep making everything else instead.Glad yours came out good.I use a notebook with clear protector sheets for my circs.Need something for my dpn's though.At the moment I have apiece of velcro cut to across the needles with the size wrote in magic marker.It's ok,but need a bag.

• Malaysia
2 Oct 12
hi bretay, Yeah, I understand what you meant. I am more keen to make other stuffs instead of the "tools" itself too.


•
2 Oct 12
I still have the bag of knitting needles that I have had for twenty years or more now and they are in my mums loft, as we do not have a loft any more where we live.I think that it is great to be able to keep all the knitting things all together as that way they are easier to find when you want them.