Yarn for dishcloths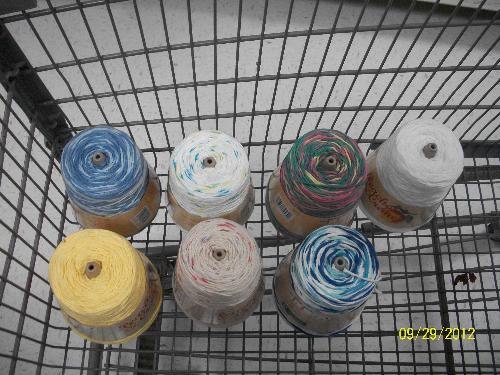 Onaway, Michigan
September 30, 2012 8:05am CST
Me and my daughter went shopping at Walmart yesterday for the yarn to make our dishcloths and here is all the choices we have as far as colors to make them. We are both going to get different colors so we have can see what they look like once finished. Here is a picture of the yarn choices.
7 responses

• United States
1 Oct 12
Those colors will make really pretty dishclothes. I like the light blue, but I think that as others have said, it will get dirty easy. I think that these will make nice gifts. I personally really like handmade gifts.

• Onaway, Michigan
1 Oct 12
I agree they will make some pretty dishcloths. I think the reason i chose these is because I would get more out of them than the smaller ones but the smaller ones have darker colors but would not get as many dishcloths.

• Onaway, Michigan
2 Oct 12
I just wish the cones had some darker colors I may have to check other stores besides my Walmart when I get the chance to get to other craft stores.

• Canada
30 Sep 12
lately, I have been choosing orange a lot, but I like your colour choices. It's nice to make your own dishcloths to match your kitchen or to have a variety.

• Onaway, Michigan
1 Oct 12
I like crocheting I just need to have someone get me started then I am fine.I think i chose these because they we're bigger and could make more from them. The smaller ones you may get one maybe two from them. But on a good note the smaller ones have more colors than the bigger ones.

• Onaway, Michigan
2 Oct 12
I would have never thought of making socks with them. Do they keep your feet warm? I wouldn't think they would be warm enough.

• United States
2 Oct 12
Hi, Tina....When it comes to choosing colors for dishcloths, I like the ecru. But then, I've also used the blue/white and the variegated green/yellow/orange. I've got a large collection of dishcloths that I crocheted last year. One of the charity organizations were requesting dishcloths for their clients. I made somewhere close to 25 for them and just kept crocheting when theirs were finished. I was going to give them as gifts but have now ended up with more dishcloths than I have donees! Guess I need to go back to making market bags. I use the same cotton yarn for the bags.

• Onaway, Michigan
2 Oct 12
I love the market bags wish I was a better crocheter and could do the harder projects. That is nice that you made some for a charity organization I bet they went over real well. Eventually I would love to get into doing craft shows once I get a lot of stuff made.

• United States
2 Oct 12
Those are wonderful yarn choices. I have to say that for me, the varigated one with the pink in it is my favorite. However, I do have to say that I really like all of the different yarns that your daughter and you have chosen. Are you just making the dishcloths to make them or are you making the dishcloths that you are going to me making as something that you will be using as gifts during the holiday season? I can see them being a great teacher gift.

• Onaway, Michigan
2 Oct 12
I may keep 1 or 2 for myself and the rest will be for Christmas presents. I am going to keep looking for the color of the one that is in the picture I posted. Even if it is a small one. I am going to be talking with my pastors wife when I go to church this week and see if she knows anyone that is into knitting or loom knitting so I can make some scrubbies to go along with the dishcloths.

• United States
1 Oct 12
You know I had bought a couple of small balls of cotton to make dishcloths or rather the Japanese ones but I have yet to make any. Thanks for the reminder... I'll have to get to that one day!

• Onaway, Michigan
2 Oct 12
Glad my post helped remind you of your yarn and making your dishcloths. If and when you get them made I would love to see a picture of them finished.

• United States
30 Sep 12
I tried to comment on the photo, but the browser hung, so you may have more than one comment there. Are you going to crochet the dishcloths? I have used the mixed blue in the upper left corner and the variegated multi color that is third over on the top row. They both turn out really nice. That is pretty much what I said in my post to your picture as well.

• Onaway, Michigan
30 Sep 12
Nope only 1 comment. We will be crocheting them.I can't wait to get busy making them.

• United States
30 Sep 12
Those are some gorgeous colors. I like the blue and white one as well as the yellow one the best. Anything light colored is more likely to get stained so I usually try to buy dark colored things anymore. I hope you will post pictures of the dishclothes when they are done. These might make some nice christmas gifts if you need something to give to people.

• Onaway, Michigan
30 Sep 12
I think so also.We are going to make them and give some as Christmas gifts.We are doing pictures this year for grandparents because they always complain they don't have any. So I figure picture and some beautiful dishcloths would be very nice.