Violent Islam?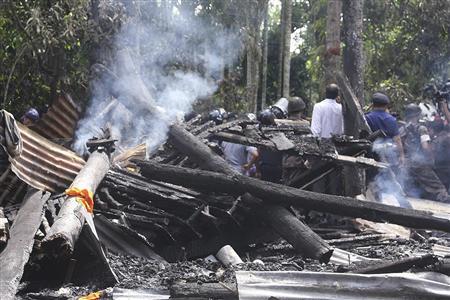 China
September 30, 2012 12:00pm CST
Alright, I said it and I stand to be corrected. Over time, I don't think Islam has been anything but violent especially when someone speak, enact, write or even draw something they consider is blasphemous to their faith. Just when we think that everything would be settling peacefully with time over the anti-Islam movie and now the Muslims in Bangladesh have burned down 4 Buddhist temples and 15 Buddhist homes over a posted photo in Facebook by a Buddhist which the Muslims consider is insulting Islam. What is it with Muslims? So, not all Muslims are terrorists but with these violent reactions to the anti-Islam movie, cartoons and now a Facebook photo, I don't think I am wrong or any doubts that Islam is violent indeed. Ref: http://www.reuters.com/article/2012/09/30/us-bangladesh-temples-idUSBRE88T03I20120930
7 responses

• United States
30 Sep 12
You have rightly say so. It is part of the teaching from the leaders of this religion, they do understand from islamic history in middle east that through the use of violence and terror they can achieve many goals from dominating a region to the world at large, forcing non-believers to their knee with violence is a fail-save method and time tested tactic since the rise of man civilization. Usually any form of violence came out from muslims' world is considered to be the fault of western free media and non believers advance culture by islamic teachers and scholars instead of their own short coming and fallacy of one own belief system. Burning down Buddhists' monastery and Buddha statute, Hindu shrines along with their deity symbols and Christian churches inside muslim majority country are not somethings new, let alone surprising at all.


• Egypt
30 Sep 12
Did not see you talking about massacres that occur Muslims in Burma, China and other countries, and just an isolated incident happened to the Buddhists of the Muslims effect in you (although I'm not with who did it, it is not Islam that commit aggression on others, even though they are begun offended do not know what's that they offered on the Facebook .. what you how you judge .. Are Muslims who massacred and burned their homes not from humans too?

•
1 Oct 12
I would hesitate to call what's happening in Arakan State a massacre, it's more like a war which the "Rohingya" themselves started and escalated, but if Muslims are being killed elsewhere in Burma, it is massacre. The Burmese ethnic minority groups' line on this, and Aung San Suu Kyi's, too, is that "Rohingya" who've been in Burma, particularly Arakan and Chin States, for more than a generation, should be awarded Burmese citizenship, but those who've poured in across the border to prosecute the war against the Arakans must be driven out of the country. This is different from the government line that no "Rohingya" should be allowed to live in Burma.

• United States
1 Oct 12
Massacre of Muslims in Burma???? You must have read too much into the propaganda messages of Muslim militant's website recently, that explain why you are full of rage and sound brainless. I fully understand that your muslim leader/government is no doubt the greatest manipulator of your mind, you should find out the truth before jump to conclusion like a kook aiming at everyone for an untold story.




• Philippines
30 Sep 12
It's their call. if the good ones doesn't pull enough force to stop the village idiot ones, the majority of them will influence us that people who are violent now is easily recruited by islam to instigate violence. though I disagree on generalizing every one in the islamic world, you have to be disappointed in their lack of strength in stopping their own brothers and sisters who are violent to the other




• United States
30 Sep 12
True but it's hard to stretch their neck out on this, if you get my drift..

• China
1 Oct 12
In my opinion, I don't think there will be enough good ones amongst them especially when they want to take things personally and upon themselves. When the line is not drawn I don't think any good will ever come out of it. I believe there are good ones but like you had posted, when they do not do what is right and come out to go against the radicals then these violent atrocities will still happen. And, when they do not do what is right, then aren't they (good Muslims) wrong as well? Aren't they deemed to be standing on the side of the radicals? Now, can the majority be blamed for generalizing the Muslims?


• China
4 Oct 12
You are partly right about the anti-Islam movie maker being a committed felon and still serving his sentence at the time of the movie production. However, I do not think the response in violence is justifiable for such a movie and the alleged picture in this Bangladesh episode. I mean, if it is a false representation, then why take it so hard and personal? Are the Muslims saying that there's no other way to respond to such misrepresentation other than the use of brutal and violent force? If so, then non-Muslims should not be blamed for looking at Muslims differently and say that Islam is violent.

•
4 Oct 12
Artemeis, I don't think you've grasped the full implications. The person who made the film was in cahoots with a criminal radical Islamist. The very making of the film was almost certainly part of an agenda, not so much to stir up violence as to provide a pretext for violence, which a group of violent leaders were (and still are) itching to unleash and escalate. Koranic Islam is violent towards non-Muslims, but I think there is one group of non-Muslims that are, according to the Koran, supposed to be protected, and that is the dhimmis who have agreed to pay the Dhimmi Tax. However, in practice they are vulnerable to things like false accusations of blasphemy, because their word counts for less in a Sharia court than that of a Muslim (I would use inverted commas if the relevant word were "Christian", but a Muslim remains a Muslim even when they have no real fear of Allah) who may be wanting them out of the way for other reasons, e.g., to get their property. Samar, you seem to be the expert spokesperson for Islam here - please show if and where I am being unfair.

• Egypt
4 Oct 12
JohnRok1 , Who has done the film knows what to do before he does and knows its consequences, however he made it , his aim was stirring strife in Egypt between Muslims and Christians but thankfully it was not up to his wicked and God saved us from strife Always accused by the West of Islam as a religion of violence and Islam is innocent of this, what was Islam must Advocate for war or attacks on others, says God Almighty : " If they incline to peace, incline to it also, and put your trust in Allah. Surely, He is the HearinWhat is the Bible said? "When thou comest nigh unto a city to fight against it, then proclaim peace unto it. And it shall be, if it make thee answer of peace, and open unto thee, then it shall be, that all the people that is found therein shall be tributaries unto thee, and they shall serve thee. And if it will make no peace with thee, but will make war against thee, then thou shalt besiege it: And when the LORD thy God hath delivered it into thine hands, thou shalt smite every male thereof with the edge of the sword: But the women, and the little ones, and the cattle, and all that is in the city, even all the spoil thereof, shalt thou take unto thyself; and thou shalt eat the spoil of thine enemies, which the LORD thy God hath given thee. Thus shalt thou do unto all the cities which are very far off from thee, which are not of the cities of these nations. But of the cities of these people, which the LORD thy God doth give thee for an inheritance, thou shalt save alive nothing that breatheth:). Deuteronomy 20 10:16 For Dhimmis understand the people of the Book of non-Muslims .. The first to impose the tribute is the Bible: (did not drive out the Canaanites living in Gezer. Canaanites dwelt among Ephraim to this day, and they were slaves under tribute ..) Joshua 16/10 And when they were come, they say unto him, Master, we know that thou art true, and carest for no man: for thou regardest not the person of men, but teachest the way of God in truth: Is it lawful to give tribute to Caesar, or not? " "And Jesus answering said unto them, Render to Caesar the things that are Caesar's, and to God the things that are God's. And they marvelled at him. " Mk 12/14, 17. And when they were come to Capernaum, they that received tribute money came to Peter, and said, Doth not your master pay tribute? Capernaum Mark 9:33 He saith, Yes. And when he was come into the house, Jesus prevented him, saying, What thinkest thou, Simon? of whom do the kings of the earth take custom or tribute? of their own children, or of strangers? custom Matt 22:21, Rom 13:7 Peter saith unto him, Of strangers. Jesus saith unto him, Then are the children free. Notwithstanding, lest we should offend them, go thou to the sea, and cast an hook, and take up the fish that first cometh up; and when thou hast opened his mouth, thou shalt find a piece of money: that take, and give unto them for me and thee. But that Christ has paid tribute to the Gentiles in Matthew 17/24 - 27: (As they came to Capernaum progress who take Darhmin to Peter and said: As reimburse your teacher Darhmin?, Said: Yes. When he entered the house preceded Jesus, saying: Why do you think, Simon? Who takes kings of the earth collection or tribute, security sons or from foreigners?, Peter said to him: foreigners. Jesus said to him: If boys are free, but lest Nosarham, go to sea and take a hook, and the fish that looked first take it, and when it opened its mouth find of Astara, thigh and Give Me and you ...)Matthew 17/24 - 27. Tribute was imposed on able and is not able to reverse the tribute in Islam. Tribute imposed the first Islamic state on capable free men and who can fight and was to protect and provide security to him because the Muslim army did not fight in it only Muslims. The poor did not impose on them, but they acted their salaries from Baitulmal Muslims Even Abu Obeida Amer bin Elgarah , returned the money tribute to the people of Syria because the Muslim army in this battle is not able to protect dhimmis , so he gave them their money because this was a covenant between Muslims and dhimmis were equipped army to fight the Muslims. John if you want to know some information about Islam Take from its sources and not from people who raise suspicions about Islam, so be fair in thy judgments if you really do not want to be unfair, know I'm not an expert in my knowledge of Islam, what I know about Islam is hardly a drop in the ocean sciences Islamic. Here these links: http://www.e-quran.com/language/index.html http://www.islamweb.net/emainpage/ http://rasoulallah.net/index.php/en/home http://www.quran-m.com/firas/en1/


• Pakistan
1 Oct 12
Burning of anybody's place of worship is absolutely wrong and those doing so should be punished according to the applicable laws of the country. At the same time I must point out that insulting Islam,its prophet Muhammad and its Scripture is becoming a everyday routine. I am yet to see non-Muslims openly condemning such acts of hate the way they condemn Muslims for reacting violently.

•
1 Oct 12
Naseem, are you calling just saying what you believe about a particular religion an act of hate? In that case, every time a Muslim says that the Judeo-Christian and Christian Scriptures have been superseded by the Koran, it's also an act of hate. Nevertheless, I'm glad your comment is there, because it shows what people are up against.

• Pakistan
1 Oct 12
every time a Muslim says that the Judeo-Christian and Christian Scriptures have been superseded by the Koran, it's also an act of hate. JohnRok1, I am totally with you if you are suggesting people should completely stop from talking about religion. There is a difference between discussing and making a movie filled with hate, get over it.

• China
4 Oct 12
I think you've only got part of it right where you said that punishment should be for the ones responsible for the crime. But, I don't think there was any arrest of the Muslim arsonists in this terror episode. However, I believe ALL Muslims need to realize that they have to do something to their extreme factions amongst them. Not doing anything to them will just make the Muslims look supportive like accomplices to the crimes or most of all, terrorism. So, I don't think people especially non-Muslims could be blamed for not understanding and generalizing.


• Australia
1 Oct 12
I have bent over backwards to make the point that most individual Muslims and most Muslim countries are decent and reasonably open, but nevertheless, there are elements of Islam and Islamic nations whose actions are barbaric and totally unacceptable. If Christians did what these people do, other Christians would condemn them without in any way damaging their own faith: it is these people, not the faith, that is to blame. Not so Muslims. Even on here where there are a lot of apparently decent people who are also Islamic, it has become impossible to even make the point that I have made without being accused of hating Islam. They try to deny that the things we bring up are wrong, or that they even actually happen (it is only Western propaganda), that there are no Sharia laws which allow the sorts of things Sharia law clearly does allow in some Islamic nations, and so on, It is extremely frustrating. The more I see of what is happening in the world, the more I find myself in sympathy with anti-Muslim rhetoric. The only people who can change these atrocities are Muslims themselves, but if they won't even admit there is a problem, how can they solve it? And in the meantime, there is a strong element of Islam apparently committed to overrunning the world and forcing all of us to live under their version of Sharia law. Lash

• China
4 Oct 12
I wonder if the Muslims denial that they have radicals and extremists has a hidden heinous agenda like doing the "dirty" works against non Muslims, something like the "secret police". I cannot help thinking this way because of these radicals prevalence within their religious circle right until now. Looking at the Taliban, Al Qaeda, Hezbollah, Mujaheddin and many more in the various countries like Syria, Pakistan, Iran, Palestine and etc.. So, I don't think it is reasonable for them (Muslims) to expect us to understand at the end of the destruction that it is the radicals or extremists that are responsible. Sorry, if they do not do anything on these heinous groups then they are equally responsible like accomplices to the crime.


• Philippines
30 Sep 12
So what if they don't know about islam isn't your job to spread the real vision of your religion rather than telling me that its all western media propaganda. Fox is a bit worse by the wayfor reporting some thing like this. you want to prove it's not violent then show to non muslims that it's not violent and not tell us that we don't know

. better yet, better show a link that really tells the topic starter about islam. or like saying
" I understand your rage, but this isn't how islam works, let me show you or give you a link about our religion"
at least.. like that...

• China
1 Oct 12
I don't think there's anything wrong with taking the Western media as reference lest you have your own opinion that it is. Besides, the violent rebuts are anything else but true. It is also true that due to this anti-Islam movie Muslim workers at the US embassy in Benghazi actually left their posts before the fatal attack which led to the fateful killings of Chris Steven and his American workers. Knowing that there will be an attack on the embassy grounds the good Muslims working in the embassy DID NOT do what was necessary and acted honorably. What do you read in your village? I am sure my source of information is not strictly from western media especially when it is being published out on every national television news network and newspaper.

• Egypt
2 Oct 12
artemeis "What do you read in your village? " I'm not in village , I'm in town , do you think that I was happy to read about what happenedd in Benghazi ? of course not ? the Western media heat Islam and publish everything that distorts the image of Islam and Muslims .Few are characterized by honesty and convey the true image of Islam .


• United States
1 Oct 12
The thing that bothers me is the jihadists / extremists are moving into all countries, there they work hard to promote sharia law.. People think this isn't true, that it's exaggeration, but it's not. They are working hard in the U.N. also and also have the second largest global organization, second to the U.N. in size, etc.. Here in the U.S. there's at least one
American
city (Dearborn,Michigan) which the Muslim folks were successful in insisting church bells should not be rung as it is offensive to Islam, but now there are the Muezzin calls five times a day. Here's a link about it, although the article is old.. www.jihadwatch.org/2004/04/michigan-its-christian-bells-vs-muslim-prayer-calls.html or http://www.jihadwatch.org/2004/04/michigan-its-christian-bells-vs-muslim-prayer-calls.html (I don't remember which way of posting this works! maybe both, hopefully I'll find out!


• United States
1 Oct 12
aha! both work, with the http:// or without it.. kool..

• Pakistan
1 Oct 12
It is not correct to say the church bells were made silent by Muslims. The bells are not made silent but the volume has been reduced from 70-80 decibel to 55 decibel because some residents thought the sound is too high. http://www.wxyz.com/dpp/news/some-residents-say-a-church's-bells-are-too-loud As for call from prayer from the Mosque, in the early 1980s the mosque obtained a court order permitting it to broadcast the call to prayer using loudspeakers. http://en.wikipedia.org/wiki/Dearborn_Mosque

•
1 Oct 12
If receiving people as refugees to your country is perceived as automatically giving them the right to continue their activities and/or impact your culture or way of life, other than by your paying the cost of extending compassion to them, it could be a deterrent to accepting any more refugees.