Don't Text When You Are Not Supposed To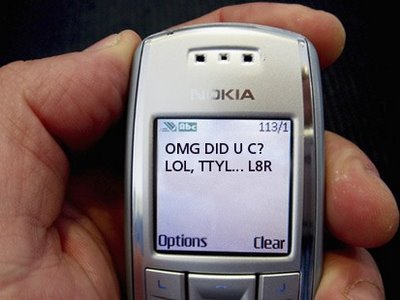 China
September 30, 2012 11:30pm CST
Texting is really becoming very common and scary. I could not help noticing everyday and everywhere how a good majority of young or old are walking about with a mobile phone in one hand and texting away even when they should be looking where they are and walking to. Even my eldest daughter is doing it so frequently that I couldn't help feeling that she is being owned by her mobile phone rather than the other way round. It had got so much worse, that she was at it even when the family is sitting down to have a meal together. So after much reminding and the occasional confiscation, the problem seem to be arrested. I just hate to say this but we should be owning technology and not technology own us. You may think that you are multitasking here but to me you are overtaxing yourself. On the unnoticed side, you are affecting your health through this lifestyle while on the end, you are endangering your life by the self imposed distraction. I believe we've heard about someone tripping into a shopping mall fountain, another falling into Lake Michigan and to a woman who actually fell off a cliff while texting. Fortunately, the woman managed to come out alive suffering multiple injuries and live to tell her side of the story. There's always a right time to do certain things and just consider the consequences before you take the next leap with your mobile phone.
7 responses

• Philippines
1 Oct 12
I was reflecting on this when you posted the discussion. I do understand that there are bad things happening because of too much texting. Cellphones are one of the main reasons why people get killed in my country - bad people often kill cellphone owners just to get their phones and sell them for money, all because the owners tends to use their phones anywhere and almost all the time. As for me, I am not a texter. And when I'm in public, I don't display my phone nor use it. I don't take it out when I'm in public and when a person sends me a message or calls, I wait till I get a safe destination (e.g. office, home, etc.) before reading the message. I am no doctor nor does anyone die if I don't read the message anyways. hehehehe.. It's never an emergency. I think we should be careful though. It's not just scary that people get into accidents but it's also becoming unethical. Texting while someone is in front of you or instead of talking to a person in front of you, is very rude. Texting while eating is rude to the blessings as well. We do need to learn that there's always a right time and place for everything. Have a great mylot experience ahead!

• China
2 Oct 12
I am sorry to learn that it is such a dangerous thing to be openly in possession of a mobile phone. I am wondering how is it people can resort to killing for a mobile phone, doesn't your country punish murderers severely? I suppose different countries will have different problems and I hope the best for your safety. I wonder if using a wired headset will be useful or just as dangerous for you.

•
18 Nov 12
I hate to see people that are driving using a phone, but they do it a lot.I also have seen people cross a road before now listening to music that they have on their phone and walk over a road when a car was near them, as they were not looking at what was going on around them and they could not hear the car.

• China
18 Nov 12
Scary isn't it? Over the years, texting has actually gone to some extremes to the extent that couples sitting across the table are texting each other. Preferring to text than a pleasant conversation. Could you imagine that? If parents and teachers are not going to step up, I can imagine how impersonal this world would become in the near future.

• Philippines
2 Nov 12
I seldom use my cellphone in public unless there are important calls or texts I am expecting. Coz I know that there are bad people around who might be wanting to get an easy way of earning money.

•
1 Oct 12
I think that far too many people spend time sending text messages these days. One of the main problems is that it is too easy to get in touch with people, which means that if you have lots of friends you seem to be in constant contact with them the whole time. When you're out socialising with other people, I think that it is incredibly rude for you to be on your phone the whole time, and I would never even think about sending messages to other people while I was suppose to be socialising with other people.

• China
2 Oct 12
I think I can understand your thinking here. But, youths today just seems to be attracted by texting than talking on the phone. Maybe it is because they are used to openly chatting like when they are on the computer. Besides, most cellular network providers provide attractive data packages over voice call minutes. Some plans even provide up to 500 free text messages. However, I feel that one should be mindful of one's safety and well being no matter where and when, texting while on the move especially in challenging places and driving should be forbidden at all cost.

• United States
1 Oct 12
I agree with you. Although I admit that when I was a bit younger and still in awe of technology, even just mere mobile phones who can do more than call and text, I even sleep with my phone. It is not a good habit and when I saw that my younger siblings are copying me, I realized I have to stop. This doesn't go with any age, or you can't say that you're older so you can do this. Safety is everybody's number one concern, young and old alike. And when technology makes us careless, I guess it's time to re-think how we really see technology.

• China
2 Oct 12
I am glad that you've awaken and I hope that there will be more like you. I cannot imagine couples going through their relationship and even dating texting away. Nothing beats a real life face to face communication, don't you agree? My daughter was really over the moon when we got her an iPhone and we could literally see the drastic change in her lifestyle. It got so much overboard to a certain extent that it is getting in the way of all of our lives. So, I had to step in and make the change.

• India
17 Oct 12
I am an one who just used to do texting through the day but the thing is that I just use it when I am free or when I am having boring times. Now my collages are closed right now due to some political issues. So after all my works I just depend on it for fun but I always make sure that I am not much addicted to it and along with it I do all my duties and all my work.

• China
28 Oct 12
I am glad that you aren't addicted to the extent that texting has overtaken decent interpersonal communication called conversation. Not joking, but it is published in one of the papers that couples are preferring to texting to each other even when they are sitting down opposite each other while having dinner. Simply unbelievable isn't it? Not forgetting to place myself in this woman's shoes, which I believe took to texting at one of her boring moments but actually forgot to look where she is walking or stepping on. She was simply too engrossed in getting a signal strength and send her text away.

• Philippines
1 Oct 12
Ouch how unfortunate of her. But it was her choice to keep texting and she wasn't being careful.

I certainly agree with you when you said that technology has owned us and we have become slaves of it. The natives and early settlers didn't have cellphones and computers back then. They survived, how could we not without it?