Stoptober "OR" rather Startober

October 1, 2012 2:50pm CST
Hello there, Today in England is the start of "Stoptober". Its a campain to help people stop smoking and they reckon if you can stop for 28 days then there is a very good chance that you will be able to stay stopped for ever! Now I don't smoke and have never smoked, but I thought I could "TRY" and take part in this in some way and change things in my life (I am normally very short lived in things like this, but if you don't try then you never know do you?) I thought that I would start slow on things so I don't fall off the wagon so to speak. Ages ago, I think almost a year ago I started a discussion about that I was going ot try and change my ear rings every day, just because I never change them... well got out of this habit a very long time ago so I am going to try and retry. Write a menu plan for every week, and keep a record of the main meal and afters we eat everyday(again something I always used to do.) Jog on the wiifit seven times a week on the 30 mins jog. Somedays I shall jog twice, like today as some days espically at weekends there just isn't time. Lastly for today I plan to "TRY" and come and write something on mylot everyday (apart from when I'm away on holiday during half term week) I have been coming in most days and having a read and look about but haven't written anything for a long while. I have been making changes on mylot in the last few days. I have culled a lot of my friends, sounds really harsh and cruel but I decided that quality is better than qua.... (can't spell but few friends is better than loads of friends I can't keep up with) You know what I'm saying! So I have been through my friends and everyone who "rings that bell in my head and I know there name I have kept", others have gone. I'm thinking along the lines that if you are in a large school or work place you aren't friends with everyone and when I first came here many years ago I thought many friends looked good and was very good. Now I think about it like my christmas cards.... I would rather have a few cards each year on my shelf that mean the world to me than a load of cards from people who only contact me at christmas with a card. Hope that makes sense. Tomorrow I shall wake up to a household of teenagers as my twin boy and girl will turn 13 at about 2am!!!! Off for my 30 min jog on the wiifit plus.. I do feel so much better if I have a jog, and I won't have time tomorrow morning as other things to get started etc and I have three 2 hour cleaning jobs to do tomorrow. Take Care. Catch you later
7 responses

• Boise, Idaho
1 Oct 12
Hello Anne18. Long time since I have heard anything from you. You sure haven't written anything in a long while. Good to see you back. Twins turning 13? How time flies. My daughter is 40 and her daughter will turn 21 December 20th. I would be curioous to see how this Stopober thing works. Hope it goes well.

•
2 Oct 12
Well I need motivation, so hope it works, had to get up 5.15am this morning instead of 5.45am to do my baking for a lady of mine as I ran out of time last night. So will only do one jog on wiifit today which will be later this evening. I have planned ot do seven jogs this week so that will make three as I did two jogs last yesterday, and I have time ot do two tomorrow. No I haven't written anything for ages on mylot, although I do pop in nearly every day to see what is gonig on, hence culling some people as I really want ot chat with people I know, so thought few friends is better to try and keep up with and to be able ot chat with proplerly. My brain seems to get scambled so easily and quickly these days on a lot of things, the other day it was because I went ot bed not knowing what I was going ot give the family for tea the next evening, draft I know but it really kept me awake worrying!! All of our children on mylot are growing up so fast. I'm a year off 50 now!! Scary where the time goes isn't it? Thanks for replying.

• Boise, Idaho
2 Oct 12
Hope you make your seven jogs. Thought we had become friends. Yes, where does the time go? I will be 61 in November.

•
2 Oct 12
I'm sure I shall be able to do seven jogs Might be able to fit more in see where the time pans out. Doing seven between mon and fri as there doesn't always seem time at weeeknd. Yes we had become friends, I was as careful as I could be when I was trying ot slim my list down. There was no way I was going to get rid of you and a few others who I have been friends with for ages and have had very good chats with. Time just flies by without us knowing, at least I now feel happy within myself, something I didn't feel in my younger years. Early birthday wishes for your birthday. We have just had birthday cake, sang Happy Birthday.... did you hear us? And blown candles out.


• United States
1 Oct 12
It is nice of you to join in with those who are stopping smoking. I guess that is like our "Great American Smokeout". They do say about any habit that it takes a month to make a new one. It is also said you do not break a habit, you just replace it with a new one. Good luck on all you want to do.

•
1 Oct 12
Hi there, Yes you are right it is good to make new habits, I'm one of the lucky ones who has never smoked in my life, but thought I could try and make new habits, a bit like another New's Year's day. We also do have a National No Smoking Day in England as well, think its in March sometime. Think every country has something along these lines, its good that the countries try and help us with things like this.

• United States
1 Oct 12
For many people having a group effort seems to help. It gives a little more motivation.

• St. Catharines, Ontario
1 Oct 12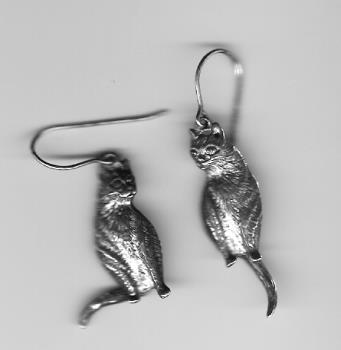 Nice to hear from you again, Anne. Good luck with your resolutions. When I was younger I would co-ordinate my earrings to whatever I was wearing. These days I mostly just wear my cat earrings, or none at all.

•
1 Oct 12
Hello there, I'm going to try and add things to my lists as the month goes on, as Rome wasn't built in a day, want to become houseproud again as well, always start well on the Monday and then slip by the end of the week, I need to write a list of what ot od everyday and tick it off as I do the chores. sometimes I do plan to do too much in the day and then can't get it done. Love your cat ear rings. I had my ears repieced a couple of years ago as my holes healed over, hence the wish to change them more often

•
3 Oct 12
Remeber when I got up this morning, so ticked that off my list.... am on pc this early as need to cost the shopping before I go to Tesco's a bit later on this morning. aim is to price it and then see if I can still cut the cost in the supermarket, done it last week so was able ot buy extra cleaning stuff


• United States
11 Oct 12
Those plans sound very ambitious. Congrats on the new teenager! I had to cull a few "friends" too. Wow, it really is time to start thinking about those Christmas cards, isn't it. We were away all summer, and in truth I have not yet taken last year's cards down. They are pinned to a curtain and they still look pretty hanging there with birthday cards and other nice greeting things added in.

•
12 Oct 12
YES it was ambitious..... Have changed my earrings every day!!! Jogging on wiifit went by.... but my peliv floor gadget has come and I've been using it every night, so plan to start jogging again next Monday. Mylot, didn't do every well there either, BUT as they say Rome wasn't built in a day! Shopping money going ok, had to buy a bit more this week, but it stil pans out at £50 a week for the five of us.. that encludes everything, cleaning stuff,shampoos, bin bags etc , so thats not too depressing.

• Jamaica
2 Oct 12
Hi Ann. I did not see any discussions started by you for so long but then I am not receiving notification from mylot for over six months. But I have only been active about a month or just a bit longer. I am impressed with your stopover and really hope that you can get it all done. I have just reached home a few days ago so I am still unpacking and as yet, do not have a phone plus need an adaptor plug for my laptop. It will take me a little while to acclimatise to the weather again despite coming home to heavy rains. Many congratulations that your twins are now teenagers. I do have a wifi it too but it has to be set up again. I am walking in then endings though and have to exercise to remain healthy. S please, I hope that you have not culled me from your list of friends. Actually, I did the same many months ago. But these were people who had never responded to even one discussion. I have so much to do with part time job that I will not be around too much in the next week. Glad that all is well with you. Blessings

•
2 Oct 12
Great to hear from you, you were another friend who I just couldn't let go... not even if you had been inactive for 60 days plus etc I would still have kept you. Glad that I'm not the only one ot do this. I want ot be in control on mylot and have good chats. If we were at school/large work place you wouldn't be friends with everyone or talk to everyone and thats how I feel now, used ot want to be Mrs Popular as I wasn't so at school etc. But now just want good friends on mylot. Welcome home


•
2 Oct 12
No you haven't got thrown away in the clean up as I remebered we had chatted and your name rang a bell, so rest in peace you are quite safe. Nice to hear from you. I suppose this is a good place also to add to anyone who I have culled by mistake to say I'm sorry, very sorry and please ask to be my friend again and I shall re add you. But I don't think I have culled anyone I shouldn't have done..... but please forgive me if I have done so, wasn't done in a nasty way.

• United States
2 Oct 12
What a neat idea for you to participate in this but in your own way. By writing about the stoptober maybe you will encourage others to try this to quit smoking. By doing the startober you are changing your life for awhile and hopefully for the long haul. I think you have started some really good habits like the daily jog. I tend to start something and after a week or to stop. I dont even know the last time I was on my exercise bike ugh.

•
2 Oct 12
I'm like you, tend to start something and then stop, I always start Mondays with the thought that I will clean the house from top to bottom properly this week. I have a good go upstairs as hubby doesn't sleep during the day on Mondays and then I always slip off during the week, can try and sort that out for next week as part of my "thing". Hope I can encrouge others to do something along these lines, we shall see. Excercise bike,mmmmm we had one years ago, used it for a good long time, used to cycle while watching telly. It then got moved around the house as it wasn't getting used and then got sold on ebay. It made a lovely clothes airer!! We are now going ot be getting a ex bike fro mfather in law. Son wanted one for his birthday to put in his room, but fil said we can borrow his on a long term loan so we brought son a recording box to go with his telly in his bedroom. Perhaps you may dust the dust off your bike and have a spin on it?