Fall colors here are always beautiful!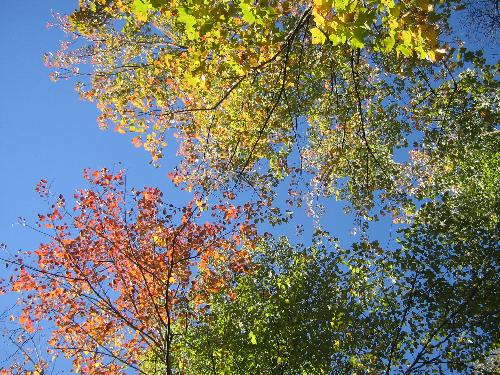 Canada
October 4, 2012 6:38am CST
I don't know why but I have a bit of a thing for these straight up pictures of leaves and sky. We enjoyed a beautiful walk by the Irishtown Reservoir near our hometown. The colors were spectacular. The photos do not do them justice. Yellow red and orange with some green yet. The colors are very nearly at their pick. A couple days of rain and wind and it will be all over again. I like living in a place with four seasons. There is something to like about all of them.
6 responses

• United States
4 Oct 12
I enjoy four seasons, too. Fall is my favorite (but every time the season changes, my favorite changes again.

)It seems like I can never get enough of the colors of fall, or even the smells and sounds of it. I want to drink it in and make it last. I take pictures and put them on my desktop, but it isn't enough. Maybe part of its beauty is that we know it won't last long.

• Canada
4 Oct 12
I didn't realize how much I enjoyed the seasons until I spent my college years in southern California and lived without them. A sunny day when the leaf colors are at their peak is nothing less than breath taking. I wish pictures could really capture it.

• Canada
5 Oct 12
There is more to it than the colors and the shapes. I find the color doesn't come out right in the pictures. The feel of being there isn't really in the picture either.


• Canada
6 Oct 12
I just love Autumn it is such a beautiful time of the year. It is not too hot and not too cold yet. The colours are so beautiful and the air so crisp.

• Canada
6 Oct 12
I'm sure the colors around the Montreal area are just spectacular. I cycled up the St. Lawrence valley one fall and it was easily one of the most beautiful bicycle tours I've ever done.

• Canada
8 Oct 12
I have three big trees outside my window, one is an evergreen, the other is still green, and the third now has yellow leaves. They have not started to fall yet.

• Canada
20 Oct 12
I live in Manitoba where we seem to have only two seasons summer and winter, and our falls are short. It must be beautiful there. I've did go to P.E.I once and that was in the fall where we loved the changingbofvthe colours. here the leaves change very quickly, there is a big wind and they are all on the ground.

• Canada
21 Oct 12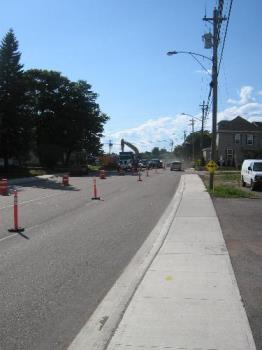 The joke here is that we only have two seasons as well: Winter and construction.

• Philippines
17 Oct 12
I wish i were in a place that has four seasons. My home country has only two seasons: summer and rainy seasons. A student of mine from Korea sent me a preserved maple leaf in fall. It has that red and orange color that's very pretty. Someday, I'm going to visit a country during fall.

• Canada
17 Oct 12
I never thought I'd miss winter until I went to college where there are only two seasons like in your home country. I didn't have winter for four years. I missed it quite a lot. It does depend a lot on what you are used to. I like to visit all over the world. Just cash and time are issues in the way of that.

• United Kingdom
8 Oct 12
My home country has four seasons. At the moment here it is autumn time and next it will be winter. I like spring and summer most of all. I think fall or autumn is picturesque with its golden, red and orange fallen leaves. It feels delightful to walk on the fallen crunchy leaves. I like living in a county that has four seasons. The summer was washed out with loads of rain and I had been looking forward to sunny days. I love to have a vacation at a tropical country in their hot and dry season. It can be rather too rainy in their hot and wet weather. I am glad that you are enjoying the spectacular colored leaves this year in fall.

• Canada
8 Oct 12
I'd like to visit a tropical country for vacation. I'd rather live where we have the four seasons though.

• Jamaica
5 Oct 12
We do not have fall in Jamaica - just two seasons. I love to see the fall leaves. I have spent a vacation during the fall in New England years ago and it was wonderful.

• Canada
5 Oct 12
We have the fall colors on you but I'll bet you have better beaches than we do.