Gifts giving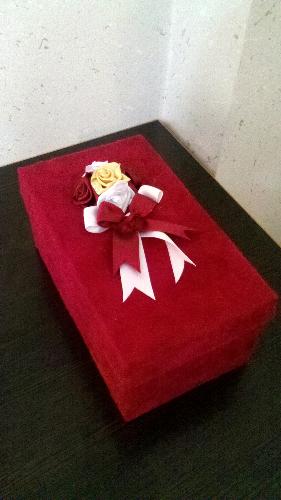 India
October 6, 2012 9:19am CST
Now-a-days some people print the words "Gifts by way of Wishes only" or "No presents please" in their invitation cards for functions and occasions. We feel delicate to attend functions without gifts. Further, we too give gifts when we attend the functions and the same pleasure should be given to others too as it is a satisfaction that we get when we present something to the invitee. What do you feel about this friend? It is just sharing of views only.

8 responses

• India
6 Oct 12
Hi Buchi_bulla, how are you doing? Long time no see. :) I think it is a good thing. We should encourage this practice. This is because we end up buying a gift that would be a duplicate, or something that the person doesnt want. We indirectly encourage industries that are absolutely unnecessary for us and our economy. When the person doesnt like the gift, what does he or she do? Gift it to somebody else. Now what does that person do? Gift it again to somebody else. Imagine that person gifting your gift back to you..lol Why this unnecessary routine? Yes, it does feel odd to be eating at the function. We can at the best call them over and offer some cash may be. Cash allows the person to choose and therefore, the money is not a waste.

• India
6 Oct 12
Hi Vandana, yes was not regular in Mylot for sometime due to health issues and daughter's wedding. Now I am back to normal. I really missed Mylot and all of you. Well you are right. In my son's wedding, around sixty bouquets (flowers) came and we could not bring all of them home and left them in the marriage hall only. If it was given as cash, let it be a small amount, probably the couple would have bought something useful to the family. (I do not expect the gifts, it is just that instead of flower bouquets, cash may help them). From that day onwards I usually give cash as gifts but useful items also sometimes but never flower bouquets.


• India
12 Oct 12
Well said. When there is a big queue standing in front to greet them, will they have time to see the flowers? They will receive and hand it over to somebody.


• Philippines
6 Oct 12
Personally, I'm not bothered if the host doesn't want his or her guests to bring gifts since I'm pretty sure they have some reason for not wanting to. When my sister got married, they to had indicated in their invites that gifts weren't necessary. It was actually for practical reasons since they were going to live in another country after their wedding. Bringing with them the gifts would be somewhat difficult. But you are right though that a lot of people might not be comfortable with the idea of not bringing gifts to an occasion of some sort since they have been used to doing such for a long time already.

• India
6 Oct 12
Yes friend, we are used to carry gifts and we feel somewhat awkward to go without gifts. The other day I attended a wedding with such invite and I could not go empty handed and I did take the gift. The bridegroom refused to take the gift but I somehow handed it over to his mother, who is my friend. I do not know whether I was right or wrong,

but my mind cooled down and I was feeling relieved.

• India
7 Oct 12
That is the trend these days. But sometimes gifts that are given are of no use to the couple. They may not have even space to store them. Even if a mention is made that no presents are to be given, guests could instead give cash which I am sure the couple will accept with open arms.

• India
12 Oct 12
You are right Allknowing. My daughter's wedding was performed a fortnight ago. Many flower vases have come and for the cash, which is a good money, I told her to buy a useful thing for the new family as a memory and also for use.

• India
7 Oct 12
My wife has already responded, what we faced, it is new tactic to get gifts by some

, not all do this


• India
12 Oct 12
Yes Kalyani madam responded and I was shocked to know that such reason also exists.



• Chile
7 Oct 12
I love to give and recieve gifts. Even when my friends tell me not to bring gifts, I want to take one. Sometimes, even a plant or some flowers can be enough. Now, many of my friends know that I will take goodies from my kitchen as gifts for them.


• India
12 Oct 12
Goodies from your kitchen? Then tomorrow is my birthday Marguicha, gift please?

(Not really)

• India
6 Oct 12
It depends upon person to person, giving or receiving a gift. It is indeed very embarassing to attend any function with empty hands. Giving gifts in cash or kind to the concerned is common since ages . But now a days some people dislike accepting the gifts due to their own reasons and let us respect their feelings and principles too

• India
12 Oct 12
If there are reasons, as somebody said before, then it is ok, reasonable. But still we feel delicate to go without gifts. But your Cat in the avatar is waiting to see what I have brought for her. It wants only fish or chicken not flower or cash.


• India
6 Oct 12
Well a friend hubby had printed this on the card

, we went with gifts, the couple accepted the packet with smile

; while we were eating, i asked his wife, why they printed; she replied with a naughty smile-'this assures, they come with gifts, kind of indirect reminder


• India
6 Oct 12
Oh my goodness, so there is also a reason like this is it?


• Chile
7 Oct 12
I loved that wise and naughty idea, Kalyni. I love gifts for my birthday, no matter how small they are. And I love it to have nice wrapping paper.


• Canada
9 Oct 12
While I gree with the satisfaction we feel by giving gifts, and best wishes only trend takes this satisfaction away, I can also see it as an advantage for those who feel pressure or obligation to give a gift. It can work both ways.

• India
12 Oct 12
You are right. In the recent wedding of my daughter, my peon/carpenter from my earlier service place, who is our carpenter for years, has come to attend the wedding. He was carrying a cover with some cash and was hesitating to part with it. I immediately told him, his presence is more important than gift, that we are happy he has come and there is no need to give gift. He immediately kept it in his pocket. He is not a moneyed man with only some pension and I felt happy that I could see that and stop him from giving the cover. So your point works good in such cases.