Roses and chocolates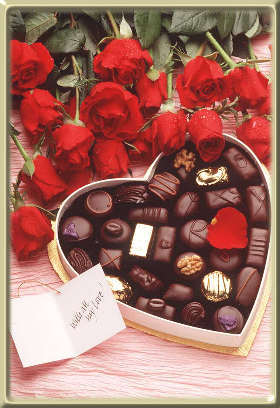 October 9, 2012 11:43am CST
Its nice to received a gift from someone who cares about us.It might be a precious gift or a simple presents showing they care. Most of the time I received a bunch a roses and bar of chocolates from someone whose working with me. Those roses I usually keep for in a vase and leave for a few days and waste.But the chocolate bars I usually give to my friends and colleague the reason that I'm not fond of eating chocolate. Do you usually consume those chocolates or let someone consume in your behalf?Lol.. I believe most of us here love chocolates..Share your views! Thanks!
7 responses

• India
16 Oct 12
its a great combo and i would love eat so many chocolates in a day and receiving from someone i am out of here because its awesome feel

• United States
10 Oct 12
I'm a little different. I Hate, hate receiving flowers. And as for chocolates? Most of the time I can only find a few chocolates I like. So I tell any gentleman caller not to give me either! I prefer stuffed animals! So.. if a guy gave me flowers and candy ? I would give them away.

• Philippines
10 Oct 12
You are totally right. Getting a gift from someone boost someone's ego too, because it means you are special and important. I like receiving gifts from friends but I also love giving gift to a friend. It's just with my circle of friends now getting and giving gifts is hard to do specially when there is always a lot to give your money to as donations, loads of contributing to do. Hubby gave me a single pretty and sweet rose for valentines day last year, and with that he also paired it with chocolates. But I'm not of a flower nor a chocolate person, I would rather go somewhere, eat chips or crisp person. I was grateful though for hubby's sweetness and effort. I took the flowers but hubby (the sweet tooth person) ate the chocolates. hahaha. We actually teased him about it (I mean.. that he intended to buy chocolates not actually for me but for himself).

• Boise, Idaho
10 Oct 12
I think that receiving flowers and chocolates is a very nice happening. Many men don't think about such things. I don't care for the usual chocolates like Hershey's and Giradelli. But I love the fancy truffles and the ones with chocolate liquer in them. They are to die for! Yummy!

• India
9 Oct 12
Hi. Thanks for starting the discussion. I mostly receive accessories and make-up stuff as gifts. And ya..chocolate and soft toys are not far behind. I don't prefer getting a bunch of roses as a gift as they don't remain fresh for long. Though it is a wonderful gift but just for that moment and then they seem to be a waste. But when I get chocolate it's always me who finishes them. I absolutely love chocolates and can't even dream of parting with them.


• Philippines
9 Oct 12
Whenever I receive chocolates from my friends, colleagues, etc. I definitely share them with my husband and son. I love chocolates. It's good I'm no longer allergic in eating them. LOL. Happy myLotting.

• United States
9 Oct 12
I like chocolates and would share them with the shop so I don't get too much fat in me. I love smooth milk chocolate the best.