I found this cute!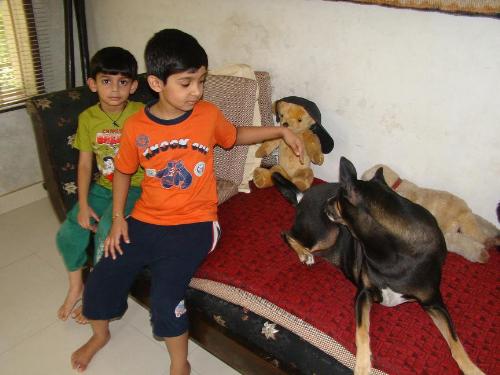 India
October 9, 2012 10:32pm CST
This 3 year old was our guest. He had come with his brother and the parents. I have glasses for different purposes. There are the juice glasses, wine glasses, champagne glasses, glasses for plain water and I have some one ounce glasses. This little brat drinks water, each time taking a different glass, including the one ounce glass.I found this quite cute! Children are a source of great joy. What was the latest thing that a child did in your life that brought you joy?
10 responses

• Philippines
11 Oct 12
Aw! haha! I remember I used to do that when I was a kid. I felt like I was getting drunk whenever I used shot glasses. LOL One of my nephews is really sweet and one time, he just walked up to me and sat on my lap.. We haven't seen each other in a while and that little act of his just made my insides melt..

• India
11 Oct 12
You are one lucky aunt as children will not do it on their own unless they are asked to. That must have been a moment to cherish!


• India
11 Oct 12
This is what I tell every one. It is in things such as these lies true happiness. And yet there is misery everywhere. If one can find these sort of things in their day to life there would be more like us with a spring in their step looking forward to the morning with great expectations!



• Philippines
11 Oct 12
What an adorable kid. My little boy gives me joy everyday, before he sleeps he always tells me "Mom, you're beautiful, I love you. Good night." Children are source of joy.

• India
11 Oct 12
I also like their toys being strewn all over, messy no doubt but cute all the same.


• India
11 Oct 12
@ellyse
- That is really wonderful for your boy to say that. And children mean what they say!

• India
11 Oct 12
that is cute. Yeah kids are a source of joy. Recently last sunday we had visitors at home and there were three kids too with them. They came to our house for the first time and were really happy. They really good at drawing and drew me also. I laughed when I saw the drawing. it was quite good..Thanks for sharing and have a wonderful day ahead.


• India
11 Oct 12
I sometimes wonder why we as adults do not opt for children to be our friends provided they agree too as they might not find us that interesting! I can narrate so many stories of my association with kids. We are a big family and we have scores of them scattered all over. Hope you have kept that picture that your visitor drew of you!!


• India
11 Oct 12
I have also noticed this. They will work in other people's houses but not their own!

I had this habit of collecting neighbours' kids and having a session with them. On one such occasion I mentioned that my maid had taken a day off. As I was busy with them, I hear something falling in my bedroom. I rushed there only to see one of the kids dusting my dressing table with a comment that he was helping me as my maid had not come! Some adults just attract kids like your father and now your hubby. I too am one of them!


• Malaysia
12 Oct 12
Hi All, i agreed that children are a source of joy. When my son was two years old, he likes to eat in the same bowl everyday. But when he is around nearly 4 years old, he likes to experimenting eating from different type of bowls. It amazed me at seeing him experimenting eating from different types of bowls and telling me which is more suitable to him. Nowadays, he don't have this funny character since he had choose which bowl to use.

• India
13 Oct 12
That must have been a pretty sight,watching your little fellow going about selecting which bowl to eat from. Were there many bowls?



• India
11 Oct 12
Whether married or single children are a part of everyone's life. There will be children in the family, in the neighbourhood, friends' kids..... If you like them you will go in search of them!

• Philippines
11 Oct 12
My nephew, a year of age, loves to mimic words and keeps figuring out why the lightbulb produces light (we usually know it because he keeps pointing at it with questioning voice tones of random baby words). Just seeing him makes my day.

• India
11 Oct 12
It is good that you understand his gibberish. I can visualise you going to the switch and putting it on and off with sign language as well, so that the kid understands how it works!

Children have so much to wonder around them!

• United States
11 Oct 12
I can't imagine having all those kinds of glasses. I have one set and you can drink anything in them. lol. I have no kids around me at this time so there would be nothing cute for me to share.

• India
10 Oct 12
I have a cute little neighbor. He is not even an year old, and has such an enchanting smile that I find him irresistable. But to be honest, the most appealing thing any child ever did to me was done by a boy who was almost 10 years old. He has some problem that I dont really have guts to ask his mother about as I think she will hurt. But everything he does is so touching and childlike. Usually children become aloof. He has this need to come and whisper in ears. And he likes ice creams. It is about six months or so ago when he came to our place. They used to be our neighbors about 4 years ago. So now, he has grown much taller and looks almost 15 years old. This is the reason dad was treating him like an adult though he is only 10 or so. I dont want to say he is retarded. I just know I would love to have a child like that.

• India
11 Oct 12
Spending time with kids is such a peaceful experience since they are so honest and say what they mean and mean what they say!

• Philippines
10 Oct 12
Yes! I strongly agree with you!

The latest thing was when my three year old nephew told everyone in the house that I'm the fairy in the book. The fairy is really so pretty. I told my sister, my nephew's mom, that the child does not tell lies, they always tell the truth, what you see is what you get.


• India
10 Oct 12
Ofcourse your nephew did not tell a lie. You sure must be pretty!

Adults will say it just to please but kids tell the truth.

• India
10 Oct 12
Thanks a ton for sharing the discussion. Glad to hear that u had a great time watching that small kid's activities at your place. Children are always a perennial source of joy and happiness. They reflect innocence and positivity always and it is always a treat to watch their selfless activities so much so that they forget about everything present around them. i have my 1 year old niece and i always enjoy to be in her company. What say?

• India
10 Oct 12
This kid is one of a kind. He was so careful with those glasses and that was admirable.