Our trip to Esbjerg, Ribe, Gram and Vejle (Denmark)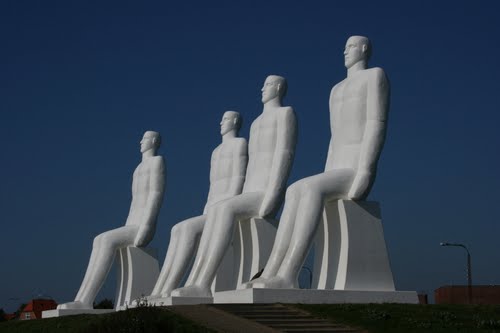 Denmark
October 10, 2012 11:08am CST
Yesterday my husband and I visited the peninsula. At first we went to Esbjerg in the western part of Denmark. In the Esbjerg we visited the the huge sculpture with the 4 white men and we took many pictures. When we had been to Esbjerg we visited two small towns called Ribe and Gram. In Ribe there is a famous cathedral. I have visited the cathedral in the past and I think that is a very beautiful. In Gram we were planning on having dinner in the old inn, but when it arrived it was only 4 p.m. and it was too early to have dinner so we decided to find a different place to have dinner. I had never been to Gram before, but I thought that it was a beautiful little town. In addition to the old inn there was a castle and small lake. Our last stop was Vejle. I knew that there was a Asian restaurant in the centre. It took us a while to find it, but eventually we found it. They sell food from China, Japan, Thailand and Vietnam and we chose the Vietnamese menu. It was delicious. After Vejle we drove back to our own island. Which place(s) did you visit last time you went on a daytrip? Which daytrips have you planned in the future?
2 responses

• China
11 Oct 12
Hi dear friend,how do you feel about those little town of Denmark?I never been to North Europe country but sometimes I will watch some pictures or TV show about those beautiful North Europe little town,they are very clean and leisure,I always dream to been those place,so could you tell me in detail about your trip to Denmark?I wish I can been there some day.

• Denmark
11 Oct 12
I hope that you will get the chance to visit my country and the other countries in northern Europe in the future

In Denmark the most famous place is Copenhagen, but I think that there are many other interesting places to visit for instance some of the small towns and the many small islands. There are more than 400 islands in Denmark and you are able to visit many of them. Two days ago I visited 4 different towns in Denmark: Esbjerg, Ribe, Gram and Vejle. Esbjerg is quite large. It is situated in the western part of the country and from Esbjerg there is a ferry to the UK. Ribe is much smaller, but it is beautiful little town with many old houses and a famous cathedral. Gram is also a very nice small town with a castle, an inn and a lake. If you want to know more about the places we visited just ask me and I will be happy to answer your questions.

• United Kingdom
10 Oct 12
I really like the sound of your day trip. Today I had to take my disabled son to a hospital appointment at a hospital 25 miles away. I drove to our local train station and then we caught a train to the city parkway station before getting a bus over to the hospital. On Saturday we went on a trip to a safari park with my disabled son and my daughter. It was with a group called Somerset Shine which is all about my son's disability. We saw lions, monkeys, zebras, giraffes and little animals plus birds. My children liked seeing the animals and playing in the toy castle wonderland. On Sunday we drove over to the city of Wells and walked around feeding the birds along the moat of a palace that looks like a castle.

• Denmark
11 Oct 12
Your trip to the safari park sounds very nice. I remember visiting a safari park with my parents when I was a child and I enjoyed it a lot. One day my husband and I will visit the safari park on one of the neighbour island. I have been there many years ago, but it would be nice to visit the place again. We would like to rent an apartment there for a couple of days and visit severals places on that island. The the ferry trip is quite expensive so we want to make the most of the time there.