advices needed to make house cooler

Indonesia
October 11, 2012 10:39pm CST
my town is getting hotter and hotter this year it's boiling and unbearable. plus my house is little cramped with stuff and so on. So my dad decided to move out to other suburban place with less crowded and just to get a bigger house. it is still under construction now, but still the heat is going on and I don't think the new place is less hot. I heard that some stuff can make house chiller like floor material choice. is there anything we can do about this? what kind of thing we can do to make it comfortable enough without adding some Air Conditioner or fan? we want to reduce our electricity usage but at the same time I can't bear the heat. help me.
5 responses

• India
12 Oct 12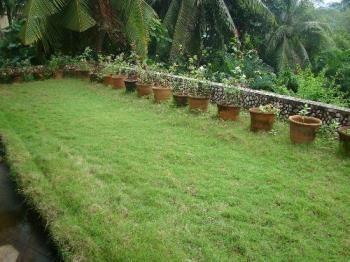 Cross ventilation will help you, so also growing a lawn on the terrace if yours is a terrace house. I have one.

• Indonesia
12 Oct 12
what is cross ventilation? and well it's to look at and it looks chilling too. though the question is, is it applicable for house that doesn't have wide terrace? cause mine doesn't have a big and wide place in front of the house. and I am not sure if it will be a free space since I got some motorcycle which I would probably place there. though thank you so much for your advice.

• India
12 Oct 12
Cross ventilation is having windows on either side of your house for movement of air. The terrace lawn needs to be grown on top of your slab.

• Indonesia
13 Oct 12
is it same as rooftop garden? I am sorry cause I don't quite get it which is slab. I am not familiar with construction but I want to know so bad because I think this is a great idea.

• Chile
13 Oct 12
When we built our house, my husband made sure that there was space for air between the roof and the ceiling. And it was constructed so the air circulates from one side to the other. I use a fan because I don`t have air conditioner, but the heat here only reaches 33ºC at the most.

• Indonesia
13 Oct 12
good day, Ma'am. thank you for stopping by. the construction is still undergoing. and I checked that the new house got the same thing. I mean it got wide spaces under the roof and above the ceiling. my father even decided to heighten the ceiling from the floor, well, does it work, I am not sure.though it gave spacey feeling which is relieving. .

• Philippines
12 Oct 12
If you wanted a cooler place to live,then reduced your electrical usage.Just use an electric fan during the daytime,and always take a bath,if possible take a bath in the night time when time to fall asleep.An air conditioning unit is very essential to keep us cool,but you have to off it during the 5:00 o'clock daytime to conserve electricity bills from going up.You can also make your house and cooler by putting some plants in your surrounding areas.Time could just be expected that you place could experience having cooler breeze produced by your plants.

• Indonesia
12 Oct 12
yeah I agree. the construction of the new house has hole inside the house which in the day time it will lights almost the whole rooms. it reduces the needs to reduce lamp usage. and we wanted to go further by not using any air conditioner. is it really that impossible? and I think the plants can go with us. but I am not sure what kind of plants that I should get. the new house doesn't really have garden or area which I can use to place any as my dad has already put cement on and concrete to cover the area. thank you for the advise though.

• India
12 Oct 12
For my home, we do have hot weather like that when it is summer. Our house is wooden and we have lots of windows. The glass window like blinds bit is not blind. When we open all the cool breeze flows through the house and cools. Do you have breeze though it is hot??

• Indonesia
12 Oct 12
barely. it's so really hot it's unbearable. even in the nights! the only moment that chiller maybe in the dawn time. wait, the area of the new house is windy indeed but the air is hot, so instead giving a cool breeze it;s more like flow of hot air. you think the wooden material will help to reduce the heat? I'll tell my dad about it then. thank you for your comment. happy mylotting

• United States
12 Oct 12
I really do love warm/hot weather..I can stand it..I don;t really mind..its really chilly here right now and I wish I had some to that hottness..lol You guys are very luck that you are in a position to just build a new house because the one you are in is to hot.. thats really a blessing, I don't care what part of the world you are in... Perhaps your dad can confer with the constructions workers, I am sure they can help him in making the right decision..

• Indonesia
12 Oct 12
let's switch place, please? I can't really stand heat since my skin would get rashes like chicken pox when I got unbearable hot temperature. I once get in to a spa room and my skin was really terrible. and now, how hot it is, it;s like the sauna is everywhere without AC. just open my door here, and voila the biggest sauna ever. .