ical believes his chance in President election..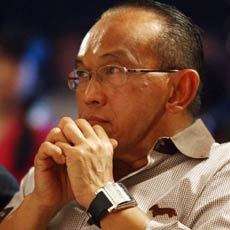 Indonesia
October 13, 2012 6:45am CST
Aburizal bakrie said that he believes his chance is bigger in 2014 President election.. after his declaration to be President, now his popular is increasing.. And he believes he can compete with another candidates in president election 2014.. why he is sure that he can win many indonesian people heart?? we know him as one of the factors of Lapindo mud in porong.. how come he forgot that we dislike him so much??
3 responses

• Indonesia
14 Oct 12
He might believe what he wants to believe but time will reveal the truth later. People are not stupid, we know his track record, we know how he ran away from his responsibility regarding to Lapindo's case. If he thought he could bought people's voices to vote him, he is totally wrong..well, accept the money but dont vote him

. And if he won the 2014 election, for sure there is something fishy and we need to investigate it, a better chance to send him to jail, dont you think so? I never been a fan of Golkar, except when JK was there but it seems Ical dinasty has bought Golkar as his own party and rules Golkar as if it is his own kingdom. I believe that Ical downfall would coming soon, just remember the people in Porong Sidoarjo, he wont be able to escape from karma.

• Indonesia
14 Oct 12
maybe he forgot when some of Golkar cadre in every province lost in head regency or governor election why he didn`t take seriously when his candidates in Jakarta governor election lost from Jokowi-Ahok? it`s the red alert for him and Golkar party if they learn something Jakarta is indonesia representatives.. how come he can win in 33 province if he can`t take his influence in Jakarta..?? JK didn`t become the candidates from Golkar..it`s common secret that JK maybe will be candidate from Nasdem or another party and if JK is truly want to be President, i can guarantee, there are some Golkar vote will support JK and didn`t vote for Aburizal Bakrie..

• Indonesia
14 Oct 12
It is people who will decide the next President. Even if he could rules Golkar as his own Kingdom but he could not bought 200 millions people's voices. And if he dares cheat on the result, jail is waiting for him and many people would be so happy if he goes to jail. Yes, I believe many Golkar members would vote for JK if he decided to join the election. I think Ical and Foke has similarity, both are arrogant and over confident. Let him think what he wants to think, in the end People will decide opposite.

• Indonesia
14 Oct 12
Im online, chatting with my cousin, while making crochet flower brooch and mylotting..what a multitasking jobs

I think that is a sign that you should share your project with me, so you will still have time to play futsal

JK has better track record and popularity than Ical. Ical looks so ambitious and that's scary because he would likely to use any way both legal and illegal ways to make his ambition to be comes true. We need to stop him in elegant way. Dont vote him, ignore his speech, choose another better candidate. According to history, it wont be easy for the ambitious people to win people's heart and win the election. Do you remember Amien Rais? Remember his ambition to be RI 1 but he always failed. Dont forget Megawati's ambition to be president. She was able to be president because MPR dethroned Gus Dur. Megawati became the president not because people voted for her, but because she replaced Gus Dur. And then look at election 2004 and 2009, SBY beated her twice. She is such a big arrogant ambitious woman, she is knowns because her last name "Soekarnoputri" but in reality she never done something for this country.


• Indonesia
18 Oct 12
I really hope, Aburizal Bakri was not elected to be a president. If the people of Indonesia, choose Aburizal Bakri, I do not know, what minds of the people of Indonesia. Given that, there are a lot of families, who have lost their homes, because Aburizal Bakri. Aburizal Bakri, is irresponsible. It's very unfortunate, if Indonesia is led by people who are not responsible.

• Indonesia
14 Oct 12
Well, He could pay for some organisation to boost his fame. Like what happen to SBY, cos the news really rare to told that He is the men behind Lapindo. For me, I will choose Prabowo since He owe much to Indonesia when He under Soeharto. He know how to deal with oil, remembering his background business right now in the middle east.

• Indonesia
14 Oct 12
even he pays many surveys organization, it can`t work everyone had blamed Ical and his ignore to all Porong mud victim how come he forgot and say that it`s national disaster and he can run away from the responsibility?? it only happens in Sidoarjo, one regency in East java can you predict that he can make nationaln disaster if he can becomes our President?? it`s nightmare for all of us if he can be our next president