Breaking NEWS! Obama/Romney Square OFF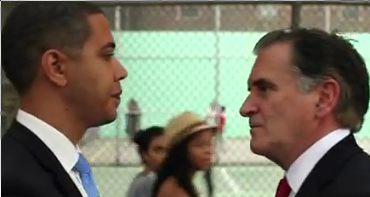 Philippines
October 24, 2012 1:57pm CST
Oh, NO?! what?! Looks like they realized that their National Debates are proven boring according to some experts

. not only the percentage of voters half, the number of undecided had increase?? Now, i guess they decided to settle it OUTSIDE!!

(w/ few people watchin

) not a referral link. http://www.youtube.com/watch?v=uAKHYEXeVcU http://www.youtube.com/watch?v=50hi0CsORnk
3 responses

• Davao, Philippines
25 Oct 12
What the used of debating on the public? They wanted to impress the viewers about their flat form of the government? Politicians tend to promise everything beyond their capacities even some of it are impossible because they wanted to have a good reputations and aiming to win the elections




• Philippines
25 Oct 12
Hello Julyteen,

it's easy to make a platform that is pleasable to the public. however, it changes as time goes by because the situation differs from the platforms itself. the platforms was meant to solve the current situation of the country.



• Mexico
24 Oct 12
This happens when both candidates are worth the time. The same happen in last election here in Mexico. No one really cared who won. They knew both were not good.

• Philippines
25 Oct 12
Hello mariaPeralta,

wow same here, the first and second ranking on the polls was not good at all. the reason why the first won because of his propaganda with the help of the media organization literally siding with the candidate. that's not gonna happen again i think. good thing, for what ever mistakes he did over these past few days, i wasnt' guilty because i didn't vote for him.



• India
24 Oct 12
Thanks a ton for sharing this discussion. Well yes u are correct, i think there was absolutely no need of doing National Debates and rather they should have come out and spoke their heart out in front of the public as it is ultimately the public who will take the decision to whom are they gonna see as their President. This is a good way of presenting the views as well as interacting with the people live that would make it even more exciting to watch. What say?

• Philippines
25 Oct 12
Hello Subhojit10,

The last five days would definitely very critical to both candidates. any disadvantage of the candidates have done would be used against each other. but i am way over my heads here, just trying to lessen the intense that every one's having out there. well, its a natural election and then after it it's just another four years of criticism to whom ever is the winner.