Favourite character of the justice league of america.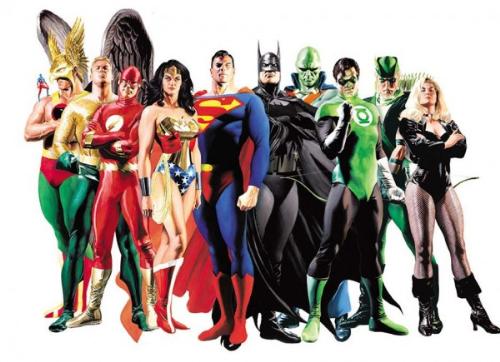 Belgium
October 25, 2012 9:47am CST
I don't know what you guy's think of it, but I for one have been dreaming of a justice league movie. But it seems like it's never coming. Maybe you have the same dream! Who is your favourite character? And who do you think will be the best actor or actress for that character?
6 responses

• Philippines
25 Oct 12
Well, I'd say Batman is my favorite among them because I really enjoyed the Dark Knight movies. I also think that since Batman, is technically still a normal person if weren't for his epic gadgets, it just makes his character more exciting. I just like his balanced character, he's neither the strongest nor the weakest.

• Belgium
25 Oct 12
Batman is indeed one of the most intriguing characters because he is still just a human!

• Philippines
25 Oct 12
Well I am always a fan of Superman.The Man if Steel is always my favorite superhero of all time.Seems to be the strongest of them all.I think Zac Efron could portray Superman's character well.

• United States
4 Dec 12
It's really hard to pick a favorite. I love so many of the characters. I think the main Trinity (Batman, Superman, and Wonder Woman) are probably tied for favorite, followed by Flash. I'm not too hung up on which actor plays which hero. I just hope whoever they pick captures the character well.

• Philippines
4 Nov 12
My favorite Justice League character would have to be Batman. For me, he's the superhero that is closest to reality. Also, he is a billionaire nut he used it in fighting the bad guys in his city.

• United States
25 Oct 12
I'm not a fan of comic books, retroactive continuity and stories with no definite end make my head hurt, but when I have read comics they've mainly been DC comics like Justice League and Teen Titans stuff. I love superheroes, I just don't like comic books. lol I enjoy adaptations of comic books more than comic books themselves, so I like lots of superhero movies and tv series. I'd love to see a Justice League movie, and it makes me sad to see attempts to make one have just wound up in development hell. I don't like to pick actors or actresses for characters, I usually just like to see how an actor plays my favorite character. As for who's my favorite... I'm not sure. I think maybe Black Canary.

•
25 Oct 12
I'm not much of a comic book fan/graphic novels whichever you want to call them.Though I would agree with you that a justice league movie sounds really good,I have enjoyed most of the Batman and Superman films I have watched.So my favourite character is one of those two as the ones I know most about.Probably my favourite is Batman he just seems cooler than superman.I think it has the potential of being a really good film,marvel showed with the avengers film that films with multiple heroes can really work.