where do you love travelling?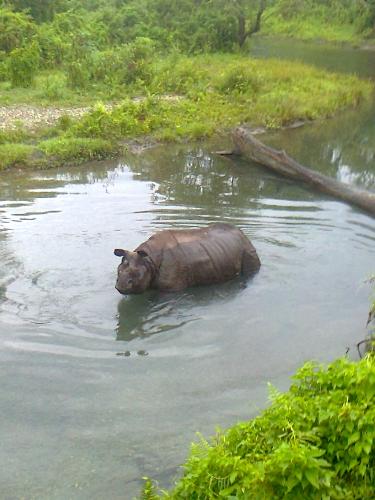 India
October 25, 2012 2:56pm CST
I love travelling and have travelled to many places , watched mountains, seas,underground tunnel,waterfalls etc. Everytime I enjoyed my trip.But last week I felt so special and amazed when I went to the deep forests of Jaldapara. I was literally staying in the home of Bisons, Leopards, Rhinos, Elephants and so many more. The bunglow was inside the forest and believe me, I saw a rhino right in front of me . I also took an elephant ride throughout the forest and saw groups of peacocks, bisons, elephants , rhinos with their babies. O they looked soo cute. Are you this adventurous? Tell me where you travelled and just couldn't forget it.
10 responses

• Seychelles
26 Oct 12
I love traveling as well. I basically like to visit places of wildlife. I like to watch dangerous animals in their habitats. I enjoy it a lot when I go to mountainous places in cable cars. I have seen Baboons and the way the move around is almost like human. Lions more or less looks scary and the way they look at you makes you think that they want to jump on you anytime. Zebra looks cute and makes you wanna caress them. I like to travel to places where they have got snow, I just love to have fun in snow.

• China
27 Oct 12
I also love travelling. I like to experience the various culture and civilization in different places.

• India
27 Oct 12
Yes it feels great to see various cultures. On atrip to bhutan, I discovered that they have a very nice system of ringing bells. You just have to rotate a big cylinder and it will ring automatically once in every rotation! That's a new technique of ringing bells and I was so impressed.

• United Kingdom
26 Oct 12
I love traveling and would say that it is one of my top hobbies. When I was in mid twenties I went on a safari in Kenya and it was exciting to see zebras, giraffes, elephants, rhinos, hippos and lions. Then we saw some flamingos on a lake. Wow! Some of my best experiences have been snorkeling with bright colored fish where I could see stunningly beautiful corals. In French Polynesia I went snorkeling with black tipped sharks and sting rays. It was very exciting indeed and I won't ever forget that wonderful time. In Belize I got to snorkel with nurse sharks and sting rays. It must have been amazingly exciting for you to ride an elephant. My best trip happened six years ago. It was to Mexico, Belize and Guatemala. There I climbed on Mayan temples, went on a cave exploration and spent a few nights staying in a tree house. I like waterfalls and had a lovely time in them at Crystal Cascades in Australia. In my lifetime I have climbed three mountains. I was aged 18 years old when I climbed the mountain in Norway, aged 20 years old when I climbed the mountain in Australia and aged twenty nine when I climbed the mountain in New Zealand. I have been para sailing in Fiji and Australia.

• India
26 Oct 12
Yes I know. Safaris are very interesting. But a bit risky too. Once I went for a safari and watched a whole group of elephants beside our jeep. That was fun for me. But at a point, one Bison came right in front of our jeep and kept standing. Luckily, he moved back when the jeep started. Later I came to know that bisons get angry very soon and are powerful enough to crush a bus!

• India
26 Oct 12
You are certainly adventurous and courageous

Well till last year i was very active, had to travel lots in india and abroad in connection with my research work and various assignments, but as per advice of doctors i have reduced it On 31st dec i will go to my son's home in hyderabad


• China
26 Oct 12
That sounds great about your adventure,I had do many travels but I never ever been to deep forests before,especially for the tropical rainforest,the reason is I scare the snake very much,and the rest wild animals such as leopard,so you are very brave.

• India
26 Oct 12
Even I am scared of snakes and leopards. And this forest had pythons and leopards both. But when you enter a forest, you will be keen enough to watch a wild animal and when you spot one, its a great feeling. Alongwith that our country's government has arranged for many precautions so that no visitor is hurt

• United States
25 Oct 12
Yes I am that adventurous, I just can't afford to be quite yet. Haha. I should hopefully have the money to travel very soon, and oh the places I would go! I want to go everywhere and see everything and meet everyone! ha! But I want the real experience like you do. I want to experience the culture and the place, not be souped up in some 4-star hotel. I can do that at home! I want the real deal. A learning experience. One worth talking about and sharing and remembering forever. And I have many traveling goals and dreams, and have realistic plans to accomplish them relatively soon. It's only a matter of time! :)

• Mexico
7 Nov 12
I love traveliing to the usa. There are so many neat places to visit there. i also have friends and family there.

• Philippines
26 Oct 12
I also love to travel. I have gone through different places. Met many friends from different walks of life. I used to serve God. And because I serve God through spiritual organizations, I have given opportunities to travel and spread the word of God. Felt so blessed. So many good memories that I could treasure. And I become a better person because of these experiences

• Philippines
26 Oct 12
Hello! Yes, I love travelling. It is a learning experience for me and it gets rid of boredom too. I could not forget when we climbed the Mount Pulag, the second highest peak in the Mountain Province of Philippines. It was amazing. The place is pristine and the nature is great. We climbed the mountain for three days. And before you reach the mountain you will pass on three parts of the place, the pine trees area, the mossy area, and the grassland. The pine tree area is arrayed with many pine trees, while in the mossy areas the trees are covered with moss, and in the grassland there are no trees. It is really a very interesting place. We also passed by with many ravines before reaching the mountain. And when we were on the peak of the mountain. Oh! what a sight! It was really beautiful and the clouds hovered on top of us. And the nature all around was amazing. I encourage you to visit and climb this mountain in Philippines. It is really an unforgetable place. :-)

•
25 Oct 12
I have not been to all that many places yet during the course of my life, but one of the things that I like doing is travelling around my own country and trying to get to know it better, because I think that this is something that everybody should be trying to do in their life. I am lucky to be able to live in a country where there are so many beautiful things, and because of this I think that I should be making the effort to see as much of it as I can before I go looking around all of the other countries and abandoning the place where I live.