I want to go out to walk and run but it's raining....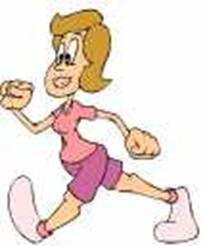 Philippines
October 26, 2012 2:52pm CST
It's been raining since last Friday and I can't go out every morning to walk and run. I am hoping the rain would stop so that i can able to walk and run or i just stay home to do some stretching and belly dancing to burn come fats. Have a great weekend!
10 responses

•
27 Oct 12
I started exercising regularly a couple of years ago, and when I first started I would always avoid going out in the rain. But then I realised that in my country there was no way that I could carry on running a lot and not go out in the rain, so now whenever it is raining I will just go for my walk anyway. It is something that I actually enjoy quite a lot, and I like the feeling of rain on my face. It cools me down when I have been for a run, and I know that it is something that I am going to carry on doing as long as I am able to.

• Philippines
28 Oct 12
I love the rain but i am afraid that i might involve again in some accident like what happened to me before when i walk under the rain.

• Philippines
27 Oct 12
the weather is really weird, isn't it? here in qc, it was raining so hard thursday that it got flooded. but yesterday it didn't, which was good because my parents had to go to a birthday dinner. but when we went to bed that night/last night it rained again. today, saturday, it's sunny again so i took advantage of it by doing one batch of laundry. i was able to use the rainwater we collected the other day. hopefully, the weather stays sunny until next week because i'm have errands to do on monday. :(

• Philippines
28 Oct 12
Your right, the weather is very unpredictable! I am hoping too that the weather will be fine today because I need to go divisoria to buy clothes for my nephews and niece or else i will be force to shop in SM.


• Philippines
28 Oct 12
Belly dancing and stretching can helps to burn fats and my belly became flatter too.

• Philippines
27 Oct 12
Since the typhoon was already going out, the weather yeterday was quite fine. Even though the air was quite cool there so no rain at all. The sun was up but not that hot so we could really go out. But now, the sky is quite dim and covering the sun. Raindrops is starting to fall and the wind is quite cold. I hope that it will just last for a while cause my mom is planning to do the laundry.

• Philippines
28 Oct 12
Hi ardoy, my mom do the laundry yesterday and got upset because of the rain good thing we have a spin drier and just hanged it inside our house. I am hoping to have a good weather today since we have lots of things to do.


• Philippines
28 Oct 12
I am hoping that you can able to walk and run again, here the weather is fine and i can able to my exercise outside.


• Philippines
28 Oct 12
This morning the weather was fine and I got what i want. I walked for 1 hour and run for 30 minutes with my husband and the feelings was great.

• Philippines
26 Oct 12
It's still raining and jogging outside is not possible, but yes, we can always burn fat without going out and perspire. A taeboo is enough to burn fats and energize- I downloaded one from youtube



• Philippines
26 Oct 12
I think i need to download taeboo too, thanks for the info.


• Philippines
26 Oct 12
I am hoping that next week i can able to walk again too because I miss walking and running in the park.


• Philippines
26 Oct 12
I might can't go out because of the weather but good thing I still have something to do like dancing to lose weight. Thanks

• Mexico
26 Oct 12
Same thing here in mx. Rain, wind and cold. I wanted to walk to market today. Dont think I can go now. have a great weekend there.

• Philippines
26 Oct 12
Thank you for reminding me, i need to go the market to buy fresh seafood and fruits for our lunch, i go to the market since it's only 4 blocks away.