9 men Chelsea go down to Man United 2-3 in another cracker of a match!!

India
October 28, 2012 1:00pm CST
Super Sunday lived up to the billing as after the Mersey side derby, the top two sides in Premier League, Chelsea and Man United dished out a fantastic game. Man United took the lead through a Luis own goal, then Van Persie scored a fantastic team goal to take United 2-0. Then Chelsea began the fightback with a fantastic Mata free kick. Ramires then equalized for Chelsea to make it 2-2. Then Mr. Mark Klattenburg simply handed the match to Manchester United. First he sent off Ivanovic in a 50-50 send off call. Then he sent off Torres for a second booking for diving which was absolutely wrong. Then Manchester United scored a goal where Chicharito (Javier Hernandez) was in a clear offside position to score the goal. In all Mark Klattenburg spoilt a fantastic match into a one-sided one that he handed to Man United!! But this opens up the premier league table as the top three teams are separated by one point each. Cheers! Ram
6 responses

• Mexico
28 Oct 12
We love manchester united here in mexico. As you may know our golden boy chicharito hernandez. He was born here. His grandparents live right down the street from me here.

• Indonesia
28 Oct 12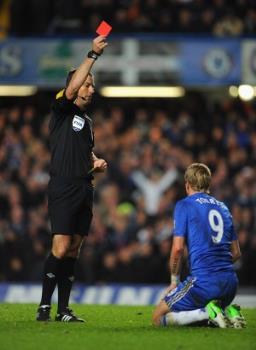 i can say that Torres is loser tonight.. i don`t know what`s happen in his mind.. i think he make diving...it`s not foul from evans.. i really agree with sir alex comments..it`s torres fault when he get second yellow card and red card..

• India
29 Oct 12
I think there are two parts to that. One is that Torres should definitely not have gone down on that tackle. But the fact is that Evans hit his shin and hence given the current trend he was well within his rights to go down. I think from referees stand point it was a poor decision especially when there was contact and it was a highly controversial and incorrect decision in my opinion. Though I also agree with Sir Alex's comments that strikers do go easily, but he first needs to tell this to Nani and Evra!! Cheers! Ram


• United States
29 Oct 12
The drama has begun! Wow! What a Sunday!

• United States
29 Oct 12
Man U Should beat them! sorry.

• China
30 Oct 12
I hope that Arsenal could win. I love Giroud. He is a great striker and he is extremely smart. However, he is kind of wasteful currently. Wenger should give him more opportunities. I am afraid that Wenger are not good at using strong strikers like him. A good example is Bendtner, Wenger wasted his best time for growing.


• Romania
31 Oct 12
I have always said that the referees are getting from bad to worse and the ones from Great Britain are the worst which I have seen. They blow the whistle like they want, without being consequent and without following the rules. That is why the biggest injuries are happening there. These being said, I don't like neither of the teams, but I am glad that Chelsea has lost being robbed by the referee. I wish all the bad things for the toy of Abramovich and hope they will not win any trophies anymore, as long as the Russian mogul will remain there.

• India
1 Nov 12
But rap, this year Chelsea has definitely started playing some good football. I am really fed up with the poor refereeing. Actually Mark Klattenburg is one of the worst referees in EPL and how he landed such an important top of the table clash is a real mystery. Now there are police investigations whether the referee used racist remarks during the match against Obi Mikel. Cheers! Ram

• Romania
1 Nov 12
I don't care, as long as their are an artificial team. They have many good players because a wealthy person is in their back, not because they kept the rules, they haven't worked hard for that money. It is easy to buy great players when the money falls from the sky. Can you imagine what would happen to Chelsea if Abramovich would retire and would want all his money back? As for Mark Klattenburg, he is a FIFA referee, and if he is so weak, what can we say about the other referees in the EPL? He has destroyed 3 games in a short period of time, recently, so why he is not punished by FIFA, UEFA or the English FA? In Romania, where the referees are very corrupt, when they make mistakes, they are suspended for some games, why cannot this happen in England also? As for police investigating a person for saying harsh words on the football field, but players who spit each other or hit each other get away with it, I feel that things are with their upsides down.

• India
1 Nov 12
You are right that they are built on Abrahamovich money and not from the Academy except for John Terry and Sturridge. But unfortunately, it is true about most of the top EPL clubs. Arsenal also routes it's players from outside, though at a young age and grooms them in the Arsenal academy. This year though they have a great crop of local talent in Wilshere, Walcott, Ramsey and Gibbs. Unfortunately, FA's stand on the referees is very supportive, so I am not sure that until something substantial is proven against Mark Klattenburg, there will be no action against him. Cheers! Ram


• Indonesia
28 Oct 12
wow..why this week is full with referee controversial? the goals of luis suarez is not considered by referee and make liverpool only get 1 point and now it happens in the games chelsea against MU but chicarito becomes hero again for MU i have told that chelsea need a forward..torres isn`t enough..

• India
29 Oct 12
There were three awful offside decisions that changed results this weekend. First was in favor of Arsenal on Saturday, then one against Liverpool and one in favor of Man United. To add to it there were a lot of poor decision making in the Man U vs. Chelsea match by Klattenburg. On the other hand, the handling of Everton-Liverpool match was fantastic except for the final offside decision. Cheers! Ram

• China
30 Oct 12
The referee truly made some mistakes. As far as I'm concerned, he should have given Man U a penalty for Ruiz's handball but he missed that. I support the red card to Ivanovic but the Torres diving shouldn't be given card as he had been with a yellow card.

• Singapore
1 Nov 12
Chelsea threatened to stage a comeback against the comeback king themselves but it is not to be. Ivanovic sending off is correct as he had foul Young and was the last defender. As for Torres, yes, there is contact from Evans but it was minimal. I felt it was the way Torres went down that trigger the second yellow. From then onwards, it was very hard for the home team. They gave a good fight and was unlucky to get undone but another controversial decision. Hernandez was yards offside when he put the ball in yet both referee and linesman failed to pick that up. While the result is fix, the repercussion had not. Chelsea had now accuse Clattenburg for using a racist slur on Mikkel and inappropriate language against Mata. The FA is looking into the complain now.