Is the class over delay common in your side?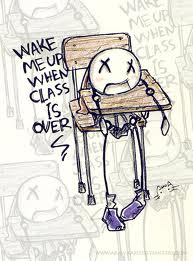 Guangzhou, China
November 1, 2012 10:39am CST
When I was a student, our teachers liked to delay the class over. Here the class would last for 45 minutes and we just had 10 minutes break. So if the teachers delayed it, soon we would have another new class. We even hardly had time to go to the toilet. I really hated it. How about this situation in your side?
5 responses


• United States
2 Nov 12
Short, yes, but really for the building it was enough, if you didn't waste time doing things that didn't need doing. You could go to the bathroom, get a drink of water (way before bottled waters) and if you weren't too far from your locker, get there. Generally you carried what you needed for a couple of classes if you couldn't get to the locker.

• United Kingdom
1 Nov 12
I sometimes wondered if the teachers preferred to stay in the staffroom chatting than coming to the class to teach! Our lessons used to last 40 minutes, and more often or not certain teachers would turn up late, I didn't mind if the subject was one I hated like history then they could turn up as late as they liked, when they were late I would catch up on other subjects like getting homework done when it should have been done the night before. Funny how they hardly ever apologized for being delayed.

• India
7 Nov 12
But the thing is that, sorry will not give the break time which we lost


• India
7 Nov 12
Still my higher secondary education I was facing this problem. Teachers come to our classes about two or three minutes late and they are moving so fast to complete the lessons as fast as possible. Sometimes they make use of the intervals which is allotted as free time. It is we people we must face it and adjust with it.

• United States
1 Nov 12
It has been a long time since I have been in class. In public school everything is run by such a strict clock that the teachers could not delay it, In colleges and private schools it might be possible, but usually the teachers are as anxious for their break as the students are. I do not think classes get extended very much.

• India
1 Nov 12
Thanks a ton for sharing this discussion. Well i know how it feels like when your break time is being used by the teachers and u must be getting impatient every time as to how u can move out of your class and unwind. The same thing also used to happen with me when our syllabus was lagging behind and our teacher used to take away our break time also. It was such an annoying time for all of us. What say?