How Handmade Jewelry Changed My Life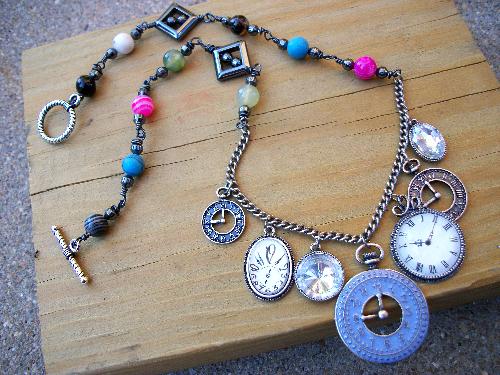 United States
November 2, 2012 10:30am CST
I am a 40 year old woman diagnosed with rheumatoid and osteoarthritis. I have it all over me..in every joint in my body including my jaws. I had to give up barbering due to this and it was devastating because I was finally in a place where my life was exactly where I wanted it..until I became ill. Instead of getting angry and feeling sorry for myself I decided to take advantage of my illness and start creating unique items to sell. I began working with beads and wire and started making different types of jewelry. I quickly became addicted and started selling and have actually been able to help with some of the bills. I believe this has helped me not only mentally, but physically also..my hands are still able to work good enough to do this..I am however concerned about where my back is going to be soon..it is getting hard to sit for very long or stand. As long as I am able to keep going I will..and if the time comes where I can't do it I will find something else to create! What in your life small or big has made a big impact? I would love to here it!
10 responses

• India
2 Nov 12
wow this is amazing necklace. you are a professional. nice to know that. hey i am sorry to hear about you sickness. have faith and pray to God for healing and strength. he will change your life. I am sure this handmade jewelry has changed your life because anyone will want to buy your creations. it is so beautiful piece. Thanks for sharing and have a wonderful day ahead.


• United States
2 Nov 12
Thank you very much! I really appreciate that! I enjoy making them and I have many more besides that one too. I do thank God everyday for my life and giving me the courage to keep moving. It is nice to be able to share with you. You are a very sweet person and hope that many blessings come your way.

• United States
2 Nov 12
Hey anytime!! I will be here anytime you want to talk. It is fun getting to share with you! I wish you the best in everything and will talk to you soon!

• Philippines
2 Nov 12
I pity your medical condition because you are not worthy to suffer so much,yet you still look gorgeous.Here in the Philippines,vegetables are eaten as viands not like there in your country,you prepared it like cookies or cake.You can still become flexible again,by making some squash cake to consume to provide you with the vitamin C in you diet.You can also have an orange juice to quench your thirst.

• United States
2 Nov 12
No don't pity me!! I am very happy. I may hurt, but I can still do the things I am doing! I love your idea and will take that into account. I totally agree with you on the veggie part...and especially the vitamin c. I am going to try to do better as far as my diet. Sometimes it is just so hard here..I love squash so I may do something with that tonight!! Thank you so much and thanks for the sweet comment!

• Philippines
3 Nov 12
It is alright that I commented your condition,and do not mention anything because you are really still beautiful.You just needed some lifestyle adjustments like switching to vegetarian foods rather than the usual meals of meats and beefs only. As long as you have fresh fruits and vegetables,your arthritis would be curve to total disappearance.I wish you would be more beautiful than ever.

• China
4 Nov 12
Hi jessielee You are so great and i was deeply impressed by you at your experiences.You dont need any pities because you are more strong and tough in your heart than anyone else,at least i got much courage from you.Handmade jewelry you must do a amazing art work,why do you take some pictures and upload this site so we can appreciate some?Thank you and good luck to you.


• United States
3 Nov 12
Thank you very much! I wanted to share in the hopes that maybe I could help someone that is having a hard time. I am loving life and want everyone to be happy and enjoy what they have. I know there are some that are really struggling, but maybe a little inspiration can go a long way.

• Philippines
3 Nov 12
wow, good for you. for i love accessories like necklaces and bracelets made from beads and stones. i hope i can be like you and learn how to make profit out of it. but for now since i am busy in life and everything, maybe i can find a time for that. you take simple exercises for yours hands and bones just to stretch it gently. this way you are not idling yourself as you just sitting, resting your bones. we need exercises to be flexible and to move our bones and muscles. pertaining to your question about simple things that everyone did but have a great impact of changes in your life, for that i should say yes. yours, making crafts is not a big thing. it is something we did to make us productive in another way because our capabilities in another field was being disregard because of some matter. so keep it up and you will see the great difference and you can say that everything we had in life will be depending on how work for it. :)

• United States
3 Nov 12
You need to make jewelry! I promise you will love it and become addicted like me! I am like you too..I love working with stones, especially in the raw. Take some time for yourself and make a few pieces! I have made a lot of awareness items. The thought of making jewelry for a cause makes me really happy! I think my jewelry making has saved my hands really. It keeps them busy and flexible, but I can also tell when I am over-doing it. Thank you for your response that is very sweet! That is great you are busy. I think staying busy is great for your mind and body!

• Philippines
3 Nov 12
Wow!You are a very strong woman and I salute you for that!May God bless you with more than enough strength to continue what you have started.More nice accessories....

• United States
3 Nov 12
Well thank you very much! I am trying my best anyway. God has given me the strength and the want to, to keep moving on. I am fixing to make a necklace and bracelet set in a little while..I couldn't resist the pretty beads!

• United States
3 Nov 12
I've known a lot of people who don't need to work but find jobs just to keep them busy or give them some sort of satisfaction. I'm glad you found something you can do and hopefully you'll be able to make jewelry for years to come. One of my friends makes hand made jewelry on the side and she does fairly well. She has little parties kind of like the tupperware ladies do. What I find fulfilling is volunteering at the local hospital. I get satisfaction out of making people smile and making a difference in someones life. Also I'd like to become a nurse someday so this will help out my career. Its great finding something you enjoy that is profitable as well isn't it? I know so many people who hate their jobs and just seem miserable for years on end.

• United States
3 Nov 12
That's great!! I have thought about volunteering at our local homeless shelter. I just need to get down there and check it out!! I really admire volunteers and all of their work they do! We need nurses all of the time so go for it! You will do great! I really enjoy making jewelry..I think I'm a little addicted to the beads before I make them into jewelry. Thank you for your comment! Best Wishes to you!

• United States
2 Nov 12
For me it's my photography. Ever since I can remember I loved taking photos of just about everything. Today I am still the same way. Most of the time my camera is always w/ me & when it's not I use the camera on my IPhone. I would love to also be able to make my own jewelry & have even tried to in the past, but I just could figure out how to do it, so I gave up. Sounds like you are very good at it though & that's wonderful. I'm very sorry about your health, but I love your positive attitude that you have about it. Most people would not feel that way & would probably become depressed, myself included. I'm glad that your stronger then that. You are an encouragement to us all.

• United States
3 Nov 12
Oh I love photography too! It's really relaxing isn't it? Maybe sometime when you have time sit down, get on the computer and check out some of their jewelry making classes online. If you want to anyway. I am self-taught, but I did learn some of the basics online. I would love to buy me another good camera sometime..one of the more expensive ones! Maybe one of these days. I also paint when I get burnt out on making jewelry. That is really relaxing also!

• India
2 Nov 12
Thanks a ton for sharing this discussion. Well seriously hats off to your courage and guts that in spite of having serious illness u are positive in your life. You are a perfect example for all those who give up when diagnosed with an illness. I am proud of u that u have made the most of your illness and i wish that your inherent talent is recognized properly and may all your creation is sold properly to the people. Please do take care! What say?

• United States
2 Nov 12
I really appreciate that very much! I always remind myself there is someone out there that is in a harder situation than me. I am lucky that I can keep going like I am, and I will continue! My illness has made life seem more meaningful and I stop and appreciate the small things most people take for granted. I only hope that I can help someone feel better about their situation, even if it is very dire. I don't care how bad off you think you are there is always someone that will lift you up and make things better. I think we all need some encouragement in our lives and positive people..a lot only dwell on the negative and they will never get better until they start thinking different..that is all it takes. Thank you again, and I hope to chat with you more often!

•
22 Jan 17
I love it!!! I am also into handmades. :)