glory,glory man united?

November 3, 2012 2:17pm CST
Manchester United are the new Premier League leaders tonight (as I write Man City are locked in a 0-0 bore draw at West Ham-although a last minute goal would not be a surprise from them). I tipped Man United at the start of the season but I still feel they lack the ruthless streak of old. Do you think United will hang on to their lead until the end of the season or will it change hands? It is still very early days but Chelsea must have thought three points were in the bag.Will the late Swansea equalizer demoralize them? City are looking suspect. Is it Man United's title for the taking?
9 responses

• Malaysia
4 Nov 12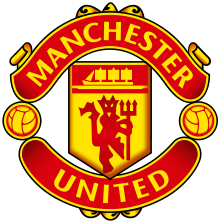 From what the league table shows, it is certainly a three horse race for this season's title. Everton, Spurs and Arsenal will find it hard to catch up with the three leaders. Realistically the 4th place is the target for them, especially Arsenal, who was at the 4th place last season. Despite their fragility at the back line, Manchester United is now topping the league. Their elimination from the League Cup is actually a blessing in disguise. They can now concentrate fully in their quests in EPL and UCL glories. Yes, Manchester United is one of the three favorites to win the EPL.

•
4 Nov 12
I think the imminent return of Phil Jones and Chris Smalling will address their defensive frailties. Carrick has had to slot in to an unfamiliar defensive role for many games, so that would also free him up to resume his midfield role. Vidic is also due to return before January, so as time goes on I can only see one winner -Man United!

• Malaysia
8 Nov 12
I was thinking the same like you last season until Manchester City clawed back from 5 points down. I was thinking the same when Manchester City was 1-2 down playing Queen's Park Rangers in the last match of the season until Dzeko and Agüero scored in the dying seconds. Manchester City and Chelsea are such strong teams that we can not really write them off even if we are having RVP, Kagawa and a healthy full team.

• Singapore
3 Nov 12
It is still early to say the title Man Utd taking. It is always good to see your team at the top of the table but trust Man City and Chelsea to have a say in it. In any case, this season title will be between one of the three. The rest, they can forget about it.

•
3 Nov 12
Yes, I think it is a definite 3-horse race between those three. Tottenham's home defeat to Wigan today has compromised their chances on top of the likely lengthy injury to the impressive Dembele and constant talk of Bale going to Spain. Arsenal would be the natural outside choice but their strikers just can't seem to hit it off. I think that as time goes on United will gain in strength as Rooney and RVP gel, and three key defenders return soon in the form of Jones, Smalling and, in Decvember, Vidic.

• China
4 Nov 12
Tottenham Hotspur is not performing as well as they did in the last season. I think that firing Redknapp is not a good decision for them. In the last year Tottenham used to have the chance to compete for the title, but began to fall down when they lost to Man City with the penalty by Balotelli, who should had been sent off in the mid of the match. And they relied too much on Adebayor. Because that his performance was getting down, Tottenham faced a difficult time and then finally moved down to the 5th. In this season they still have chance for the top 4 but now they are more than 5 points behind the first group. The performance of Everton in these few rounds are also getting worse. But it has been a great achievement for Everton for being in such a position as they are not rich at all. In fact although they have been more than 5 points behind, we should not forget that Man Utd was once also so many points behind the Man City in the last season but they still got a chance to be the title. Unfortunately for them, the match of Bolton ended earlier than the match between Man City and QPR. So in the last few minutes, QPR knew that they are survival and suddenly they stopped to fight against Man City, which lead Man City to get the title. So I still hold that Everton and Tottenham still have a chance in the competition of the title also it has been extremely hard.

• China
3 Nov 12
I think that it's still quite hard for Man Utd to win the title. Their core defenders are old and yonger ones are bad. Fortunately, Man City and Arsenal also have bad defending lines. But Man Utd is now leading with the referee factor. Maybe they will lose to Swansea in the next month? All of these are undecided! It is still to early to think about the final title.

•
3 Nov 12
The bad news for Chelsea and City is that key defenders Phil Jones and Chris Smalling are due to return from injury within the next two weeks.Furthermore, Nemanja Vidic is due to return by the end of December. You are right in saying that United's achilles heel has been their makeshift defence. However, the fact that they are still on top in spite of this should make other teams very concerned with the impending return of Jones,Smalling and Vidic.

• China
4 Nov 12
Phill Jones is OKay. But I think that Smalling is not so trust-able. I think that it was his mistake which made Man Utd lost against Basel in the last year. Man Utd is also in lack of good players, especially defenders. It is strange that I find out that it seems that every team is in lack of top players. It seems that today the number of incredible top players have decreased compared to the last generation. Maybe it is a kind of imagination? But I just find out that nowadays it's very hard to find a top defender and a top striker in the transfer market.

• Mexico
3 Nov 12
We love them here in Mexico, as our boy plays for man. united. Arriba Mexico.

•
3 Nov 12
You should be very proud of Hernandez, Maria. He is a great player...I just wish we could see more of him.

• Mexico
3 Nov 12
we are, his grandma and grand pa live 5 houses down from me here. Just normal people.

• India
3 Nov 12
Thanks a ton for sharing such discussion. Well glad to know about the Manchester United's feat and i wish to see them achieve many such in the future also. They have been playing consistently since many years and have pocketed many big tournaments, i know they will get a tough competition as the season progresses but i hope they will maintain their momentum in the coming games also. Good luck to all the players of MU! What say?


• India
4 Nov 12
Man U are currently at the top of the pile and on the current performance rightly so. At this moment Arsenal is struggling big time and once again will only be competing for the fourth spot. The other three though are locked in a three way battle for the title. I think the key to this title chase would be the hectic Christmas period. Whichever team comes out on front during that period would have a nice advantage in the run-in to the title. But as I see it now, it is a three horse race between Chelsea and the two Manchester clubs. Cheers! Ram


• India
4 Nov 12
I Am a die hard manu for life and they play with ruthless attack and they are the best always