Unexpected Benefit From My New House Plant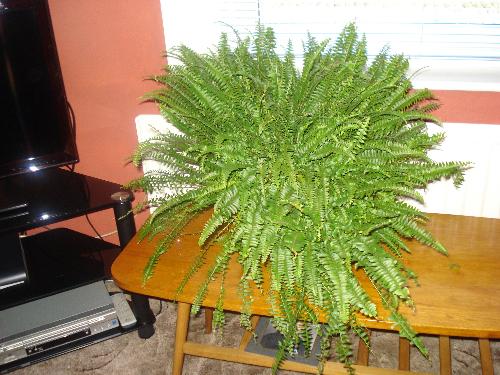 Carlisle, England
November 5, 2012 8:30am CST
We bought a new house plant (a fern) from Dobbies, before I went to Mum's so this is the first time I've been able to mention it since getting back yesterday. It's bigger than I thought it would be but I think it's because it's low down on the coffee table. If it was on a higher square table specifically designed for plants I think it would look even better. Anyway, what is the unexpected benefit of having this plant? Well, Flojo the cat likes chewing on the hard leaves! A couple of years ago we got her some grass that can be grown indoors but she just wasn't interested. As soon as she saw the plant on the coffee table (as in the photograph) the first thing she did was chew on it. It will take her a long time to rough up the plant with her teeth but at least it's not spooking her out and - as for me, I love structural plants, especially ones that grow outwards like the fern. I hope you like it too. Do you have house plants? Where are they situated? Do they lift your mood like mine has done?

6 responses

•
5 Nov 12
I like house plants but they only seem to thrive in our hallway. Must be a balance of heat and light there. However, so,e noise plants are poisonous. I hope that you have checked your p,ant with the vet. Wouldn't want Flojo to get wilt or blight!

• St. Catharines, Ontario
5 Nov 12
I don't think the fern will harm FloJo. FloJo may harm it, though, if she eats too much or starts digging in the pot. It looks to be a Boston Fern.

• Carlisle, England
5 Nov 12
Unfortunately, there is no little tag in the pot to tell me what kind of fern it is. I've been reading about house plants that may be poisonous to cats and, thankfully, ferns aren't one of them.


• United States
5 Nov 12
I have tried plants, before I got so many cats and managed to kill them, well, a few were stolen, but I was well on my way to killing them anyway... It depresses me when I kill one, so I just quit trying. Anyway, now the brats would help kill it, since I'd have to have about 50 plants to have enough to survive the cats!

• Carlisle, England
5 Nov 12
LOL. My cat just loves HER new plant and I'm pleased she hasn't jumped on it.


• United States
5 Nov 12
Make sure it is not something toxic for the kitty. Sometimes they have no sense about what to eat. She probably enjoys the motion if it blows in a breeze or anything as well. Houseplants clean the air and are relaxing to have around I have houseplants all over. By the end of winter though I am ready for them to move outside. I have them anywhere there is enough light.

• Carlisle, England
5 Nov 12
I've been researching house plants online and there are mixed views on ferns BUT - mostly - the sites are saying that they aren't poisonous to cats, thankfully. I know what you mean about plants cleaning the air. I do have a plug in that smells of cocoa and something else..and it's quite Christmassy in actual fact. However, the fern is giving me more oxygen to breathe as I rarely have the windows open - especially now that it's cold - so anything that can give me some extra air has got to be beneficial. I only hope I can get a plant stand for it at some stage so it's elevated off the carpet. I thank you so much for your suggestion of buying a plant as it has definitely lifted my mood.


• India
6 Nov 12
Yes I have house plant I love my house plants a lot actually I like a big garden but since i live in apartment its not possible for me to grow a garden so I am satisfying with house plants.My plants have no problem with cat or dogs since I don't have one but my biggest problem is the lady from my neighboring flat.When ever I place my plant in balcony for sun.She comes with out noticing and cut the branches and some times steals my plants.Once watchman have seen her carrying a plant in a bag.He told me this when i asked him about my missing plant.When I asked her about this after here return she created a big scene that I blaming her as a thief ,after some week she brought the same plant in new pot.There is no doubt that she is the thief and killing my plants because in my apartment only we both have interest in plants and we are the only two people growing house plants. I cant fight with that dirty big mouthed old lady.Because of her I am losing my hobby.

• Carlisle, England
6 Nov 12
What a terrible thing for your neighbour to do. "Buy your own!" I'd be shouting at her, at every opportunity. Fortunately, no-one can get at my plant, or the ones in my small raised flower bed outside either, so I am lucky in that respect.

• India
6 Nov 12
I am happy for you ..but my god you cant imagine that lady if any one sees here quarreling they will defiantly think that lady has done Ph.d in quarreling

• India
6 Nov 12
Now she went to U.K to her daughter house ...thank god now me and my plants have some peace until her returns


• China
6 Nov 12
It is great that you start being interested in house plant,which can not only purify air but beautify your room.It looks like "tuberous sword fern".The house plants I like are schlumbergera and asparagus fern.

• Carlisle, England
6 Nov 12
I believe the asparagus fern is poisonous to cats, something I only learned about yesterday, on the internet. I've been told mine looks like a Boston Fern but I have no idea what it is as there is no label on it to tell me. It's definitely a fern though and I've noticed I don't feel as lethargic in here now.

I've also got one of those diffuser refills that smells of cocoa plus another spare under the sink. No wonder I'm super-chilled out lol.

http://www.misabargains.com/airwick-plug-in-x-3-refills-cocoa-and-flickering-fireside-20ml-363-p.asp I didn't get them from the above site..it just gives you an idea what I'm on about.


• China
9 Nov 12
I search Boston fern online.It is also known as the Tuber ladder fern that belongs to nephrolepis.

• Carlisle, England
9 Nov 12
Wow! You certainly know your ferns my friend!


• Australia
9 Nov 12
Your fern is beautiful and very healthy looking. Keep a spray bottle handy and spray the fronds between waterings. It might be too hot there with the radiator on and ferns don't like to be too wet but they don't like to dry out either. I have a couple of palms in my lounge room. One, I'm trying to nurse back to health and the other is fantastic.

• Carlisle, England
9 Nov 12
Yes, I am a bit worried about the location of my fern (and I'm so pleased you like it) and the suggestion for spraying the fronds is a good one. We're in for a busy day tomorrow as I want to go to Dobbies anyway (the posh place we got the plant from) so may buy a spray bottle in there, along with a small plant to go in the kitchen. I do possess a small watering-can though (in pink) lol. Would that do the trick just as well? In fact, I'm going to try it out right now!