wenger are angry with Santos

Indonesia
November 5, 2012 11:19pm CST
when the games against MU, one of player of Arsenal, Santos in half time, ask for RVP for changing jersey.. and the situation makes angry wenger and many arsenal fans.. they said it`s not deserved to change a jersey in half time.. is it important this issues makes arsenal focus can be changed?? why they didn`t focus why arsenal can`t consistent from one games to another games??
5 responses

•
6 Nov 12
I disagree with most of these responses and I think Wnenger has every right to be angry with Santos. Asking to swap shirts at the end of the game is fine, but AT HALF TIME?!! Come on guys -this is a competitive game still in progress!!! I feel that Wneger also had to speak on behalf of the travelling Arsenal fans who were already incensed by the manner of RVP's departure. RVP did not deserve the reception he got from his former fans but Santos was wrong to do this. It is true that Wenger has bigger problems than such unwelcome,isolated incidents but he would have been damned if he did react and damned if he hadn't have done! I think he has acted correctly.He would have been wrong to ignore this incident.

•
6 Nov 12
No, Arsenal are not my team but I have respect for Wenger.I would defend ANY manager in this situation.Santos has acted like a spoilt schoolboy. He has insulted the fans,his team mates and manager. It is just plain common sense!!!


• India
6 Nov 12
If I were Wenger, there are other things I would be angry with Santos for. For starters he is a defender who does not defend often leaving holes on the left hand side for oppositions to exploit. I think he has cost Arsenal at least two matches by his leaky defensive work. I would rather want to plug those gaps as my first priority than an issue of swapping of jerseys. Cheers! Ram

• Malaysia
6 Nov 12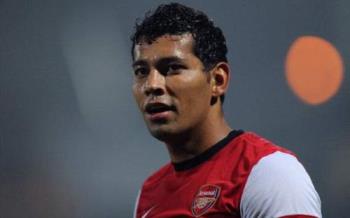 I feel that Andre Santos was insensitive and rather, childish, to swap shirts with Robin van Persie at half-time in Arsenal's match against Manchester United at Old Trafford. The exchange of shirts itself is harmless and culturally it's not wrong but it is the heated situation of that match, and worse, the timing of the shirt-exchange that took place that made the act looked so tasteless. I have never seen players swapping shirts at half-time. With Arsenal the underdogs playing away trying hard not to let their former captain to shoot, and yet RVP scored so early in the match, but still they battled on desperately to stay relevant in the match. With adrenaline fully pumped up in the body, the fighting spirit would not let you relax and you should be like an arrow that is ready to fly to shoot your 'enemy'. And you exchange your shirt with RVP at half-time? I remember I shake my head when the live TV showed that. Andre Santos has since apologized and admitted his ignorance of the commotion that his act had caused. He is a better player now.

• Singapore
6 Nov 12
The problem with Arsenal is that they have players playing in all sorts of area which isn't their best position. Arteta was asked to play in as the defensive midfielder. Thou he had perform reasonably well, the position failed to utilise his strong point. Then there is Ramsey, who in my opinion isn't a good enough player for Arsenal and yet he was constantly in the starting lineup. Then we have the likes of Walcott, Gervinho and Podolski who were not in the best position too. If Wenger should be angry with anyone, he should be pissed with himself first.


• Indonesia
6 Nov 12
yes i think like that it`s not sin i think but maybe it`s the way of Wenger dislike when rvp choose not to stay longer in Emirates and move to rival but i think wenger and any arsenal fans should respect the gesture of RVP..he didn`t make celebrate when he scores goal he is professional but he choose not to make celebrate..