How often do you wash your water machine?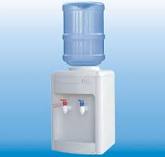 Guangzhou, China
November 13, 2012 7:47pm CST
It seems it is common that many people use the water machine. However, have you ever thought about it can be dirty inside if you don't wash it often? It is better for you to wash it every three months. Few weeks ago we called the cleaning staff to clean the water machine and they seemed to be professional for it. As cleaning inside needs the machine and other equipment.
5 responses

• United States
14 Nov 12
Water machine is the same as washing machine, right? Assuming it is, you're so right. Tide has a product that washes it from the inside. You pour in a packet and it cleans the inside and also gets rid of any odor. It's not too expensive, and I like the results after using it.

• United States
14 Nov 12
Okay, okay you meant something that gives you actual water! Sorry! I don't have a water machine so I wasn't following along. Sorry! But I would imagine it's very important to clean your water machine. Otherwise the water might get nasty.


• Indonesia
14 Nov 12
we must keep always clean the machine water i never to such a thing like that,or maybe my parents keep wash the water machine. thanks for the sharing

• India
27 Nov 12
I have no water machine but have washing machine and wash only in a month. But I wash daily water pot(mataka in hindi word).

• Malaysia
16 Nov 12
Youless, same like you i always wash my water machine. We only have a normal type, so don't need a professional service. We washed it once a week, to make sure the water inside it don't produce odor. I always prefer to boil the water before consume them, for safety purposes.

• Philippines
14 Nov 12
We get our drinking water from many refilling station here in our area. But still, we have a portable water dispersing machine here at home cleaned weekly. If you are referring to the water tank, we don't have one. Our water from the faucet is directly from our town water provider. That is why we don't directly drink from the faucet