En-Suite Bathroom..... The Destruction of Civilisation

November 15, 2012 4:28am CST
You will have to bear with me for my explanation of this, but I believe that the En-Suite Bathroom will lead to the end of civilisation and everything we hold dear. Once upon a time when MAN was just beginning to advance into what we are today, certain things were put into place. These things became social convention - They were usually based on common sense. In the earliest human habitats, the toilets would be away from the main hub of life because even in those days - toilets were smelly and disgusting, not to mention unsettling noises. Jump forward to the 1800, toilets were still away from the house because they were smelly and disgusting, not to mention the unsettling noises. In the early part of the 20th century, the toilets came into the house, but they were off to one side of the house because there were smelly and disgusting, not to mention unsettling noises. Then what happens? Well we change the name of the toilet to BATHROOM.... doesn't change what you do in there. Now that we are now calling the toilet a bathroom, we then decide at the end of the 20th century that the best place for a toilet is attached to a bedroom.... I HAVE NO IDEA WHO THOUGHT THIS WAS A GOOD IDEA. Still thinking that the plan would not be popular, TV design shows imply that it is middle class and modern to have a toilet as part of your bedroom. A toilet in your bedroom is smelly and disgusting - I can not think of anything less appealing that somebody doing their business in my bedroom, Yes I know there is a door between toilet and bedroom - It doesn't take away the fact that there is a toilet in your bedroom. I bring this up because the good lady would like an En-suite bathroom....... I have refused and we are at a standstill at the moment. Please do not comment if you want to tell me the obvious use - We all have elderly relatives that need a bathroom in close proximit. I am referring to fit and healthy people who feel the need to take a dump in their bedrooms
7 responses

• Tucson, Arizona
16 Nov 12
Well, surprisingly enough, both the Indus civilization and the late Roman republic had indoor plumbing-- but in both cases, the toilet part of things, the outhouse, was at the very back of the house, or in a separate shed like newer outhouses. Medieval castles had toilet rooms--if you consider hanging your rear end over a trench built into the outside of a wall as a toilet. But then again, Medieval lords and ladies changed the straw on their floors once a year, and bathed as seldom as possible. Medieval Arabs and Jews had something similar to water closets-- gravity fed bowls, that dumped into pits under the house, that were kept limed. They also had strict sanitation laws to prevent disease from this arrangement. As to the en suite bathroom-- modern toilets are clean. As a matter of fact, the toilet is the cleanest part of a bathroom, because people are so obsessed with it-- your toothbrush, the faucets and the doorknob have far more germs. I like not having to walk downstairs and 20 yards out in the backyard at 3 a.m. in the winter to use the outhouse. My grandmother didn't put in a toilet until 1973. But other than convenience, and sanitation (fully contained plumbing, like toilets, retard the spread of disease that used to be common with uncontainable waste), there is no reason to have the toilet itself in the house. Why don't you build a palatial bathroom--garden tub, shower for two, double vanity, hot tub, everything-- and then build a TOILET ROOM off the back of the house somewhere, still enclosed, heated and attached to septic or sewage system? that way, she gets the dream "bath" room, and you don't have a crapper in the bedroom.

• India
16 Nov 12
In India there has been similar evolution and I have had that experience when I was a kid.

• Tucson, Arizona
16 Nov 12
My grandmother was simply a wise, and stubborn, woman. we had running water and a tub and shower in the house, but heating was fireplace, wood stove and "monkey stoves"-- little wood stoves-- upstairs. No air conditioning either, but you don't need air conditioning in Maine anyway. Separate toilet for the MAIDS??? jeepers, allknowing, I didn't know I was talking to a rich poerson

The house I used to live in up here had three bathrooms-- two upstairs, one of which was attached to a master bedroom, and one downstairs, in a little hallway off the living room, on the way to the mud room and garage. My apartment in Tucson has 2 bathroom, one in a hallway by the master bedroom, and one in a hallway off the kitchen. My travel trailer I live in now, the bathroom is in the back, dining area that turns into my bed in the front, and where my computer is (and another small bed) in the middle-- all in an 8x26 space. I miss having space, and a real bathroom-- trailers have TINY bathrooms, you can't even close the door when you are sitting down.

• India
16 Nov 12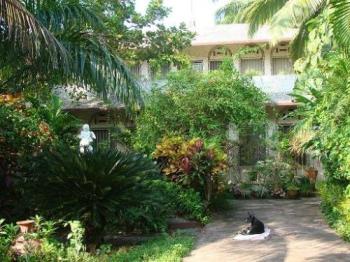 It is not a big deal now here in India. I don't know if you know this but I have designed my own house and planned the whole thing from start to finish. I only had a civil engineer to take care of the reinforcements, etc. Yes. I have a toilet for maids and now we have also built another small house to house caretakers and there too we have a bath/toilet. Attached baths/toilets is in fashion here but I never liked the idea. I have a passage or hallway as you call it that connects our bed room and toilet each having independent doors. We have a similar arrangement for our guest bedroom too.


• Mexico
15 Nov 12
Rob. this is why I have loved your writings over the last 14 months. You are the best dear. We should make a talk show with you.

• India
15 Nov 12
You have not spelt out your option. Yes. I have my toilets inside my house but they are not attached to the bedrooms. There is a common passage that leads to the bedroom and the toilet both of which have separate doors. Even the young would want close proximity to the toilet specially when one wishes to use it in the night.

• India
15 Nov 12
You have only narrated the evolution of the toilet and you are not happy with the toilet being attached to the bedroom. So where do you want your toilet?

•
15 Nov 12
A toilet or "Bathroom" should be in a room of its own, away from kitchens and bedrooms


• Philippines
16 Nov 12
I see what you mean.. Hmm.. the evolution of toilets..hahaha

I remember the days, when I was still young, we lived in the province. So basically we don't really have a toilet to poooo...

but we do have a large backyard for this nature thing. But since we move to the city we have to adapt to the changes, and must have our own toilet, now we called it bathroom. It combines the daily routine of taking a bath and nature disposal

. I agree that toilets/bathroom should have a separate area in our house. Away from our bedroom, kitchen or dining area. This is for cleanliness and for us to avoid sickness. We should always take this as a priority especially when building our dream house. :) -Happy Mylotting--

• India
16 Nov 12
A toilet/bathroom should have independent access and not through any rooms. I have seen so many houses that do not have this access. Visitors particularly have to walk through kitchen or bedrooms to get there. I wonder why architects do not have this in mind. When I designed my dream home I kept all these things in mind.

• India
15 Nov 12
hehehe, whatta discussion. This is the first time on Mylot that I am coming across something like this. I actually sort of agree with what you are telling. I too believe in something like this that the toilets should actually be kept out of the proximity. In our house, it is out of the house. The worst thing in our neighbourhood is that, they have the so called "bathrooms" right next to the kitchen.

The next worst thing is that, one of my friend has the bathroom, or the toilet in the entrance, as in , their entrance to the house is from the balcony. There are 2 doors which are adjacent, one for entering the house and the other for the bathroom. both have similar doors. I wonder what if others go and knock the bathroom door when someone is very busy doing their business there inside.



• India
16 Nov 12
Having baths/toilets inside ones home has several advantages and this concept has been there for years. The only thing is that they should not be attached to bedrooms and should be away from kitchens. They should also be kept cleaning using disinfectants and deodarants. What you have seen in your friend's house is not common. They have not planned their house properly.

•
16 Nov 12
Fortunately there is a very old solution to this problem, it is called 'a door' all the best, urban

• United States
15 Nov 12
I can see your point here. I find the bathroom, or should I say toilet as a private place to go and purge. I agree that it should be separate from a bedroom. And what about a novel idea like maybe putting the toilet itself in a totally different place away from the actual bathroom. In a bathroom you either take a bath or shower. You would have a tub or stall. And of course a sink. A toilet is just that, a place to sit and purge. It is also a place to be totally alone. I also think a toilet should be totally sound proof. And properly vented.