Is there a sock heaven?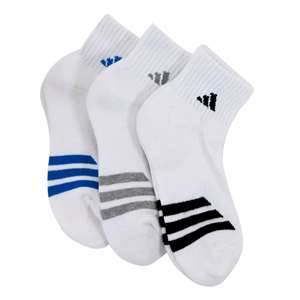 United States
November 16, 2012 1:49pm CST
I finally got to do my laundry and as usual I have 3 socks with no mates. I separate my clothes in whites, colors and towels. The black socks go with the darks and the white ones go in with the whites. When I take my socks off I roll them so they will stay together and each pair of socks has his own bunch of clothes. So of course this never fails so I will add these 3 to others from previous washings that came out with no mates! There has to be a sock heaven! Does this ever happen to you? Do you think there is a sock heaven (or hell!)
9 responses

• United States
17 Nov 12
I know what you mean. It is completely crazy. It seems as if I'm always trying to buy new socks because we are always losing them. I often times wonder where they go. Our place is only so big and yet they still disappear. It is really crazy to me.

• Canada
17 Nov 12
Hi ctryhnny, I have seen so many socks go to sock heaven that I'm convinced they reincarnate - there just can't be that much room up there! There may be other theories of course, live maybe they become cannibals when they get hot in the dryer. Then there's the one about them being stolen by the one foot aliens. I guess it will always remain a great mystery. Blessings.

• United States
17 Nov 12
No but you are not alone in your frustration. I attribute the losses to a creature that I call Galdarnnit the Sock Munching Monster. I once posted a discussion about him a long time ago. Anyway, one of the few ways to foil Galdarnnit is to put a safety pin inside the top of one of each pair of socks, then the minute they leave my feet, whether they end up on the floor or in the hamper, I use this safety pin to pin both socks together! It doesn't always work, every once in a while I forget and Galdarnnit takes another trophy, but I am usually pretty good about it and since I have plenty of safety pins in a magnetic holder on my desk I usually remember to put a new pin in my socks if I unroll a pair and discover that they have somehow lost the pin. In this way all of your socks can march happily through their existence as a mated pair. Now you just have to decide what to do with the odd sock when you wear a hole in one of the pair.

• United States
17 Nov 12
No no see you have cannibal socks and while they're tumbling around in that washing machine/dryer, they will attack the mate and then eat it. Gotta watch out for them critters.


• Netherlands
16 Nov 12
No it does not happen to me if I am doing the laundry. There is also not a sock heaven. If you are sure you did put both socks into the machine better check if they did not came in between the "washing machine drum" (sorry don't know if this is the right word). But for sure is I do hear many people complain about missing socks.

• Canada
16 Nov 12
there sure must be because i have a basket full of socks that don't have a mate. however, you need to discount the fact that the other one may be lost in the vortex of either of my daughter's rooms. i actually found one sock while helping my younger daughter clean her room (she is 15 and you would think she would know by now!) and i actually found another sock in my older daughter's room that had a mate downstairs too (she is off to college so i have no idea how her room looks there!) personalty, i think the dryer eats them! (maybe that is how it runs?)

• Mexico
16 Nov 12
wish there was... over the years I have lost many. have a drawer with like 50 single socks.