There's no GOOD NEWS like BAD NEWS!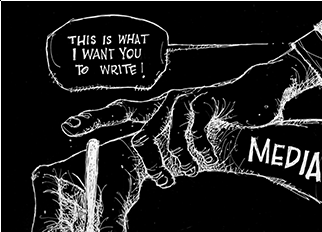 Philippines
November 17, 2012 8:44am CST
Hello Lotters, That is something that President Noynoy should understand and stick into his BRAIN! Corporate Media is never like the Government owned and subsidized media network. they like to report bad news like there's no tomorrow. though, it should be for the purpose of public awareness but i feel the news isn't balanced at all. Not to mention, Foreign Media like CNN or Fox news likes to report bad news that's coming out of the Philippines. I rarely see good news lately, that's why foreign media likes that because people would "WATCH IT"! Sorry for you PNOY the Media is NO LONGER on YOUR SIDE! unlike those days in the 2010 Election! But thanks to you also, I am now free from being brainwashed by the corporate media! YOU UNGRATEFUL MR. PRESIDENT! still bullying the past administration get over yourself!

and get used to what media has been shoving to our throats because you were part of it that made you WON!
5 responses

• Philippines
17 Nov 12
I just hate him. He is an old man but still immature. Wasting money to put to prison people from the previous government instead of minding his own business and just be the president. He could have used the funds for projects that would help develop the economy and help the people.

The media can't hide his incompetency anymore

• Philippines
17 Nov 12
Hello Hexeduser, I think he is also focusing on infrastructure projects as well, maybe that's why he's angry at the media who once support him in his campaign. am sure that this country will never grow unless corruption is dealt with.



• Philippines
17 Nov 12
your right hexeduser22,

this spoiled brat president is truly immature that he can't even handle his personal life for good and yet he has the stewardship of our nation. He has already win his personal vendetta against the former administration, can he rest it for now and look forward for the good of the nation? If this administration is really against corruption why his rubber stamp congress can't pass the FOI and Anti dynasty law?

Are they hiding something? I am sure that if he will stamp this two bill as urgent the Congress will be obligated as what happened in Corona's impeachment.


• Philippines
17 Nov 12
What I agree most is that- you're right! He has not moved on yet :( Whenever he is on SONA, or official gatherings, he always talk about the past administration... I always hear him humiliation the past officials.. which is of course not pleasing in the eye of the commoners..It's not that the head of the country trash talks about someone.. They may have done wrong, but our president can prove himself being different (if he really is).. Instead of telling about the negative past, he should have at least be proud and share about the positive things to expect :D God bless the Philippines!

• Philippines
17 Nov 12
Hello Meowchie, I don't like the way he mudsling Teddy Casino because of the ratings. sure, we could not trust him for being a leftist but even him did something for the country and stood against people like the arroyo administration. I wonder what would have happen if Gordon was one second to the ratings, and tries to trash talk him, he doesn't stand a chance. I only wish that GOD was more influential in making the people chose the competent ones and not the ones supported by media and bandwagons




• Philippines
17 Nov 12
Gordon is way better than PNoy. Too bad he did not win the election.

• Philippines
17 Nov 12
Recent happenings caused me to feel regret for my vote to our present President. I thought he would be the guy to lead the Philippines to uplift our moral dignity, economy and others. Unfortunately, I was wrong. I agree with you Mr. Letran he still bully the previous administration. Past is past. Let's move on. What are we going to do with the past is learn from it so that we stop making the same mistake again and again.


• Philippines
17 Nov 12
Hahaha! I voted for Gordon! I have never cast any vote for a spoiled brat like Noynoy... He has no track record to speak for himself and only the yellow media that was successfully brainwashed the nation carries him to the presidency. I hope he change his way for the good of the country. GMA is not that bad as portrayed by the yellow media, she is a good economist and the good economy that this administration brags come from the foundations laid out by that little woman. Pnoy should stop now because he has successfully get his personal revenge to GMA. He should step aside now his personal agenda and start moving on! He has lots of work to do. I wish he look forward and should make good now of his promises instead of indulging in the past administration.

• Philippines
18 Nov 12
Well congratulations to you romzee, at east now you don't feel guilty for the presidents mistakes or mudslinging because we voted for the right guy and the one who cares more about this country




• Philippines
18 Nov 12
Noynoy is simply doing what his mother did when she was the president. Blame everything on the past administration and do nothing. Oh, she was a little busy. Renaming every park and building after her late husband. But nothing was ever done. And she got away with it. So, don't be surprised if Noynoy will do the same. Only now, it's more evident that he is doing nothing because his mother has renamed every public park, airport and landmark after his father already. So all he can really do now is blame, blame, blame the past administration and do nothing.

• Philippines
18 Nov 12
Hello Anne25penn, I don't think it's fair to just blame the past administration, she made progress too. I had a job during her time and the peso was kinda large vs dollar then.I hope no group would ever make a serious investigation about his family's ancestor Melchora for stealing the gold and making them all rich today




• Philippines
18 Nov 12
Well,Letran. I haven't seen this incensed. Anyway, your title is basically the motto of any news agency. After all, who watches the good news? People want distraction more than information sometimes. Also, the media in a government's POV might be the best ally or the worst critic. they don't owe their loyalty to the president. Also, the public can see if a medium is really leaning towards a certain politician. It takes only a good reading comprehension. Regarding foreign diadem, they don't owe the President of this country. They are more focused on the giants like the US, Europe or China. We're hardly on their radar. I tihnk I lost my vote and confidence on him during the Corona trial. I cannot image the highest officer in the land making some sort of pettiness. Granted that he might have been asked for an opinion, but seriously, does shutting up or No comment would have sufficed. At least, he's giving the pretense of being fair. Turns out that he might never will be. I think even his term will end, he will still blame his predecessor. Why not? It's very convenient and easy thing to do. But it also reflects on his maturity level if he ever has one.

• Philippines
18 Nov 12
Hello Jeanneyvonne, I am getting tired of watching badnews really, though some are still informative. but there are times were it's obvious that people wants it hype. I didn't even understand why the Media even supported him but we all see because of the Lopeze's owe it much to the Aquino's after the Edsa I. well, let's hope he doesn't change his mind about running again, or you would really see how bad it can be.