Looking Better Than I Expected..

Carlisle, England
November 17, 2012 5:50pm CST
..the newly painted, wooden fireplace surround that is. Yes, folks, I bought some Johnstones Signal Red Paint from my favourite shop, The Range and went to work on the surround. The red is very bright but I'm glad about this as I don't like deep reds (unless they are mixed in with bright reds, then I can handle it) lol. I haven't posted a photograph as it needs another coat and I shall definitely take GardenGerty's lead by gloss varnishing it afterwards for protection. I can't wait until it's finished. Won't be long now!

Oh, by the way, we've managed to get some brackets (less than £10 for the 3 chrome ones in good old Andersons) so the FIL is coming round in the morning to varnish the side that faces the wall, then he shall put the rail on the brackets once he's fixed them to the wall, then varnish the rest of it. I'm concentrating on the fireplace so have my hands full. God knows what he's going to make of it but do I care what he thinks? Nope!

I'm now sitting here thinking what else I can paint red. I'm currently eyeing up the wooden telephone table that has been varnished (a long time ago) and made, ironically by the FIL many years ago. I actually quite like it because it holds lots of crap as it has a lid on it..and the landline telephone sits on top. It would look absolutely brilliant sanded down and painted red, I'm convincing myself of that lol.

7 responses

•
18 Nov 12
i'm just wondering where this is all going to end, you might end up with one of those reality tv shows, where you go round to other people's houses and give their homes a complete make over. it's very brave, and I admire you for doing it, I wouldn't be brave enough to paint a fireplace red, myself, its a very bold act, and it will give the room a nice modern look, and I do think it will look really nice when its done. I met a young woman, a couple of years ago, i think, who was doing a course at the local art college in interior design...................

• Carlisle, England
18 Nov 12
Could someone aged 46 do that?

I doubt it although it would be nice to be taken seriously by people who are in the business of interior design, so to speak. There are houses for sale down here where no money has been spent on them at all (judging by the pics on Rightmove) and the residents wonder why they're not selling? Granted, you could go over-the-top and spend lots of money but not get the price you were hoping for..but I'd much rather MAKE A START and do something than leave this house as it is. It would drive me nuts living in a house that I spend a lot of time in but wasn't good for the soul. This is what I'm trying to create..so I need to limit my use of red and mix it with silver metallic wallpaper, for example. That's my next goal..to get rid of this hideous wallpaper that is all about 'old' and nothing about 'new' or 'updated.'


•
19 Nov 12
When I was younger, about 30, I used to think I was too old to start singing and play the guitar, and then about ten years later I realised that 30 was young really, but I decided to do it anyway, as I would look back in another ten years and wish I had done it. there's a lot of social pressure telling us we are too old to do this, and that, but if you look under the surface there are loads of people who change careers or do something new when they get older, its more common than our youth obsessed culture would have us believe. on the house, I think its a lovely idea to have a mix of contemporary and keep the best old features, I spend too long looking at houses on rightmove too, but I tend to ignore mess,in my own home, I have an idealised vision of what my home would look like, but it rarely becomes reality. but I do think that how our home looks affect how we feel, and its good for us to like the way our homes look. have you read anything about feng shui, its quite interesting, though I wouldn't take it too seriously, it could become an obsession, but it does have some ideas that are sort of universal in their application.

• Carlisle, England
19 Nov 12
Yes, I have read a few blogs and things on Feng Shui and you're right, it can become an obsession can't it? Something about channeling positive energy throughout the house by strategically placing furniture and plants in certain locations. I guess my one plant (well, two if you count the one in the kitchen) is a start lol.


•
18 Nov 12
Yes, I would say that is very "Arian" of you Janey. My wife is an Aries too and some time ago we went to a friend of mine who is an astrologer who did our charts. She is an Aries with her rising sign in Aries. I have been married before and my ex was also an Aries with her rising sign in Aries. My ex loved red too, but my wife now, doesn't seem bothered to have a lot of it around. I am a Libra, and Air sign apparently attracted by the energy of the Fire of Aries.. opposites attract. But all is not quite so predictable and straightforward as one would think...

_Derek

• Carlisle, England
18 Nov 12
There are conflicting reports as to what my Ascendant and Moon Signs were at the time of my birth but most say I'm a true Aries! I do have Venus in Aquarius and Mercury in Pisces though, otherwise I'd be a right firebrand I should imagine!! I think I am more compassionate than the average Aries person but I can be selfish, I do know that and take it on board lol.


I am convinced that Saturn was a destructive influence in people's lives the last 5 years or so. It does seem odd that both Mum and John are a LOT happier at work now..and my nephew found seasonal work for the first time in about 5 years. Saturn moving out of the way you see. With me it will be my health that will get sorted out. When the job situation will improve is anyone's guess but the difference now is, I don't dwell on it like I used to. I have accepted my fate, so to speak.

•
19 Nov 12
Yes, I think that other planets in the chart can make a difference. I have a lot of planets in Scorpio in my birth chart. That is strange because my Dad was a Scorpio and I'm often aware of how much like him I can be. I would say that my ex and current wife are like chalk and cheese in the way they express themselves even though they are both "double" Aries. I have a peaceful married life now, as before it was fiery and energetic. I find it very interesting, and at one time studied astrology quite deeply, but then Zen took over and penetrates more deeply into the essence of life and not so much the "whys and wherefores". But there again, with all those planets in Scorpio encouraging me to penetrate the esoteric, maybe astrology is still playing a bigger part than I think...


_Derek


• St. Catharines, Ontario
18 Nov 12
There's that little strip of wood around the tiles on the floor... did you paint that too?

• Carlisle, England
18 Nov 12
I certainly did..it was hard but I managed it...twice.


• St. Catharines, Ontario
19 Nov 12
insert thumbup smiley here because myLot is playing games again

• Carlisle, England
19 Nov 12

Third time! Yes, I've painted it yet again!

• United States
19 Nov 12
Well, I am happy that you really like the way the rail came out. When it is completely done post a nice picture of it. And the fireplace, well, if you have to have it red. But I think a dark mahogany or cherry wood stain would look awesome.

• Carlisle, England
19 Nov 12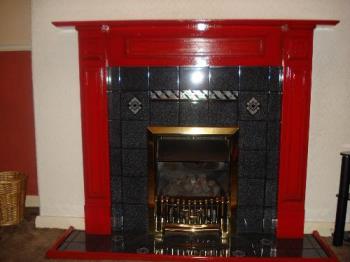 I have gloss varnished the rail and I'm not happy with it as it's not glossy at all and I've done it twice lol. I don't know what's wrong with varnish just lately. I swear they water it down so it doesn't smell of anything (probably another one of those silly EU Directives).

As for the fireplace surround..I guess it does look cherry red..a very bright cherry mind!


• China
18 Nov 12
You finally painted the surround a bright red .Maybe you are right,though I differed with you on that at the start.I don't doubt that you have a gift for colour.I believe that the colours in your room are certainly tuned to each other.

• Carlisle, England
18 Nov 12
I've painted a second coat today. Even the FIL said, 'That's looking cushtie' when he saw it lol. Below is taken from the Slang Bang forum page. I didn't write it 'cos I'm not a Cumbrian but it didn't 'arf make me laugh, especially the 'like,aye,eh' as Dave The Painter says this ALL THE TIME!

[i]'There's a great website with a Cumbrian dictionary on it, which has led me to discover that what we always thought were cool new slang words at age 10 were in fact old-as-the-hills Cumbrian dialect: http://www.gonmad.co.uk/cumbria/index.html There's even a Babelfish for Cumbrian - http://www.topfun.co.uk/babelsheep/ I remember we always used to use 'charver' for scallies, which became 'chorv', I always wondered if it was that which evolved into 'chav'. Also 'parney' for rain, 'shan' for embarrasing, 'bewer' for girlfriend, 'lowp' for jump and 'cushtie barie' for anything that was good. The above website has also reminded me of the annoying habit a lot of Cumbrians have of adding "like, ay eh?" to the end of every sentence. I've managed to get myself out of the habit but as a kid I must've sounded so flipping stupid.'[/i]

• China
19 Nov 12
Oh ,so many slangs,Is your FIL from Cumbrian? Doesn't cushtie mean cool or okay, sweet ,comfortable,etc? By the way,what is 'cos?


• Carlisle, England
18 Nov 12
Thanks very much. Your patience will be rewarded Monday evening my time I would think as I have to varnish over the paint plus the hand rail, so I'm gonna be busy!


• United States
18 Nov 12
Waiting patiently to see the finished project. Sounds like it going to look wonderful. Pictures... lol I know your waiting till you finish is ok..

• Carlisle, England
18 Nov 12
We went out for more paint brushes today as there are certain bits on the wood that are a bit finicky to get to with the bigger brush I've already got...so I have a selection now...and used the smaller one to paint another coat. I shall varnish it tomorrow, then, by Monday evening, it should be dry enough for me to take that pic I promised. If I have time I shall varnish the pine hand rail up the stairs as well..and take a photo of course. Haha!