fun by the waterfalls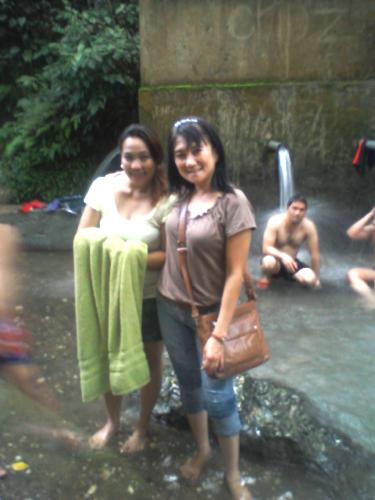 Philippines
November 18, 2012 11:09pm CST
Yesterday, after most of the guests were gone in my boss' patriarchal house where we attended the fiesta, we decided to go to the waterfalls' place that my boss is endorsing. Together with my boss, her son and her boyfriend and the 4 of us officemates, we went up the near mountain and we saw a beautiful place where the foot of a waterfall was cemented into a big & tall square reservoir . On the sides where big tubes, where the water flows freely into the river. I just watched some of them as they each took their place in each tube where water runs freely and profusely. It is said to be the bathing place of the resident. They said that it seems to massage their whole body as they sit in front of each tube. There were also some women there by the other side , washing their clothes. Another is taking a bath by another big tube of water. I promised myself that next time, I shall bring a swim wear. I have attached a picture of the place where we had fun for reference.
7 responses

• Thailand
19 Nov 12
whoaaa really had fun experience huh. Good. I wish I can see places like that here where I am. I know that this is mountaneous area, but problem is I have no one to be with to explore the forest and mountains. Too bad that my co workers are all a bit "oldies" LOL. Looks like its refreshing trip. I am glad you shared this. good for you.

• Philippines
20 Nov 12
I am sure your "oldies" co workers would surely love to go to a place like that. It's one way of nature tripping.

• Thailand
20 Nov 12
Nope they either too old or too lazy or just don't like me, to go on this kind of trip. LOL

• Philippines
21 Nov 12
Well, it's their loss if it's like that!


• India
20 Nov 12
Wow you had enjoyed your time near water fall, the nearest water fall is 200 kilometers away, it is on a hill known as Narsingnath, i had been there with my daughter and her kids 3 years ago, the tourists have made it nasty by throwing plastic bags, wrappers from biscuit packets, some have pooed on the sides, it was almost dry due to cutting of trees on the hills. we really could not enjoy it. there is one artificial waterfall in a nearby temple, fully covered, separate for ladies and gents; i have bathed there wearing sari, blouse, have never tried swim suit, i don't have lol

• Philippines
20 Nov 12
It's sad to note that it's what happened to your mentioned waterfall, kalyni. People can really be hard headed sometimes. Even there, we have noticed that some residents are washing their used utensils in the river where the reservoir stands. It think it isn't proper to do that. Washing of clothes, yes it can be done there. But that one, no.


• Indonesia
19 Nov 12
a had twice on waterfall like you told us. it very fun. and i want to repeat again sometime. especially when the waterfall is from hot water/sulfur spring. my body fell great after bathing there. but don't over your self by sitting there for over 1 hour. your skin will look pale

• Philippines
20 Nov 12
Oh yes, i have already experienced swimming in a hot spring pool. It's in a far-away town. It's so relaxing to take a dip but it should not be on a very hot & sunny day though. And that's true that we shouldn't stay for a long time dipped in the water because it will wrinkle our feet and hands and would impale us.


• Bhubaneswar, India
19 Nov 12
hi SimplyD

The place looks exotic. If there is a place where I could stay overnight, I would consider that too. The sunrise and sunset should be a great view from here. I had something similar (though not with the tubes) at Rajsthan in 1993, where they had water flowing in into a reservoir and people were allowed to bathe and wash in that reservoir too. You mention tubes on the discussion. Do these float on the water and are used by people who do not know how to swim?

• Philippines
19 Nov 12
In that place , you can't see the sunset and sunrise. It's filled with trees up in the mountains that surround it. It's really an exotic place. The tubes are those you see in the picture, where the water comes out. My office mates each have one tube for their bathing. They sit with the water running down on their heads.

• India
19 Nov 12
i am very afraid of water, though i have visited few places where there are water falls but i will be always far from water , enjoy only from far.

. But i like the environment around the waterfalls ,it will be very cool and refreshing always. I saw the picture, the place looks very cool. By the way your sling bag is really good. I liked it very much.


• Philippines
19 Nov 12
The place is not deep my friend, so there's no way that we could get drowned there. And the current is not so strong. But the water coming out of the tubes is so strong. And it's potable, as the sign of the local government says. I drank some and it tastes so fresh and good. Thanks for liking my bag. It's actually a second hand bag of my auntie who sent a box of her used things from the USA.


• Philippines
19 Nov 12
We planned to visit Daranak and Batlag Falls last weekend. Unfortunately, my friends were not able to come on time. We just went to the plaza where the town's beauty pageant was being held. I hope that the weather would be nice this coming weeks so we will be able to pursue our plans. I have never seen waterfalls in my whole life so it would be a great experience.

• Philippines
19 Nov 12
Actually, in this particular bathing place, we can't see the water falls. It's still up in the mountain and this place is where it drops. Thus, the local government constructed the structure you see in the picture. Thus, the water that comes out of the tubes becomes a strong shower gadget for the people. The current is so strong that it seems to massage the body, as my office mate described what she felt while bathing.


• Garden Grove, California
7 Dec 12
wow it really looks so exotic and a waterfalls is always exciting to see. its grand that all your office mates

an you r boss are all enjoying the outing and playing together. thats what an office crew should be like all getting 'along together so well.



• Philippines
7 Dec 12
Yes, Ms. Hatley it's really so fun to be frolicking like that in the waterfalls' reservoir. My boss, always invites us to outings like this. It breaks the monotony of doing the routinary works at the office.